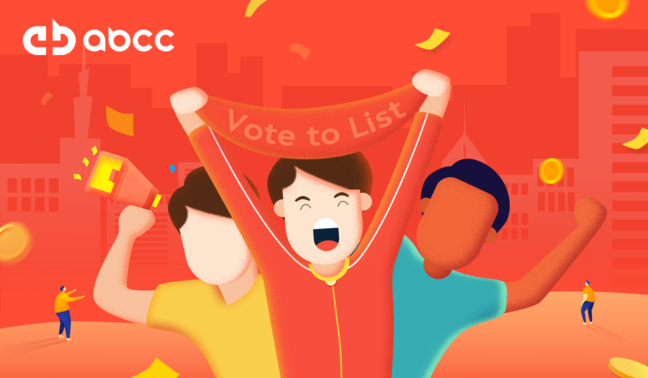 ABCC Launches Free Listing via Voting ABCC is bringing another groundbreaking opportunity to the crypto-universe this week. The world-class digital asset exchange platform is now recruiting outstanding blockchain projects around the globe. This free listing opportunity is set to help discover premium blockchain projects in order to provide its users with better digital asset trading services.
"Helping investors identify valuable blockchain assets is our mission. Our recent initiative, Community Voting, gives autonomy back to the community and empowers users to vote for the projects they believe in. As a result, the projects chosen by the community will be listed on ABCC free of charge." Calvin Cheng, CEO, and Co-founder of ABCC
The free listing is done via a voting system called Community Vote to List Scheme. The voting system helps to identify which coin or token have more support from the community. That a coin or a token acquires a higher number of votes does not mean that it will be listed. While higher number of votes plays a major role in the listing, the ABCC team will also rely on its strong technical skill and experience in the crypto industry in order to select the listed coins or tokens.
This is a break from traditional process, where blockchain startups have to fork over huge fees to be listed on exchanges. ABCC's approach democratizes the listing process, making sure that projects that have the support of the community have a greater chance of getting exposure to investors and enthusiasts.
With an objective to provide a substantial platform with more diversified digital assets investment opportunities, users and investors will have the best chance at finding premium projects. And as such, they won't miss out on the chance to be a part of the next big thing.
ABCC APP updates
ABCC successfully launch app update on Google Play Store. With the latest update, the app is equipped with more options and functions, giving it the best mobile experience and a more user-friendly interface.
"From the very beginning, ABCC focus on refining the products, optimising UX and bringing a smoother trading experience to users. It is reflected in our APP, our weekly product updates and now ABCC Pro. ABCC Pro, completely free, will cater for traders from all levels. We will also include a Beginner's Guide to help new users familiarize ABCC in a minute." – Calvin Cheng, CEO, and Co-founder of ABCC
Launching of the ABCC Pro and ABCC Cloud
The ABCC Pro is set for launch within the next few weeks and promises one of the best trading experiences ever to grace the world of cryptocurrency. The ABCC Pro is designed to cater for traders from every level. With the goal of making trading much easier, users will have a better overview of the entire trading platform. Beginners will also be offered a guide that will help them familiarize themselves with the platform. With better features and easier navigation system, giving it a more high-end investment and trading experience.
The ABCC Cloud will also be launched soon; this will be a world-class platform for global digital asset exchanges. ABCC Cloud is created to help partners around the world create their own exchanges seamlessly.
ABCC Cloud will also offer all-round support to its partners, from token listing services to other operational services – in order to help partners improve and also successfully establish their business.
More Updates
Referral Program
ABCC announces a change in their referral program. The new percentage have to reduce to 10% for first-level referrals and 5% for second-level referrals (used to be 20% and 10%).
All-New Enhancement Voucher
The All-New Enhancement Voucher also known as "Mining Power Enhancement Voucher" is a unique benefit for ABCC users. With this new feature, users with the Enhancement Voucher will be able to enjoy higher mining power at the same cost, therefore, receive more AT.
For more information or inquiry on how to earn the ABCC Token (AT) or use the all-new Enhancement Voucher, please visit www.abcc.com
Company Name: ABCC
Location: Singapore
Contact Person: Xini Wei
Email: [email protected]
This is a sponsored press release and does not necessarily reflect the opinions or views held by any employees of NullTX. This is not investment, trading, or gambling advice. Always conduct your own independent research.
Image(s): Shutterstock.com