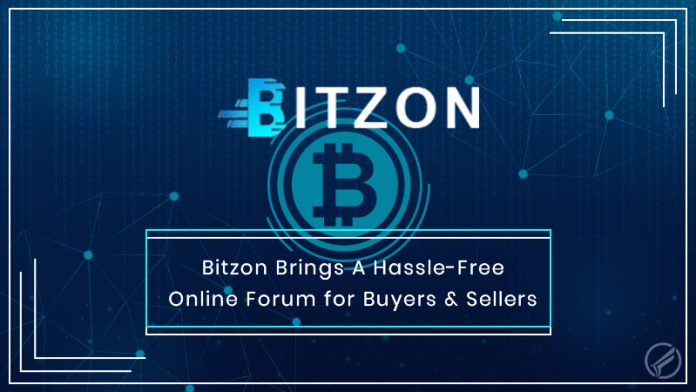 The burgeoning growth of the e-commerce industry is indeed astonishing. Several online forums are coming up to promote buying and selling of goods and services. But vendors, especially the small-scale industry owners suffer havoc in the race of entering the international trading market.
It is because buyers are not confident about the owner or the products they are selling. These organizations lack technical support and customers are unaware of the reviews they see about the platform. Therefore, it is necessary for the e-commerce sector to have a platform that can aid in instilling trust in the minds of the buyers and enhance business development even for small-scale industries.
Enter Bitzon, a platform that connects buyers & sellers all around the world to trade value in cryptocurrency. Leveraging the blockchain technology, Bitzon has built an online platform that offers essential tools to producers for promoting their business with minimal transaction fee.
Why do buyers need Bitzon?
The uniqueness of the product
With the emerging growth of several online forums for shopping, customers are often bored with the repeated designs. But Bitzon can guarantee the sale of unique and good quality product from several small-scale manufacturers, which is unavailable on any other platform.
Bitzon is the world's first blockchain empowered e-commerce platform which leverages the use of cryptocurrency as a mode of payment. With very minimal fee, users can purchase their desired product for Bitzon tokens or other virtual currencies.
Bitzon offers lucrative discounts for the Bitzon purchases and buyers can also earn cash back by paying via BItzon tokens.
Offers a wide array of products
Bitzon offers an extensive catalogue of products and makes a great sale on the platform's stores. For the buyer's ease of search, the platform has filters and refined categories to allow the customers to get their desired product with ease.
Trust being an essential aspect of online shopping, Bitzon assures its buyers a premium quality service and guarantees that buyers will receive the exact product as given on the forum.
Moreover, if there is any complaint about the quality of the product, Bitzon assures to offer cash back within 15 days of purchase.
Besides, with blockchain technology is at its core, customers can be assured about having honest reviews about the sellers. It is because on Bitzon platform only buyers who have previously made a purchase and had a successful transaction can give a review. Bitzon also enhances the secured payment method, i.e., the platform only sends money to the sellers' account after the product reaches its destination.
Why do vendors/sellers need Bitzon?
A gateway to the international consumable market
Bitzon is a viable platform, especially for the small-scale business owners who are perplexed with the perks of global trading. The platform offers inexpensive, simple, yet effective tools to the vendors for creating a broad customer base and enhancing brand promotion internationally.
Bitzon not only aids in creating awareness about the seller's brand but also provides the necessary infrastructure for increasing their profitability, thereby allowing them to expand and develop their business manifold.
Offers additional help in platform maintenance
Bitzon is an agonistic vendor platform that aims to solve the secondary problems of trading while allowing traders to concentrate on promoting their brand solely. Often small-scale manufacturers are unable to hire enough people that can manage the platform due to lack of resource. It becomes one of the significant barriers to entering the global trading market.  So Bitzon aids in providing an additional team for handling the rest of the platform related issue while vendors can peacefully concentrate on the trade and brand advertisement and enhance the quality of work.
Another significant benefit for vendors is that the Bitzon team offers 24 hours multilingual customer support. Thus, with Bitzon, customers can readily start purchasing from these small manufacturers as well.
Bitzon allows goods and services to be traded in any fiat or cryptocurrency. Besides, vendors are at discretion to choose their preferred mode of receiving payment while trading on Bitzon platform.
Thus, leveraging all these potential features Bitzon, the world's first blockchain-empowered e-commerce platform is a golden opportunity for vendors as well as buyers.
Media Contact :
Name: Guyverson Jr Vernous
Email: [email protected]
Bitzon Telegram : https://t.me/Bitzon
Bitzon Twitter : https://twitter.com/bitzon1
Bitzon Facebook : https://www.facebook.com/bitzon.io/
Bitzon Airdrop : https://bitzon.typeform.com/to/GsJDFg
Website: https://bitzon.io/
---
This is a sponsored press release and does not necessarily reflect the opinions or views held by any employees of NullTX. This is not investment, trading, or gambling advice. Always conduct your own independent research.
Image(s): Shutterstock.com