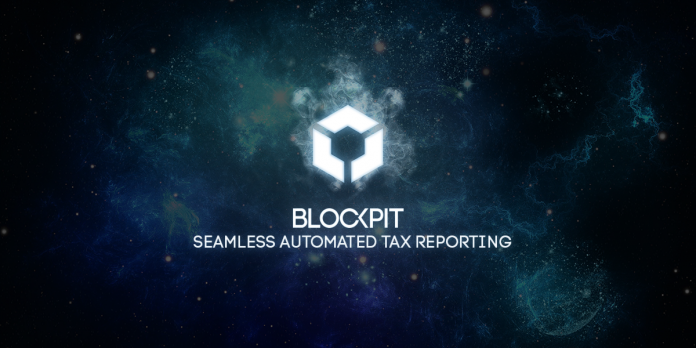 Today, millions of people all around the world own cryptocurrencies. Popular digital currency exchange Coinbase has beyond 20 million users, meaning that they alone have more users than one of the world's largest traditional brokerage firms, Charles Schwab, has customers.
So far, the average cryptocurrency user trades or holds assets on around 4 to 5 different digital currency exchanges and wallets simultaneously. Thus, keeping track records for tax purposes becomes increasingly difficult. In most European countries such as Germany, France and the United Kingdom, capital gains from cryptocurrency trading, mining, airdrops and forks are taxable and must be reported to the authorities.
Blockpit makes crypto tax reporting easy for everyone
Blockpit was founded in 2017 by Florian Wimmer, selected for the Forbes 30 Under 30 list in finance and avid cryptocurrency trader since 2015. His team and him are closely collaborating with tax experts from one of the world's Big Four auditors, KPMG. They are set out to develop a web-based application which should become the European standard for automated crypto tax reporting. Subsequently, they will be tackling jurisdictions all over the world. As of Q1 2018, the web-based application is in beta with thousands of cryptocurrency holders actively using the service via https://app.blockpit.io.
TAX token private sale is anticipated to raise three million Euro
Currently, the company is conducting a three million Euro private sale of its TAX utility token via https://tokensale.blockpit.io. For each 0.10 Euro contributed during the private sale, participants will get 1.5 TAX token, including a 50 % private sale bonus. The company anticipates to raise up to a total of 12.5 million Euro through a public token offering later this year. In order to promote the token sale CEO Florian Wimmer is presenting Blockpit on pitching stages throughout Europe. Amongst other achievements, Blockpit is the pitch contest winner of crypto investor and influencer Ian Balina's Paris Crypto World Tour stop.
About Blockpit
Blockpit is a seamless, automated web-based and mobile cryptocurrency tax reporting and portfolio monitoring application. Blockpit uses APIs of numerous exchanges such as Binance, Coinbase, Poloniex, Kraken and many more to link them up with its services. The vision is to allow Blockpit's users to automatically combine all their trades, wallets, mining rewards and other incomes such as airdrops into one dashboard. The dashboard provides a clear overview on what was realized in gains to report to tax authorities. Blockpit also allows its dashboard users to generate tax reports which can be legally approved by one of Blockpit's partners.
Whitepaper: https://tokensale.blockpit.io/whitepaper/en  
Telegram: https://t.me/blockpit
Facebook: https://www.facebook.com/blockpit.io
Twitter: https://twitter.com/blockpit_io
This is a sponsored press release and does not necessarily reflect the opinions or views held by any employees of NullTX. This is not investment, trading, or gambling advice. Always conduct your own independent research.
Image(s): Shutterstock.com