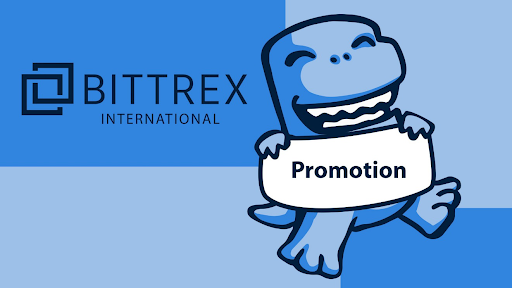 April 2019, San Francisco, USA – Bittrex International announced a BTM Airdrop promotion with Bytom for eligible Bittrex International BTM holders. 80,000 Bytom (BTM) tokens will be distributed as a one-time airdrop to Bittrex International Bytom (BTM) holders.
Eligible users must hold more than 100 BTM to receive the airdrop tokens. 80,000 BTMtokens will be distributed in proportion with the amount of BTM each user has in their Bittrex International account. Snapshot of Bittrex International account balance will occur on May 6, 2019 at 12:00 PM, PDT.
Bytom public blockchain is an interactive protocol of multiple byte assets. Heterogeneous byte-assets (indigenous digital currency, digital assets) that operate in different forms on the Bytom Blockchain and atomic assets (warrants, securities, dividends, bonds, intelligence information, forecasting information and so forth) can be registered, exchanged, gambled and engaged in other more complicated and contract-based interoperations via Bytom.
Bytom endeavors to bridge the atomic world and the byte world, promoting the interaction of assets between the two worlds, with the mission of creating diverse assets and a programmable economy. Bytom(BTM) was listed on Bittrex International in January 2019.
On April 24th, 2018, the mainnet of Bytom was launched. Since then the team has achieved much progress in both technology improvement and blockchain application. Multiple smart contract templates and a sidechain called Vapor have been released.
Bytom launched a series of development challenges and bounty tasks in the past year. The cooperation with SeaRates to adopt BTM as global shipment payment simplifies the international trade. Bytom also works with Baoquan website to upload important information to Bytom blockchain, which ensures the immutability of data and paves the way for application in rights protection.
To celebrate the one-year anniversary of Bytom's mainnet launch, Bytom launches an AMA event on Reddit. Anyone can ask questions to Bytom team from April 24 to April 29 PDT and these questions will be answered on April 30. A prize pool of 5,000 BTM tokens will be distributed to selected AMA participants.
Learn more about BYTOM – https://bytom.io/
Join the Global Dev competition – https://bytom.io/developers_en/
Read the BYTOM Whitepaper – https://bytom.io/wp-content/themes/freddo/book/BytomWhitePaperV1.1_En.pdf
Connect on Facebook – https://www.facebook.com/bytomofficial/
Chat on Telegram – https://t.me/BytomInternational
Reddit – https://www.reddit.com/r/BytomBlockchain/
Read about BYTOM on Twitter – https://twitter.com/Bytom_Official
Join on Discord – https://discordapp.com/invite/U3RSYr5
Medium – https://medium.com/@Bytom_Official
Media Contact
Name: Yi Ren
Email: [email protected]
Bytom is the source of this content. Virtual currency is not legal tender, is not backed by the government, and accounts and value balances are not subject to consumer protections. Cryptocurrencies and tokens are extremely volatile. There is no guarantee of a stable value, or of any value at all.

Disclosure: This is a sponsored press release