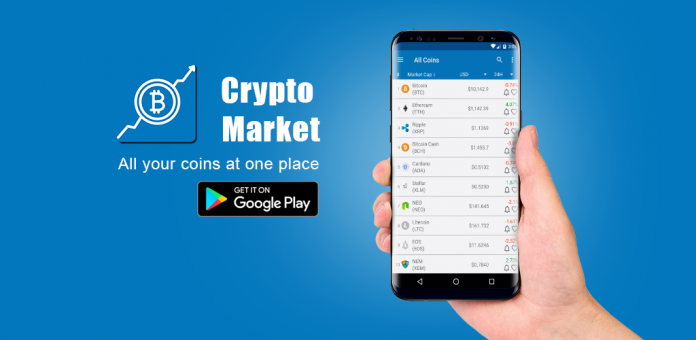 Crypto Market provides users all over the world access to relevant cryptocurrency information. The mobile app provider is forging the path for broader adoption of Bitcoin and altcoins. Its Android application has been downloaded over 500,000 times due to an innovative and complete approach to this nascent industry.
Demand for mainstream exposure to cryptocurrency information has not slowed down. Falling prices throughout 2018 have sparked more interest in Bitcoin and altcoins than in years past. Crypto Market provides all of the tools necessary to make carefully weighed decisions for future investments. The application is about so much more than just providing price tickers and widgets for top cryptocurrencies.
Crypto Market prides itself on offering different sources of information to mobile users. It tracks over 1,400 cryptocurrencies and their associated information as listed on CoinMarketCap. Every individual currency has its own historical price chart, which users can explore by zooming in. On top of that, live price changes are depicted within the application as well.
Having access to necessary news sources is equally important in the cryptocurrency world. Crypto Market tracks all of the major cryptocurrency news sources. Users can receive individual notifications and alerts for news updates. There are also daily notifications pertaining to cryptocurrency prices and news. Users can customize these options into the app's Settings menu.
Cryptocurrency enthusiasts will further benefit from the built-in Crypto Chat feature, which is currently in beta testing. This feature allows users to exchange ideas and have meaningful discussions pertaining to different currencies and market trends. This feature will be expanded upon in the future and offer more customization options.
The initial coin offering plays an integral role in the cryptocurrency world. With Crypto Market, users can easily track current and upcoming ICOs, as well as potential airdrops pertaining to new and existing cryptocurrency projects. All of the relevant information can be accessed conveniently through the application's menu, which offers a user-friendly way of approaching the cryptocurrency industry.
Crypto Market also offers a Pro version of the service, which will remove all applications. An added bonus is how Pro users can set up widgets on their mobile device pertaining to different cryptocurrency markets. All of the application's core functionality is offered free of charge with more features being added in the coming months.
---
This is a sponsored press release and does not necessarily reflect the opinions or views held by any employees of NullTX. This is not investment, trading, or gambling advice. Always conduct your own independent research.
Image(s): Shutterstock.com