The past 24 hours have been rollercoaster of sorts for the crypto market, with the price of the world's premier digital currency, Bitcoin, dropping by more than 10% late Wednesday afternoon. As a consequence of this, BTC was seen stooping to its 2017 low of $5,312 before gradually recovering (a little) and settling around the 5,742 mark (at press time).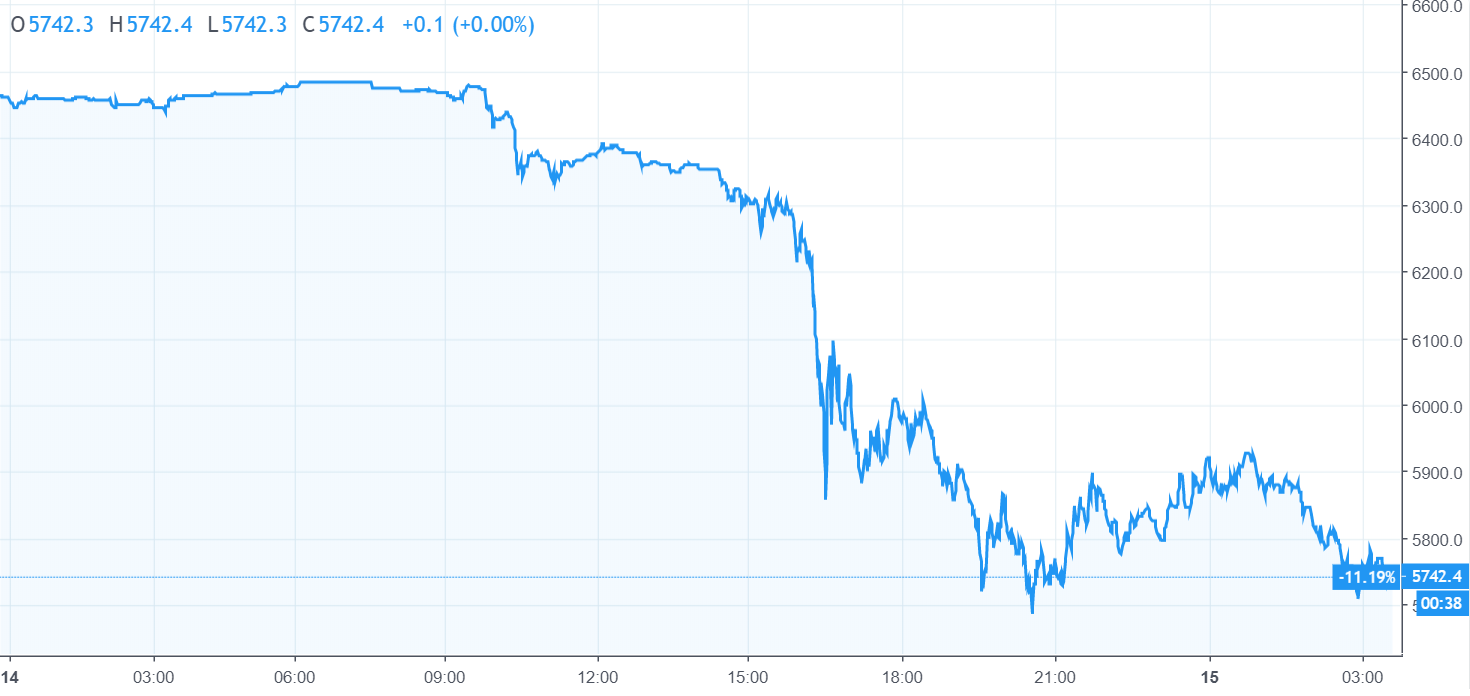 It is also worth noting that this fresh plunge comes right after it seemed as though Bitcoin had finally found some long-term market stability, with the digital asset even experiencing its lowest levels of monetary flux in nearly 16 months.
After touching a mammoth price point of $20,000 late last year, many experts had predicted that Bitcoin would rise to over $50,000 by the end of 2018. However, as things stand, it appears as though matters are only going to get worse for the alt-coin sector moving forward.
Ethereum (ETH) and Other Top Cryptos Also See Red
In wake of this latest bear attack, we can see that both XRP and Ethereum are now once again looking to fight for the second spot in terms of overall market capitalization— with Ethereum's market cap currently pegged around the $18.5 Bln threshold while XRP's cap lays close to $18.2B.  It is also worth noting that since yesterday afternoon, Ether and XRP have lost more than 13%, 10% of their respective values.
Some of the other major casualties of this ongoing slump include:
Bitcoin Cash (BCH): -18.40%

Stellar (XLM): -10.30%

EOS: -11.93%

Litecoin (LTC): -13.29%

Cardano (ADA): -14.64%

Monero (XMR): -13.42%
Lastly, it is worth mentioning that out of all the top 10 altcoins in the market, Tether (USDT) has been the only currency to stay in the green as well as witness a small gain in its intrinsic value (+0.04%).
What's Causing This Mayhem?
While no one reason can be directly attributed to this present market freefall, it is being said that the ongoing 'crypto civil war' taking place between the backers of Bitcoin ABC and Bitcoin SV seems to be having an overall negative effect on the alt-asset investment community at large.
For those not aware of the ongoing Bitcoin Cash saga, the premier currency is all set to undergo a hard fork— something that has left the BCH community divided, to say the least.
Final Take
While many had expected to see Ether's value drop in the coming few days (since it was reported that a whale had recently shipped around 45,000 ETH tokens to a Binance wallet yesterday), this latest plunge has been confounding to say the least. All we can do now is to hope for the best and see how the coming few days and weeks play out for the alt-asset market.
Image(s): Shutterstock.com