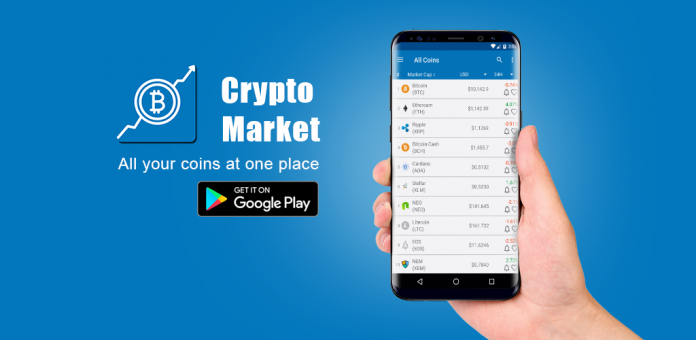 Keeping tabs on cryptocurrencies, news snippets, and the overall market trends is an ongoing challenge. This industry is subject to a metric ton of information which is updated every other day. As such, having one convenient solutions to keep tabs on everything that matters is of the utmost importance. For Android users, the Coin Market app by Crypto Lab is an excellent solution in this regard.
Everything in one Place
The cryptocurrency industry is all decentralization and diversification. That also means one has to look for different types of information across many different platforms. While that is a good thing on paper, it can be quite confusing and annoying to novice users first and foremost. Convenience often trumps everything else, and the cryptocurrency industry is no exception to this unwritten rule whatsoever. Thankfully, there are some tools to make this process a lot more straightforward.
People who own an Android phone or tablet may want to check out the Coin Market application by Crypto Lab. It offers everything one may need in the cryptocurrency world. Ranging from price information to detailed market statistics and the latest news, it can all be found within this free mobile application. All information is updated in real-time, as the Bitcoin and altcoin industry never sleeps.
It is not easy to find crypto-related applications which offer something for everyone. Users will get handy notifications regarding important news and industry developments. There is also an option to set one's own price alerts for specific currencies. This latter feature is quite handy when managing a portfolio. The built-in portfolio function also details how one's holdings are performing at all times.
Although the Crypto Market app packs quite a punch, it doesn't offer any unnecessary bells and whistles. Even when opening the news, the user will never leave the app's ecosystem itself. This makes for a smooth and seamless experience first and foremost. The application also gets a lot of positive reviews on the Google Play Store, which further confirms how professional this application is.
Even advanced cryptocurrency traders will find something to play around with in this application. It offers price analysis services, which can be crucial when checking prices on the go. Combined with the price charts and very detailed information regarding prices, exchanges, and so forth, everyone can gain a clear understanding of how cryptocurrency markets work. Being able to zoom in on price charts is also a native feature and one that can prove useful more often than not.
Get the app here: CryptoMarketApp
Image(s): Shutterstock.com