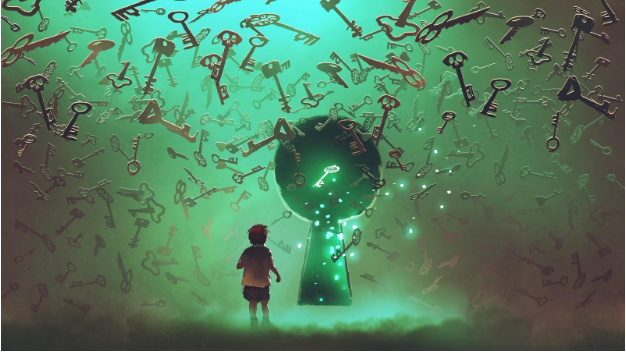 Presents innovative new standard combining traits of ERC-20 and ERC-721 into a single contract
World's first ERC standard in which infinite tokens can be placed in a single smart contract
Reduces transaction cost (gas), which accounts for 60 percent of existing ERC-20/ERC-721 token item transaction costs
Opens up a new paradigm where anyone can create highly secure virtual items/tokens
2018.6.27
A new Ethereum ERC token standard has been unveiled that could replace classic Ethereum token standards ERC-20 and ERC-721.
Enjin CTO Witek Radomski spoke at Dogecon on June 23, 2018, where he announced the release of the "ERC-1155 Crypto Item Standard", which combines the unique traits of ERC-20 (fungible) and ERC-721 (non-fungible) into a single smart contract.
In June 2017, Radomski created a blueprint for a standard, known for its non-fungible trait, which was then shared on GitHub in August. The shared code inspired what is known today as the ERC-721 standard, which had a huge influence on the release of CryptoKitties in November.
Enjin's ERC-1155 enables mixed transactions of fungible (ERC-20 token) items and non-fungible (ERC-721 token) items. This mixed transaction allows for a simple two-step transaction via 'atomic swap' where various coins can be exchanged without a middle platform. Based on its features, 100–200 items can be processed per transaction using ERC-1155.
The standard also allows multi-transfers, which enables sending items to more than one recipient through a single transaction. In addition, it empowers non-blockchain crypto developers to use graphic UI to create highly-secure game items and tokens. ERC-1155 is like a vending machine for customized tokens—a game changer for the blockchain industry.
The efficiency of ERC-1155 is also highlighted by its cost-effectiveness, as it helps reduce Ethereum transaction gas fees and resolve bottleneck situations. On June 24, Enjin Coin's developers sent a transaction containing 102 different token types, Enjin is the first team to conduct an on-chain transaction with more than one class of token. The developers sent 10,000 ENJ branded ERC-1155 tokens to simulate cryptocurrency, 500 "Gold Coins" to simulate in-game currency, and 100 one-of-a-kind items to simulate unique in-game items. The total gas cost for this transaction was only $2.42.
Enjin Coin created the new ERC-1155 standard as a means to remedy the inefficiencies and costs created by current ERC token standards, which require individual smart contracts per token type. This requirement also leads to accumulation of unnecessary, overlapping data for ERC-20 and ERC-721 tokens.  Given the features of blockchain, these codes will remain forever, thereby consuming a significant amount of storage space, process ability, and power. ERC-1155 aims to resolve these ongoing issues.
"The current non-fungible token provided a new measure of owning virtual goods, but it is expensive and inefficient to create a large-scale item database for mainstream developers," said Radomski. "ERC-1155 addresses this problem by allowing an infinite number of fungible and non-fungible items to be processed through a single smart contract."
"The ERC-1155 crypto item standard is easy to process and use on the Ethereum network. Once it is used, millions of creative items will be formed, not only for gaming, but also in various other industries. ERC-1155 can be used to guarantee true ownership for all items, both digital and non-digital."
After first developing the ERC-1155 standard code last summer, Enjin's team shared the code with Bancor, ZK Lab, and other Ethereum project development teams, gaining much attention and positive response. Currently, the ERC-1155 standard is uploaded on GitHub for discussion. The ERC-1155 standard has been merged into the official Ethereum repository and Enjin Coin's development team will gather feedback to perfect the proposal.
"ERC-1155 offers another level of efficiency and potential to all applications that require thousands of tokens. It removes existing barriers for token structure," said Radomski. "We will release the ERC-1155 standard to the game developer and Ethereum communities so that wallets, games, and various projects can provide support for new token contracts based on the ERC-1155 standard. We welcome all public comments in the ERC-1155 GitHub thread."
About Enjin: Founded in 2009 and based in Singapore, Enjin is  an gaming industry company with two core integrated products – Enjin Network and Enjin Coin. Enjin Network is a gaming-focused CMS & eCommerce platform, with over 20m users spread out across 250,000 communities and thousands of games. Enjin Coin is a smart cryptocurrency & a blockchain game development platform. For more information, visit https://enjincoin.io
This is a sponsored press release and does not necessarily reflect the opinions or views held by any employees of NullTX. This is not investment, trading, or gambling advice. Always conduct your own independent research.
Image(s): Shutterstock.com