In a drastic turn of events, Ethereum, the world's second largest cryptocurrency by total market capitalization, has seen a drop of more than 11% in its relative value during the past 24-hours. As is clear from the chart below, Ether's downward slide started yesterday afternoon when within a couple of hours the currency stooped from its seven-day price average of $225 to around the $200 region. If that wasn't enough, the currency even dropped to $195 before making a swift recovery and settling at $199.91 (at press time).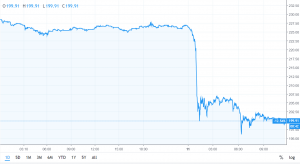 Bitcoin Suffers a Massive Blow
After doing fairly well for a couple of months, it appeared as though Bitcoin had finally entered the realm of long-term stability. However, that was not to be the case since after crossing the $6,600 threshold just a couple of days back, the currency has one gain dipped below $6,300 mark. As a result of this, the world's premier digital asset has lost over 4.65% of its relative value in less than 24 hours.
Bitcoin has not been the only casualty of this recent bear attack, with most of the other top 10 altcoins such as Bitcoin Cash (BCH), EOS, XRP, Stellar also observing losses of more than 10% during the aforementioned time frame.
What Does the State of the Crypto Market Look Like Right Now?
According to a study released by Chainalysis earlier today, Bitcoin Whales are not responsible for this latest volatility episode that we are witnessing right now. Instead, the study points out that the whales are part of a "diverse group that comprises of a majority of traders".
While it cannot be disputed that these whales have the ability to execute large enough transactions to swing the price of various assets, they have, on an average "traded against the herd, buying on price declines."
In other news, investors are still eagerly waiting on the U.S. Securities and Exchange Commission's (SEC) decision to approve of a closely-watched bitcoin exchange-traded fund proposal. If approved, many believe that the market as a whole could be injected with a fresh new level of investor confidence.
Final Take
It is a well-known fact that the NYSE is all set to launch its very own cryptocurrency trading platform, Bakkt, later this year in November. However, with the state of the crypto sector being in a sort of limbo right now, especially with all of the regulatory restrictions being placed on the alt-asset domain, it now remains to be seen if this latest bearish sentiment is here to stay for the long haul.
Image(s): Shutterstock.com