Even though many market experts had predicted Ether to slide below the $100 threshold over the course of the past 24-48 hours, the premier digital asset has, in fact, made a mini-recovery of sorts— with the currency currently sitting at a somewhat respectable price point of $121.28 (at press time). Additionally, as can also be seen from the chart below, since yesterday afternoon, ETH has been able to scale up to a relative high of around $128 (in spite of all the prevailing negative pressure).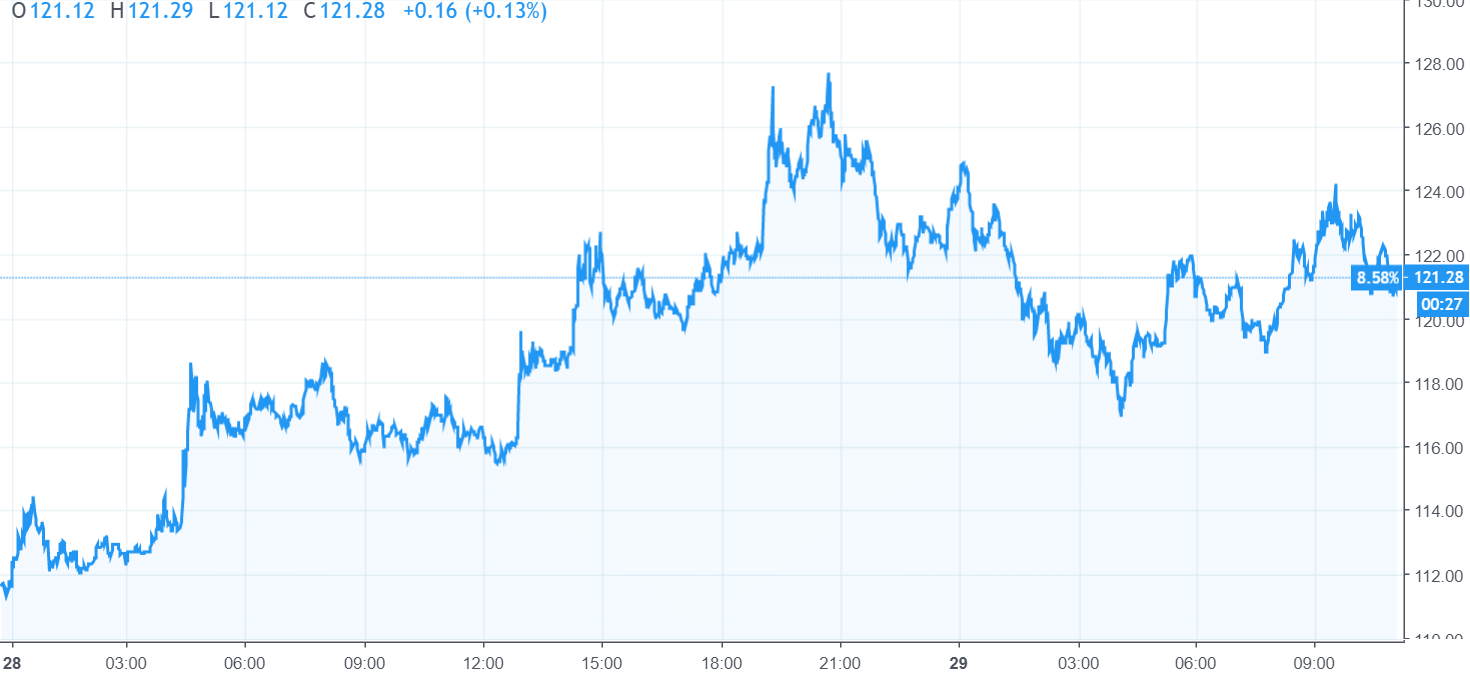 With this recent upward movement, Ether's market cap has once again risen from $10.5 Billion to a more respectable $12.536 Billion (within a span of less than 24 hours).
Technical Outlook
Since yesterday, Ethereum has been finding spurts of unexpected bullish support– with the currency even breaking its $118 resistance level. However, the next resistance threshold which has been set at $125, has not yet been breached by the altcoin due to immense selling pressure being faced by the market at large.
As things stand, Ether's latest support levels lie at $115, $112 and $110. Hence, if these levels are breached, we can expect the value of ETH to fall once again and even go below the $100 mark.
Amazon's New Blockchain Service Provides Full Support for Ethereum
In another piece of welcome news, multi-billion dollar corporation 'Amazon', has just released its native blockchain-based cloud service suite that is designed to help users devise novel digital solutions which they can use to record their business transactions with.
According to Andy Jassy, the CEO of Amazon Web Services, this new platform will be able to facilitate and record millions of transactions seamlessly for its clients. Additionally, Jassy also said that this project represents over 2 years of continuous hard work, wherein the engineers over at Amazon spent more than 12 months studying the needs of customers looking to avail of blockchain based solutions within today's market.
In terms of what Amazon's new platform can do, the devs say that this latest service can be used to facilitate peer-to-peer payments, process loans as well as allow companies to carry out trade dealings with their distributors and suppliers in a completely seamless fashion.
If that wasn't enough, Rahul Pathak, the GM of Amazon Blockchain, then went on to add that:
Final Take
How long this latest upward momentum lasts for ETH is anyone's best guess. However, if one thing is for sure, it is that the coming 48-72 hours promise to usher in a lot of action for the crypto sector as a whole.
Image(s): Shutterstock.com