At press time, Ether is trading at a stable price point of $214.06, thereby showcasing a minor value gain of around 1.45% since yesterday afternoon. As is clear from the chart below, ETH has finally found some stability after having dipped below the $200 threshold around a week back. However, as an overall bearish sentiment continues to loom large over the global crypto sector, it is still unclear as to what the future really has in store for Ether at this point.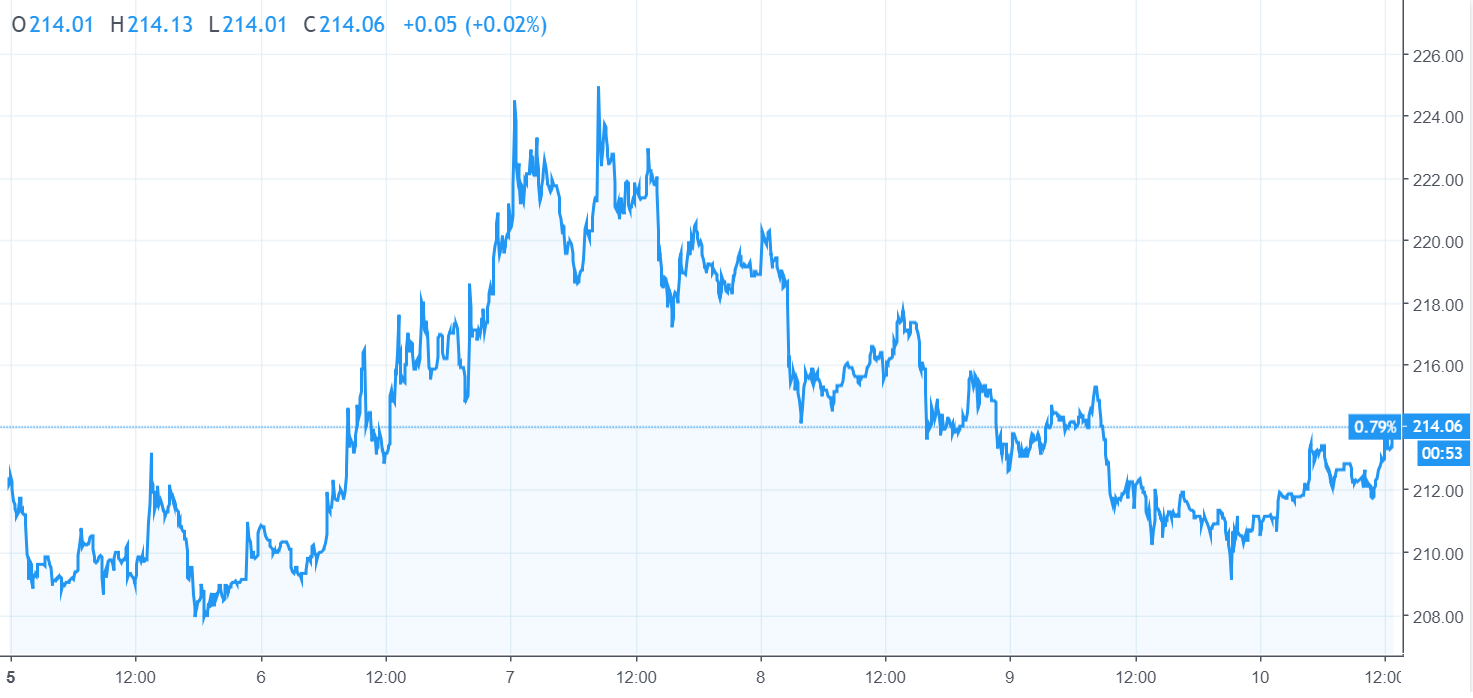 Korean Exit Scam Makes Way With Around $2.7 Million Worth of ETH
The crypto industry is known to be plagued with a number of scams that are designed to rip off unsuspecting investors of their hard-earned money. In this regard, it is now being reported that a South Korean crypto startup has pulled off an exit scam wherein the owners of the firm were able to steal thousands of Ether tokens from their initial backers.
🇰🇷 – New Korean exchange Pure Bit just pulled an exit scam claiming 13,000ETH from its investors as we speak. Kakao channels are emptying and the site has been pulled.

This is why we can't have nice things. Karma comes back hard when you screw this many people over. pic.twitter.com/GDkjiz1gAq

— Korean Cryptocurrency & Blockchain News (@BlockchainROK) November 9, 2018
According to local media outlets, PureBit, a firm that promoted itself as being a crypto exchange platform, was able to procure a total of 13,000 Ether (ETH) before the owners swiftly transferred the received ETH into their personal wallets.
Decentralized Exchanges Witness Drop in Daily Trade Volume Following the SEC's Latest Regulatory Actions
After reports of the SEC taking stringent action against EtherDelta starting surfacing all over the internet, it is now be being said that a lot of crypto traders are shying away from using decentralized crypto trading platforms till they hear more from the regulatory body regarding its future plan of action in relation to DEXs.
Yesterday: SEC charges founder of EtherDelta decentralized exchange

Today: The volume of the world's top 2 decentralized exchanges is down over 50% pic.twitter.com/lReBbp3NUm

— DRIVE Markets (@DriveMarkets) November 9, 2018
According to the SEC, the folks over at Etherdelta were illegally indulging in activities related to securities trading— something which the government body found to be in direct violation of its existing rules of conduct.
Final Take
While the ETH ecosystem has been facing a lot of backlash from investors over the past couple of weeks (especially regarding its failed Constantinople Hardfork), people like Eric Vorhees, the CEO of ShapeShift, still continue to view the premier digital asset as a force to reckon with in today's digital currency market.
At the time of writing this article, Ethereum possesses a total market cap of USD $21.9 Billion.
Image(s): Shutterstock.com