At press time, Bitcoin's closest competitor and the world's second largest crypto asset by market capitalization, Ethereum, is trading at a respectable price point of $216.12. Additionally, as can be observed from the chart below, the premier currency has been able to scale up to around the $225 mark (twice) within the span of the past 5 days. This latest surge comes in wake of a sudden downturn that had engulfed Ether earlier this month and had sent the price of the asset below the sub-$200 range.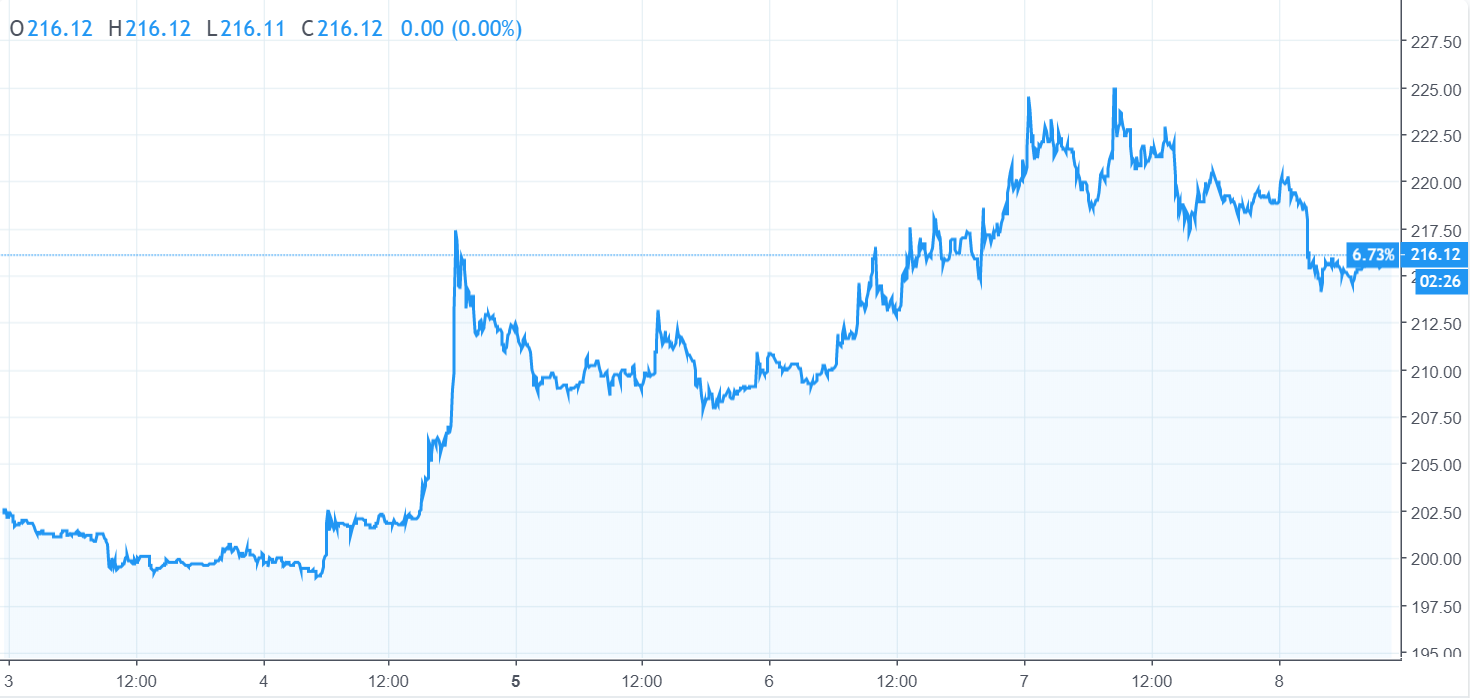 Ian Mcleod: "Ether is on the Verge of a Massive Breakout"
While the crypto sector at large seems to be mired by immense bullish action in recent months, there are analysts such as Ian Mcleod who feel that Ethereum is on the precipice of experiencing a 'monumental' shift in its value in the coming few weeks.
Elaborating on his stance, Mcleod was not one to mince words when he said:
"We can expect Ethereum to hit $500 by the end of 2018. Oracles, which help smart contracts gather information from the outside or "real" world, will help drive these price gains by bolstering Ethereum's adoption",
However, coming back to a more realistic POV, in order for Ethereum to rise up to Mcleods' predictions, the altcoin will have to experience an exponential gain of around 100% within the coming month or so— an event that does not look highly likely.
Lastly, it is worth noting that Mcleods' sentiments are being shared by other tech experts such as Mati Greenspan and Joshua Frank as well. In relation to the matter, Greenspan was quoted as saying:
"The entire crypto market has been showing slow but steady gains lately. I could easily see this developing into a full on rally into the year end."
Ex-Google Chairman Sees Massive Potential in "Ethereum"
In another major endorsement for Ethereum, Eric Schmidt, the Former Chairman of Google, stated in a press conference earlier this week that the premier digital currency was 'underrated' and that it possessed 'massive potential' within today's burgeoning digital financial sector.
Schmidt then went on to add that:
"In the public format, overrated. In its technical use, underrated… Today, Blockchain is a great platform for bitcoin and other currencies. And it's a great platform for private banking transactions where people don't trust each other I think the most interesting stuff that's going on is the beginning of execution on top of blockchain — the most obvious example being the capability of Ethereum. I ethereum can manage to figure out a way to do global synchronization of that activity, that's a pretty powerful platform. That's a really new invention."
Final Take
At press time, ETH's total market cap has risen and settled around a decent price point of USD $22 Bln. However, what the future has in store for the alt-asset market at large is anyone's best guess.
Image(s): Shutterstock.com