At press time, the world's second-largest cryptocurrency by market value, Ethereum, has failed to gain momentum for the eighth day running and break free from a value range that is limited by $230 on the upside and $224 on the downside.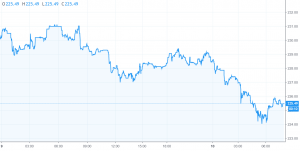 As can be seen from the chart above, Ether is currently trading at $225.49, a price point that is around 1.4% lower than its peak value yesterday afternoon. Not only that, XRP and BTC too have been facing bearish market conditions during the aforementioned time frame.

Lastly, it is also worth noting that Ethereum's current market value stands at $23.1B, while its average daily trade volume was registered at $1.4B— both of the figures lay in conjunction with the currency's long-term average figures.
Ethereum Smart Contract Breached as Miscreants Make Their Way With 165 ETH
As per a statement released by Spankchain, an Ethereum-based adult entertainment platform, the firm has fallen victim to a smart contract breach which has caused the company to lose a total of $38,000 (or 165 ETH approx.)
The attack allegedly took place on the 6 of October, with the developers of Spankchain only finding out about the incident a day after. As mentioned earlier, the miscreants were able to make their way with 165.38 Ethereum from the platform's payment channel smart contract. Not only that, but it should also be noted that the breach also immobilized SpankChain's native offering, the BOOTY token.
In terms of the firm's immediate plan of action, a spokesperson for SpankChain said that client satisfaction was the company's "number one priority" and therefore reimbursements would be doled out immediately via an airdrop.
Lastly, in light of this latest incident, the SpankChain team has also temporarily stopped its camservice called Spank.Live, since it makes use of the payment channel smart contract in question.
Noted Crypto Analyst Eric Theis Says: "Crypto Has Hit 2018 Price Bottom"
If the analytical predictions of crypto experts such as Mike Novogratz and Eric Theis are to be believed, the crypto market as a whole has hit "rock bottom" and that things can also surge upwards from here on out.
These predictions are based on the fact that after stooping below the $180 mark after more than a year, ETH was able to make a swift recovery to around the $230 mark — most likely as a result of massively oversold conditions that were prevalent in the market all through September.
Final Take
Even though some technical indicators currently suggest the presence of an overall bearish market, the fact that Bitcoin's value has remained relatively stable over the course of the last two months is a sign that a "price bottom" may have already been established.
Image(s): Shutterstock.com