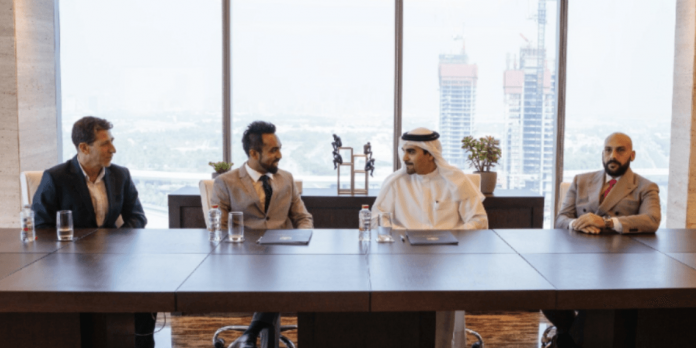 Fantom Foundation, a DAG blockchain with an open-source stack project focussing on Smart City applications, is announcing a partnership with The Private Office of Sheikh Saeed bin Ahmed Al Maktoum. Through this partnership, Fantom aims to help Dubai develop new economic opportunities and deliver a better user experience for UAE citizens using their technology. 
While many other countries have decided to take a negative stance towards blockchain technology and cryptocurrencies, the United Arab Emirates (UAE) is committed to become a world leader in blockchain adoption as part of the Smart Dubai initiative which was founded by the Dubai ruler, Vice President and Prime Minister of the UAE to collaborate with the private and government sectors to be the "first city fully powered by blockchain by 2021." Under this initiative, over USD $6 billion have been allocated to improve Dubai's tech and Smart City infrastructure. 
The Ruler of Dubai is actively working alongside private and government sectors to empower and deliver a more efficient and happier city for their citizens through the achievement of integrating blockchain technology with startups and businesses in order to become a global leader in the tech sector. 
According to Hisham Al Gurg, CEO, SEED Group and The Private Office of Sheikh Saeed bin Ahmed Al Maktoum: 
"This day marks the beginning of a new partnership that lays the groundwork for integrating Fantom Foundation's technology and expertise into the vision of Dubai to become a blockchain city. Given their extensive experience in technology R&D and working with partners, we look forward to seeing how this will significantly benefit the Smart Dubai initiative strategy."
The partnership comes as a result of Fantom's successful trip to Dubai in April and the subsequent discussions by the Sydney-based Fantom Innovation Lab, led by Ashton Hettiarachi and David Freuden, along with Technical Advisor Andre Cronje.  The commercial partnership with The Private Office of Sheikh Saeed bin Ahmed Al Maktoum will allow Fantom to operate under their corporate umbrella to engage with Dubai and UAE government and the private sector to provide technology and services across multiple public and private sectors in the coming weeks. As explained by Ashton Hettiarachi:
"We are super excited to partner up with The Private Office of Sheikh Ahmed bin Saeed Al Maktoum to bring innovation and build solutions for Dubai to create new economic opportunities and deliver better user experience for UAE residents."
What Innovation And Value Can Fantom Bring To The UAE? 
Fantom is rapidly growing, and it has achieved notable milestones through the last few weeks. The FTM token, Fantom's native token, has also been listed on major cryptocurrency exchanges such as Binance, OKEx and Bittrex. This token has shown great performance through the last 6 months, growing 10x times in price outperforming other big players such as BNB. 
Additionally, Fantom recently joined the Government Blockchain Association (GBA), the largest Government Blockchain association in the world. This blockchain-based company is expanding exponentially, covering 3 regional areas and with a growing team. 
With Fantom Foundation, the Smart Dubai initiative will have a unique partner capable of providing advice and consultation on specific strategies that will transform the city, the legal framework and the blockchain architecture of the country to a blockchain-ready region. Fantom will help with the overall framework, service optimisation, collaboration, solution design and implementation of new technologies across the United Arab Emirates, adding value to the following areas:   
Service design, government department service optimization and automation

Government department collaboration

Shared learning processes and infrastructure

Open innovation and collaborative engineering

Creating new economic opportunities for Dubai

Ecosystem development

System architecture design and tech implementations

Data management

IP leasing
Through this innovative partnership, Fantom will also enable startups and businesses to create new economics within the region, improving the technology of emerging economies in Dubai such as: 
Supply chain and logistic

Utility management and monitoring

Machine-to-machine economy (M2M): Automated factories

Driverless cars, smart meters and smart parking

Industrial IOT & MESH networking

Stable coins backed payment solutions

Communication platforms

Data sharing

Big data analytics

Identity services

Digital asset exchanges

Car, property leasing

IP rights
Overall, this strategic partnership is set to improve the technological advances of blockchain tech while also actively promoting its adoption throughout all sorts of fields. 
Fantom Website & Social Media: