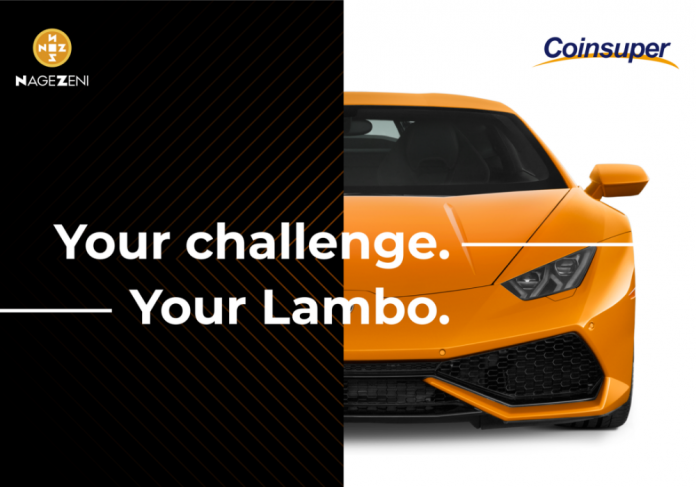 Current market sentiment is far from being positive: main cryptocurrencies are falling, the rest of altcoins subsequently follow the same pattern, but with bigger losses. However, it is not the first time when something similar happens, and definitely will not be the last. That is why those who are not completely blinded by a market meltdown, seek for alternative opportunities.
Going off the beaten path
Trading competitions are a breeze against the red numbers. Though the majority of companies prefer to stay aside, the brave ones are still here. Japanese venture Nagezeni started a cosmic crypto contest, hosted by Coinsuper – one of the TOP 30 exchanges according to Coinmarketcap. The prizes include a Lamborghini Huracan, which will be delivered to any place on the Earth, exclusive watches and the reward pool of 160.5 ETH.
Coinsuper occupies the 32nd place by a daily trading volume – not as big as Binance, but on the other hand it means that there will be less competitors, so a chance of winning the top prize is higher.
Surely, Nagezeni team deserves credit for reviving trading competition on such a strong bearish market. It is hard to believe that just 11 months' earlier people were taking banking loans to buy Bitcoin or invest in ICOs, whereas currently one can observe persistent panic sales, followed by a decrease in all the digital assets prices. Since January peak, the total market capitalization of all cryptocurrencies fell down by over 80%. Bitcoin, in turn, was traded at $3750, which is well below its all-time high of nearly $20,000 last year.
Crypto market is like a professional illusionist: the crowd looks at one point, meanwhile the trick happens behind their backs. The same approach works in case of making money on cryptocurrencies. Whilst everyone is waiting for a trend reversal, smart ones are seeking for new and sometimes hidden opportunities. Contribute to unknown projects and lose, or participate in tiresome bounties and airdrops and get nothing – these are not a trend anymore. But trading and winning real, valuable prizes for this – that's something interesting and appealing.
Lambo is closer than ever
Though the bearish market is hibernating, Nagezeni gives everyone a unique chance to stay on top even today. The company offers just 14 days from December 3 to December 17 to trade NZE tokens on Coinsuper and win a supercar, premium watches or other prizes. The idea is pretty easy to catch: contestants will have 2 weeks to achieve the highest trading volume (it is calculated as how much NZE volume the trader produces), and winners will be selected depending on this indicator. Keep in mind that only orders that have been fulfilled will be counted into total trade volume. Additionally, trades made outside the competition period will not be taken into account. And in case you are one of the first 25 winners, you will have one week to pass the KYC procedure and claim the prize.
If you are a medium-term or long-term investor, you may be probably asking what kind of problem this company solves. According to the whitepaper, Nagezeni project is somewhat similar to Steem: it creates a solution based on blockchain that will allow social media users to reward their favorite content-creators with something more valuable than just simple likes – actual money, in particular, NZE tokens. For example, almighty YouTube, has recently tightened platform rules around what channels can be monetized: now channels will need 4,000 hours of annual viewing time and over 1,000 subscribers. Thus, feeding all the big sharks and leaving crumbs, if not less, to the small channels. It means that behind the contest, there is a company with a real product that plans to solve an existing inefficiency, making it more attractive to the mid-term and long-term investors.
Nagezeni's trading competition is truly large-scale – there will be over 1000 winners. But only best of the best will get most valuable prizes.
The champion will get a brand-new Lamborghini Huracán, the rest of TOP-5 traders will win premium watches and Ethereum coins: exclusive pairs of Audemars Piguet, Harry Winston, Franck Muller and Rolex. The detailed breakdown of the prizes is available on Nagezeni website.
Stop concerning just to wait for an upward trend. Search for alternative opportunities and trading competition is one of the best solutions. Of course, the final choice is yours, but don't forget that there is only one Lamborghini and a unique company that offers a possibility to win it.
To learn more about the contest, visit Nagezeni website and follow the news on Telegram, Twitter and Facebook.
---
This is a sponsored press release and does not necessarily reflect the opinions or views held by any employees of NullTX. This is not investment, trading, or gambling advice. Always conduct your own independent research.
Image(s): Shutterstock.com