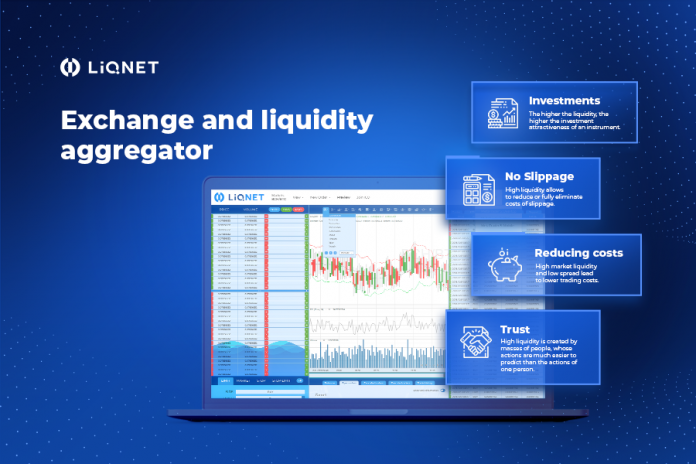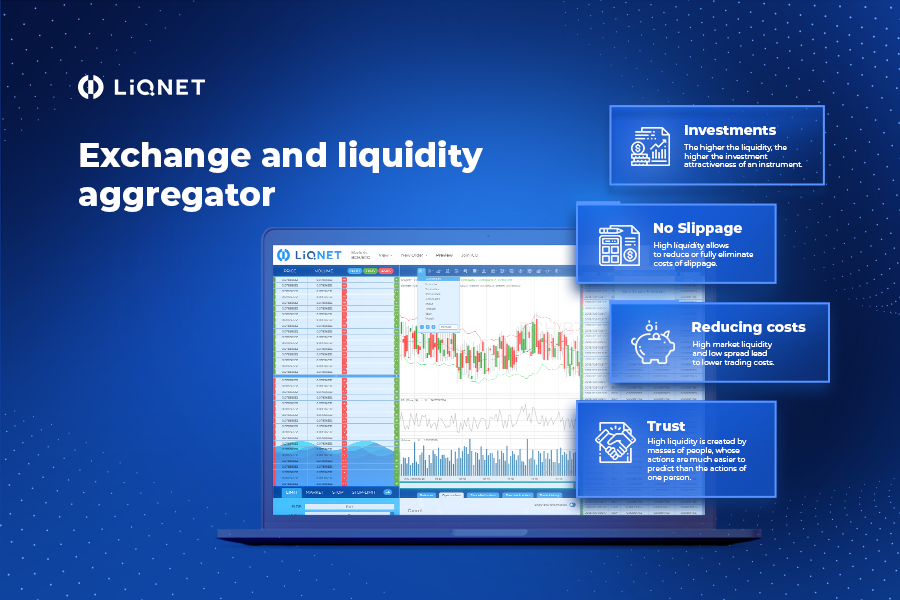 LIQNET.COM is a Singapore-based crypto exchange. But really it's very different from any exchange you've seen before. More correctly would be to call LIQNET an exchange aggregator. LIQNET collects orders from other crypto exchanges into one single interface and allows users to trade at the best prices and large volumes.
So why is liquidity important? Liquidity is always a problem in a bear crypto market. For a crypto whale, low liquidity basically means that you will not be able to buy or sell a significant amount of coins and miss out on profits or even lose money. According to a research conducted by the Blockchain Transparency Institute, more than 80% of  the volume exchanges show is faked. These exchanges are trying very hard to show that they are active and they have users and liquidity. Well, LIQNET is thinking outside the box here and aiming to disrupt the market with their own liquidity pooling technology.
How LIQNET works
LIQNET is a meta-exchange that collects orders from other exchanges through open APIs and allows them to be traded in one place. In addition to obvious convenience, this functionality greatly increases liquidity for LIQNET clients, and this is an increase in trading speed and, as a result, traders' profits. This also has the added benefit that LIQNET is not competing with these exchanges, as it trades using their API and pays fees! So in effectiveness, LIQNET is a new generation of exchange built above existing infrastructure and improving on the negative aspects of exchange usage.
LIQNET's liquidity collection mechanism is called LEN – a proprietary technology of the company. The name stands for Liquidity Exchange Network. It collects and combines the orders of clients of the exchange and the orders of other sites into one order book. So LIQNET clients can trade in this huge stream of orders and they have an edge over those who sit on the same exchange or try to monitor several separate platforms. Additionally, LIQNET allows for complex trading instruments some other exchanges don't have, such as take profit, trailing stops, Iceberg, IFD, OCO, IFDOCO orders and more.
Why liquidity matters?
The situation on the cryptocurrency market is completely different than on the currency market. Large transactions with cryptocurrency have a very serious impact on the change of quotations. This is due to the fact that the liquidity of cryptocurrency is rather low, and the lower the liquidity, the smaller the transaction can lead to a serious change in prices. So large traders face the problem that they have to pay significantly more than they planned because of this. There may simply not be enough coins for a deal at the exchange these large players have chosen.
Safety first!
The head office is located in Singapore, where there are very strict cryptocurrency laws. This means that LIQNET complies with the most advanced international standards. For the server part, they use a geo-distributed private cloud, while the client part consists of a web terminal. They cooperate only with experienced and reputable players, and each version of the exchange is subject to a strict independent security audit. There is a two-factor authentication, KYC through a reliable partner.
LEN tokens
LEN token is the main community-building tool of LIQNET. Holding tokens grants a discount of up to 90% on exchange fees. Tokenholders will be able to communicate with each other in chat rooms and forums and have voting rights like choosing what trading pairs appear on the exchange and ways to spend collected commissions.
About LIQNET
LIQNET was founded in 2015 by Roman Shirokov, Vyacheslav Kasatkin and Yevgeny Tarasenko. All of them have a proven track record in finance, stock and forex trading and information technologies. These guys saw the problems of current trading platforms and created a solution based on their experience. LIQNET is a fully licensed exchange and you can be sure that your funds will be safe. They hold several EU financial services licenses, for exchanging a virtual currency against a fiat currency, providing a virtual currency wallet service and operating as a financial institution. Join LIQNET's Facebook and Twitter to stay updated on news and events!
---
This is a sponsored press release and does not necessarily reflect the opinions or views held by any employees of NullTX. This is not investment, trading, or gambling advice. Always conduct your own independent research.