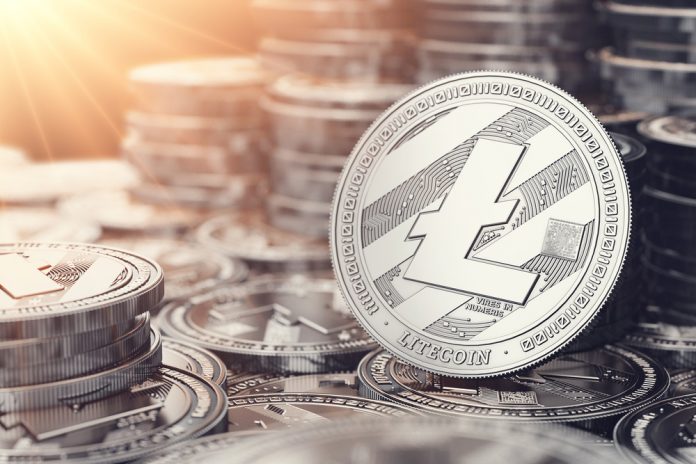 Even though nearly all crypto markets had seemingly engaged the pups this morning, the current hourly chart looks incredibly bleak. Some altcoins lost over 10% in value in the span of a few minutes. Especially the Bitcoin chart looks worrisome in this regard. Litecoin price watchers will not be too happy with this trend, albeit it was somewhat to be expected.
Litecoin Price Retraces in a Violent Manner
When the momentum remains positive in the cryptocurrency for several days, one has to wonder how things will evolve in the near future. As was to be expected, a major downtrend occurred earlier today. The hourly charts look extremely bearish for all markets, with Litecoin facing a lot of pressure across the board. The weekend may not necessarily end on a high after all.
To put this in perspective, all cryptocurrencies, tokens, and assets are losing 5% in value or more on the hourly chart. This is primarily because Bitcoin is into overbought territory. As far as the Litecoin price is concerned, a net 6% loss is the current bottom line, although this figure will undoubtedly fluctuate a fair bit throughout the day. With the value driven down to $46.08, or 0.0119 BTC, a lot of questions go unanswered.
It is quite interesting to see how the community responds to this somewhat new challenge. Bitcoin Litecoin Master sees the dip as a golden opportunity to buy more LTC. Even if it were to dip further, there is no reason not to buy LTC, according to this user. Given the current violet market swing, continuing to buy may not necessarily be the smartest idea. Although there are still notable gains in the past seven days, a lot of momentum has been eroded all of a sudden.
Just picked up a couple more Łitecoin on the dip

If it dips more will buy a couple more#ltc #litecoin #bitcoin #btc pic.twitter.com/GfKVluFSXG

— Bitcoin Litecoin Master ⚡️ (@xtdisnkfe) February 24, 2019
RayTheStoryteller shares an interesting tidbit of personal experience involving people who show an interest in cryptocurrency. While it is true the price per Bitcoin may be rather steep, that doesn't necessarily make it not worth buying. Purchasing Litecoin can be quite lucrative as well, although most people tend to do so to increase their BTC holdings.
"Bitcoin is too expensive, I think I'mma just buy some #Litecoin".

– Most people I know that are interested in crypto.

— RayTheStoryteller⚡ (@AUXLNT) February 24, 2019
It appears as if most traders expected the Litecoin momentum to turn pretty bearish today. Brad Metz expected the pullback to occur a bit later yet it seems the speculators and traders were well ahead of the curve in this regard.  How bad things will get, is anyone's guess at this point. This violent momentum can trigger a lot of panic selling moving forward.
Wow that was quick, was just about to post that a pullback was coming $ltc #litecoin, happened while I was charting. RSI was showing bearish divergence. pic.twitter.com/C3axDdWKXW

— Brad Metz (@bmetzsc) February 24, 2019
All things considered, the bearish pressure everyone expected to materialize has finally arrived. While the hourly candles look bleak, if not downright bothersome, it doesn't necessarily mean this trend will remain in place. The high trading volume of all markets could lead to the dip being bought up quickly. A lot of traders simply took profit, and it is showing. For Litecoin, the next few hours will confirm if the value can return to $50 soon.
---
Disclaimer: This is not trading or investment advice. The above article is for entertainment and education purposes only. Please do your own research before purchasing or investing into any cryptocurrency.
Image(s): Shutterstock.com