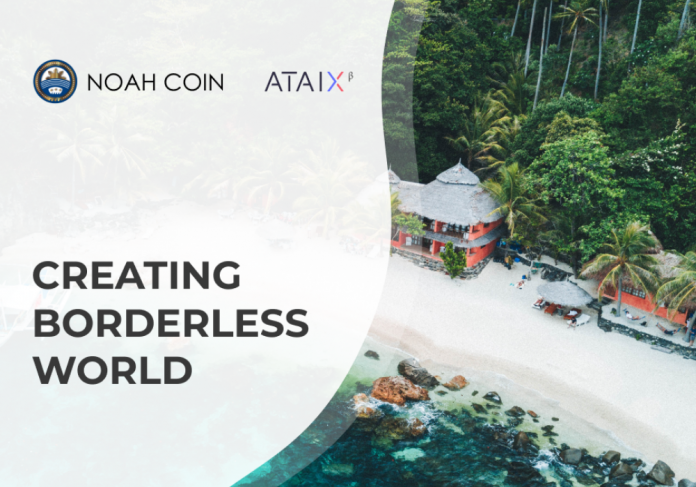 The Noah team is thrilled to announce that the project has achieved a new milestone on its roadmap: Noah Coin is available on ATAIX now!
It is the 7th exchange where customers can buy and trade Noah Coins. Recall that the token is listed on HitBTC, Changelly, BTC-Alpha, Mercatox, LiveCoin, and YoBit. The project strives to provide users with as many options to trade Noah Coins as possible so that they can choose the platform that suits them most of all. The listing on ATAIX will help the Noah Project to gain more popularity among the crypto holders and increase its presence in the cryptocurrency market.
Meet ATAIX
ATAIX is a cryptocurrency exchange that supports both crypto-to-crypto and fiat-to-crypto conversions. The platform seeks to ensure a secure and reliable environment for both trading and exchanging, as well as to provide traders with the best experience in dealing with digital money. To make the transactions smoother and more convenient, ATAIX has developed an innovative One-Click Exchange tool, thanks to which exchanging becomes much easier, quicker, and safer.
"We are very excited to get Noah Coin listed on ATAIX", comments the Noah team. "This exchange always improves its services and develops new instruments, providing seamless, stable, and reliable trading. What's more, ATAIX opens a much broader market for Noah Coin, exposing it to a global audience. It's especially essential when it comes to the liquidity of the token. Listing on ATAIX will become a new chapter in our development."
The Noah Project team feels the support of crypto community and does its best to gradually develop and expand their knowledge and expertise, as well as make smart and user-friendly solutions. For example, it created Noah Wallet, which is now available for both iOs and Android. As a result, crypto owners received a cool product allowing them to manage their virtual assets more efficiently.
That's not all. The Noah Project cooperates with PayRemit, the largest payment gateway in the Philippines. This partnership allows Noah Coin holders to buy different products and services at PayRemit stores with their Noah tokens. Besides, the team has recently been recognized as Blockchain project by the Philippines' Department of Science and Technology, which came to Dakak to explore this innovation.
This proves that the team is on the right way. The Noah Project confidently moves ahead, bringing its distinctive ideas to the table. It continues to gain support, attention and real-world adoption. Make a difference today and become a part of the hi-tech future with Noah right now!
About the Noah Project
The Noah Project is aimed at bringing about social innovation through blockchain and making new technologies closer to people. Thanks to the Noah ecosystem, it will be available to employ various services and make use of all advantages provided by blockchain and cryptocurrencies.
The Noah team is currently building the world's first crypto hub called Noah City, a future crypto paradise Noah Resort, as well as developing blockchain-powered remittance solutions based on Noah Coin.
To learn more about the Noah Project, get the latest news and communicate with the team, follow us on Facebook, Twitter and join our official Telegram chat. Welcome to the Noah world!
---
This is a sponsored press release and does not necessarily reflect the opinions or views held by any employees of NullTX. This is not investment, trading, or gambling advice. Always conduct your own independent research.
Image(s): Shutterstock.com