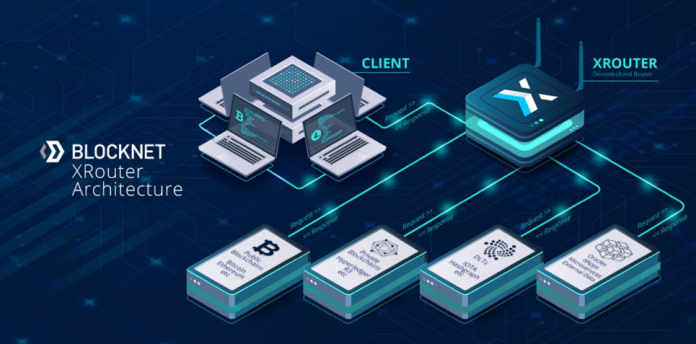 With XRouter and the Blocknet Protocol, Blocknet has laid the foundation for a "decentralized Infura", 
17 March 2020, Austin, TX – Blockchain interoperability protocol Blocknet has laid the foundation for a decentralized Infura. Infura allowed developers the freedom to run a node without needing to worry about its maintenance and upkeep. However, this reliability has led to heavy traffic through its nodes, with the majority of that traffic re-centralizing a large part of the Ethereum network. This problem was compounded further during the height of the CryptoKitties craze in 2017 in which the majority of traffic was funneled to Infura causing more problems, clogging up the network. 
In the last 9 months the number of nodes maintained has fallen by 25% as an increasing number of node operators stopped maintaining their own nodes and switched to using Infura. If this trend continues then Infura will go from operating a small percentage of Ethereum nodes to a much greater percentage, creating an ever more centralized system.  
The Blocknet Protocol: A Decentralized Infura  
Decentralized applications should be censorship resistant, trustless and without a central point of failure –  principles that the Blocknet Protocol was founded on. The Blocknet Protocol consists of 2 components:   
1.XRouter is an inter-blockchain SPV client backend, enabling the verification of blockchain records without requiring users to download the full blockchain. XRouter functions on the TCP/IP level and is compatible with any and all blockchains and networks.   
2.XBridge provides the ability to perform true trustless and decentralized exchanges between any digital asset that is supported by the Blocknet Protocol via APIs. The entire process is done in a trustless manner.  
Together XBridge and XRouter provide decentralized, total blockchain interoperability across ALL blockchains, creating an Infura-like, but completely decentralized API ecosystem for hundreds of blockchains
The Incentives Of Running A Blocknet Service Node  
The Blocknet Protocol allows for the monetisation of inter-chain and multi-chain services and for interactions between any smart contract platform and any other blockchain, even those that do not have smart contract capabilities. XRouter was designed from the ground up to provide interoperability with ANY and ALL blockchains, including all DTL's (such as IOTA and Hashgraph.) and private chains (such as Hyperledger or R3.) XRouter can also verify external data sources such as those used in Oraclize.  
The Protocol is supported by a network of Service Nodes that host full nodes of the supported blockchains, host microservices, verify UTXOs, route communication between blockchains, and perform anti-spam/DOS measures for the network. BLOCK is the utility token of the Blocknet blockchain and is used to pay fees for the network's services. Through these fees, BLOCK is used as compensation to Service Nodes to incentivize support. 
Operators of Services Nodes also receive 100% of fees generated from use of the network's services (XBridge, XRouter, XCloud). Blocknet Service Node owners therefore have a great incentive to maintain their nodes. This is a marked difference to operating a normal Ethereum node where there is a lack of an economic model to encourage operators to continue to run Ethereum nodes.   
Developers, DeFi, DApps And Use Cases  
The Blocknet Protocol makes development blockchain-agnostic. This means development can occur on any chain and the features needed can be pulled in from other blockchains. If developers want to utilize smart contracts from different chains, they can now do so, mixing and matching any blockchain they choose, to build whatever they want with no need to rewrite contracts from scratch. Because Blocknet uses the Bitcoin codebase, this benefits XRouter, XCloud and XBridge improving network security and scalability.  
DNS support has also been integrated which will support the forthcoming XRouter proxy (currently in closed beta) allowing Service Nodes to give enterprise clients and developers direct access to RPC frameworks across any blockchain, Ethereum included. The proxy will also enable support for millions of requests per second and all without requiring the Blocknet wallet to be installed.  
The Blocknet XRouter network is designed with consensus in mind, meaning that developers can access a variety of Service Nodes that are running the same jobs, picking and choosing which nodes they would like to use to achieve network consensus. There is also the capability to create custom microservices in Docker containers that act as plugins for XRouter. This is the foundation for Blocknet's XCloud platform. XCloud can be used to monetize any service with crypto payments without having to re-code or change anything about those existing applications. 
XCloud is like a decentralized AWS. Therefore, Ethereum could be hosted on a Blocknet Service node which could be accessed via XRouter / XCloud plugins, giving access to Ethereum API's, just like Infura offers. The difference being that with Blocknet, it is all completely decentralized.
XRouter and XBridge allow for individual libraries enabling dApps to be compiled outside of  the main wallet. These dApps could then be utilized via Metamask which will result in true  decentralised finance (DeFi). A Blocknet Service Node can offer services via XCloud plugins, allowing developers to build a true DeFi ecosystem where the node operators would receive fees from developers and businesses utilizing their Service Node.   
At present there is already a long list of XRouter calls for off-chain oracle data services, games, messaging apps and more including over 32 live Ethereum calls that developers can begin to utilize.  Blocknet nodes currently support over 100 Blockchains including BTC, LTC, ETH, EOS, DGB, DASH, DOGE, SIA, SYS and many more. Use cases can be viewed in the Blocknet whitepaper.  
For more information on Blocknet visit: https://blocknet.co/

Read about Blocknet on Medium: https://medium.com/@theblocknetchannel
Join the Blocknet community on Discord: https://discord.gg/2e6s7H8
Follow Blocknet on Twitter: https://twitter.com/The_Blocknet
Find Blocknet on Facebook: https://en-gb.facebook.com/theblocknet/
Media Contact Details
Contact Name: Philip Marshall
Email: [email protected]
Blocknet is the source of this content. Virtual currency is not legal tender, is not backed by the government, and accounts and value balances are not subject to consumer protections. This press release is for informational purposes only. The information does not constitute investment advice or an offer to invest.
About Bitcoin PR Buzz: As the world's first cryptocurrency and Bitcoin PR service and newswire, Bitcoin PR Buzz has helped over 800 satisfied clients to reach their goals during its 7 years of service. To get your project featured on some of the world's top Crypto and mainstream news sites, visit Bitcoin PR Buzz today