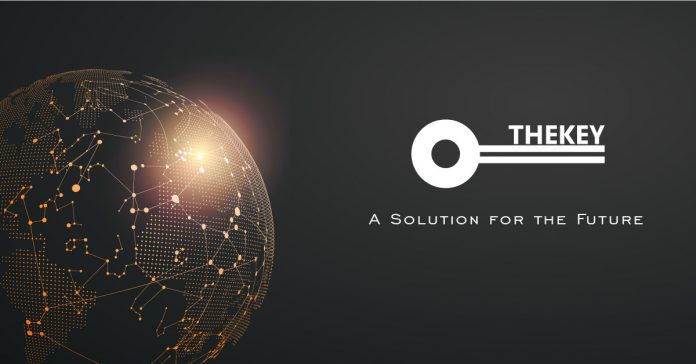 The commercialization and application of social insurance data is facing an as yet unresolved dilemma. On one hand, social insurance data is strictly regulated by the PRC's "Social Insurance Law" and cannot leave the custody of the government, can never be downloaded, and can never be seen by unauthorized persons. On the other hand, the broad array of social insurance data aggregated by healthcare and related fields is of incredible value to government, the greater medical and pharma domains and beyond, that must be fully deployed in service to increasing healthcare efficacy and the greater development of society and the economy. With the emergence and development of blockchain, a perfect technical solution to this greater dilemma is emerging.
In address to the above opportunity, on the recent 20th of June 2018 THEKEY, the Information Center of the Ministry of Human Resources and Social Security (MHRSS) and the China Social Insurance Association (CSIA) announced that they have reached a cooperative agreement in researching social insurance blockchain applications that include solutions that address the above quandary.
The application of blockchain technology in social insurance industry is unprecedented and is anticipated to fundamentally change the healthcare industry from the following perspectives:

Deploying open source code, and by nature being both transparent and 'smart contract'-based, blockchain technology can potentially solve the insurance industry's trust issues, ideally by guaranteeing not only insurance agreements, but also the integrity, reliability and accuracy of the insurance data, thus significantly reducing the cost of underwriting.
Via these same smart contracts automatic and direct settlement of claims can be triggered, increasing the efficiency of, and trust in, relevant transactions.
Record transacted on the blockchain are traceable, undeniable and unalterable, thus optimal for meeting the requirements of social insurance audits, further reducing fraud, abuse and waste of social insurance funds.
Blockchain can and will largely improve the efficiency of social insurance payments, transactions, clearance and settlement, on a day-to-minute basis, and will deliver even faster speeds with the further development of blockchain technologies.
Blockchain will reduce the operational cost of social insurance agencies, ideally translating to lower costs and better service to consumers.
Blockchain will better facilitate the commercialization and application of social insurance data by ensuring both secure data transmission and transactions among various stakeholder institutions.
On the 30th of June an official kick-off meeting related to launching this blockchain research was held with leaders from the relevant departments within MHRSS, THEKEY and other vested interest social organizations, enterprises, experts and scholars. According to attendee Mr. Xiaoyi Hu, former Vice Minister of MHRSS and Chairman of CSIA. "The utilization of blockchain will indisputably bring a technical revolution in social insurance industry."
As a multiple national award-winner both in the areas of social insurance and blockchain technology(http://markets.businessinsider.com/news/stocks/thekey-mvp-testnet-won-a-national-award-at-the-china-international-big-data-industry-expo-2018-1026408670), and as THEKEY identity verification (IDV) interface covering personal identifiable data of over 210 million people, THEKEY has established itself as a global leader in this domain, and is honored to be the exclusive commercial partner of the government agencies in this important national research.
A New Blockchain Research Fund
THEKEY observes that aside from the issuance and payment of cryptocurrencies, blockchain has rarely been applied in any industry on a large scale. The above-described application of blockchain for social insurance by the world's largest insurance payer in services to 1.4 billion people will surely be a global breakthrough signaling the real world value and use of blockchain technology for the social good. It also signals the need for tremendous systematic innovation across a variety of disciplines, including the areas of online identity verification, technology and associated business models.
In support of the above research agreement, and in order to overcome the technical and regulatory obstacles of this challenging research and commercialization task ahead, THEKEY has launched a scientific research fund (https://www.thekey.vip/#/Fund)totaling 20 million USD that will be deployed with the relevant academic and commercial institutions/personnel required to achieve all goals.
About THEKEY
THEKEY is a decentralized identity verification (IDV) tool and ecosystem, the first commercial company to combine blockchain with national big-data. THEKEY project team is now developing a Blockchain-Based Dynamic Multi-Dimensional Identification (BDMI) IDV by using Personally Identifiable Information (PII) that is exclusively authorized by government authorities. THEKEY's token (TKY) is the only means by which to settle smart contracts signed between participants in THEKEY Ecosystem. THEKEY Mainnet platform is scheduled to be released at the end of this year/2018. THEKEY's TKY token is currently tradable on various exchange platforms such as Bit-Z , KuCoin, LBANK, Hitbtc.
For more information, please visit:
Website: www.thekey.vip
Twitter: https://twitter.com/thekeyvip
Telegram: https://t.me/THEKEYOFFICIAL
This is a sponsored press release and does not necessarily reflect the opinions or views held by any employees of NullTX. This is not investment, trading, or gambling advice. Always conduct your own independent research.
Image(s): Shutterstock.com