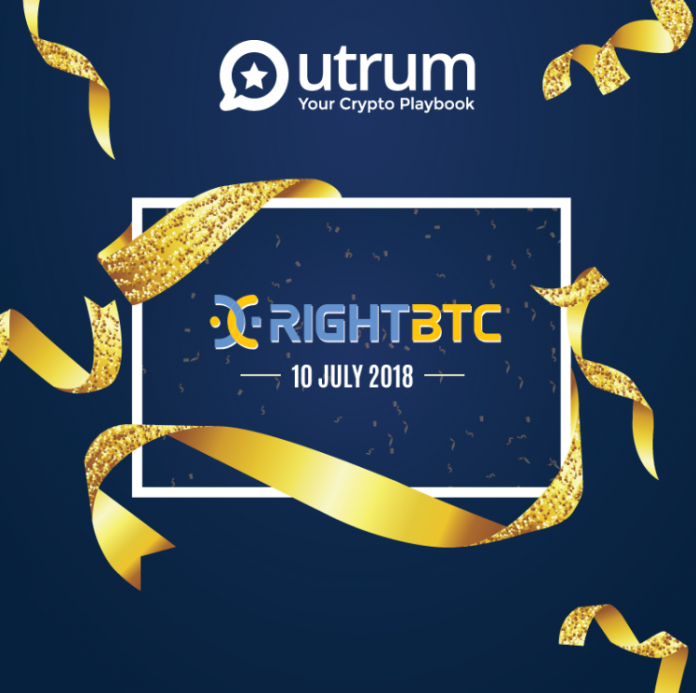 On July 4, 2018 the Utrum Foundation DICO concluded, having successfully reached soft-cap mark of 1 million USD.  This unique form of crowdfunding, in which decentralization is paramount, enabled the Utrum OOT Coin to break some crypto-records through the short span of 2 months.
Most impressive is the listing of OOT on CoinMarketCap within the first 24 hours of kicking off the pre-sale on May 10.  What made this possible is the DICO model vs traditional ICO models.  In a traditional ICO there is an element of centralization.  Whether through a smart contract or a controlling organization, some part is centralized and there's a lot of (usually blind) trust required on the part of investors.  
In a DICO, which stands for Decentralized Initial Coin Offering, there is no central organization, no smart contract, no controlling party.  In fact, it's more akin to an Over-the-Counter (OTC) trade, as it utilizes Atomic Swap technology, powered by Komodo Platform.  This is wallet-to-wallet trading, using a decentralized exchange.
Because Utrum used BarterDex to make their ICO available, it not only kept the entire process decentralized and trusted, it also triggered CMC's API when volume hit the exchange.  
Shortly after commencing the Utrum DICO many coin tracker apps began adding the OOT coin.  Crypto Pro, BlockFolio, BitSnapp, Cheddur and GetDelta all added the OOT coin during the DICO.  Before the DICO was finished CoinExchange listed OOT and opened trading in late June, making this coin one of the fastest listed, widely embraced new cryptocurrencies this year.
One of the reasons OOT is so widely accepted has to do with the project behind the coin.  The Utrum project is about building a trusted platform for the crypto-community, implementing a unique format that leverages crowd wisdom and Ai to identify trusted projects, ICOs, teams, assets and products or services within the crypto industry.  The Utrum Platform will be a hub for crypto reviews, analyses, predictions, and eventually a marketplace for crypto services and products similar to Fiverr.
The platform is designed to reward accuracy and trusted reputation, learning from the downsides of projects such as Steemit where manipulation is rampant, Utrum is developing a combination of tech and member participation to solve this and many related trust problems in crypto.  Using complex algorithms and reward mechanisms, community governance and curation, combined with crowd wisdom techniques Utrum aims to have a community hub where anyone from investors to developers can go and find trusted and clear information.
On July 1st, days before our DICO ended, Utrum hired CTO.  Andrew Dubinsky, a developer with over 20 years working on cutting edge technology, digital assets, and developing solutions for financial institutions in the way of digital authentication, joins Utrum as CTO and Tech Lead.  Andrew's work in architecting software projects, designing digital asset solutions, and his passion and personal work in blockchain are essential to Utrum's next steps.
We at Utrum are very excited to have Andrew on board, making the dream possible.  With the success of our DICO and addition of CTO, we have already hit the ground running with first steps of architect and software development commencing the first week of July.  
Looking forward, the Utrum OOT coin is being listed on RightBTC July 10 and other exchanges are already in the process of implementing OOT into their system.  This is one of the fastest coins to go to market in crypto history and we're really grateful and proud of our project.
Utrum would like to especially extend our gratitude to our supportive community who made this project possible.  Thank you to all our investors and supporters who believe in what we are doing and are claiming a stake in our future, and we believe in the future of the crypto community.
A special thank you to our private investors as well, an investor from Korea "Goldenman" and the SuperNet fund, thanks to JL777 Komodo's lead developer.  These two private investors stepped in, making a huge difference in helping us cross the threshold of soft cap.
JL777 is also Advisor to Utrum and has been a believer and supporter from day 1.  When founder Sridhar Panasa came up with the idea of Utrum, in a Komodo Slack channel, JL777 not only encouraged Sri to pursue this strongly, he helped with implementation of technology for the OOT blockchain and stepped in as advisor, empowering the project right from the start.  Again, the project could not have made it without JL777's support and guidance, so a huge thank you to James Lee of Komodo.
If you'd like to learn more about the Utrum project or get involved in the community, please visit https://utrum.io.
This is a sponsored press release and does not necessarily reflect the opinions or views held by any employees of NullTX. This is not investment, trading, or gambling advice. Always conduct your own independent research.
Image(s): Shutterstock.com