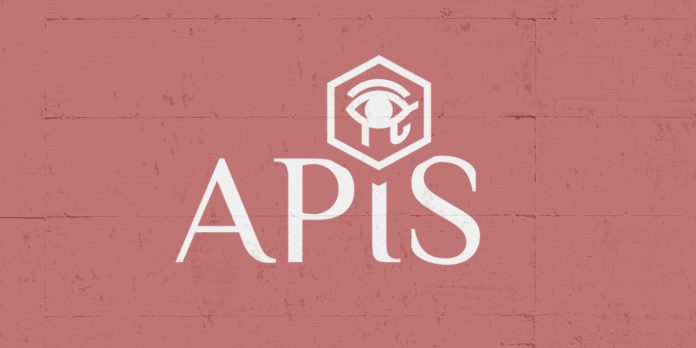 Bitcoin comes laden with a high degree of volatility, which basically means that as time progresses, more regulation will be introduced within the crypto domain. Due to the ever-changing prices of core alt-assets such as ETC and LTC, many people view such currencies as speculative investments. However, with the introduction of masternode investments, ordinary people can now minimize their overall financial risk while still receiving decent returns.
APIS can be thought of as a masternode mediation platform that enables a wide array of crypto enthusiasts to gain access to a two-tier incentivized network, also known as the Masternode Network.
As readers may know, the term "masternodes" refers to the nodes contained in a crypto network that fulfill a specific function beyond simply relaying transactions. The most striking feature of a masternode is its ability to help investors to acquire stable profits by virtue of simply locking up their holdings in the masternode for a fixed amount of time.
While this may sound like a lucrative proposition, it should be clearly understood that hosting a masternode is out of reach for the average investor since it requires a substantial amount of financial capital and technical prowess.
Overview of the platform
While most platforms offering similar services require users to wait until their masternode is fully filled, APIS users have the ability to execute their masternode investments without such delays.

The platform does not charge any commision.
Users do not have to muster large financial resources or have intricate software engineering skills to make use of APIS.
APIS aims to provide investors with a steady income source while minimizing the risk associated with market volatility.

According to the company's roadmap, APIS aims to become the first key currency of masternode coins that ensures complete customer privacy and anonymity.
Key Features
APIS, also sometimes referred to as APIS Core, has been designed atop the Ethereum public blockchain and serves as a masternode mediation platform that aims to help individual and corporate investors utilize their assets with desired masternodes easily and effectively.
The platform can be accessed via a host of digital mediums including PCs, laptops, and smartphones, allowing users to maximize their overall profits while on the move.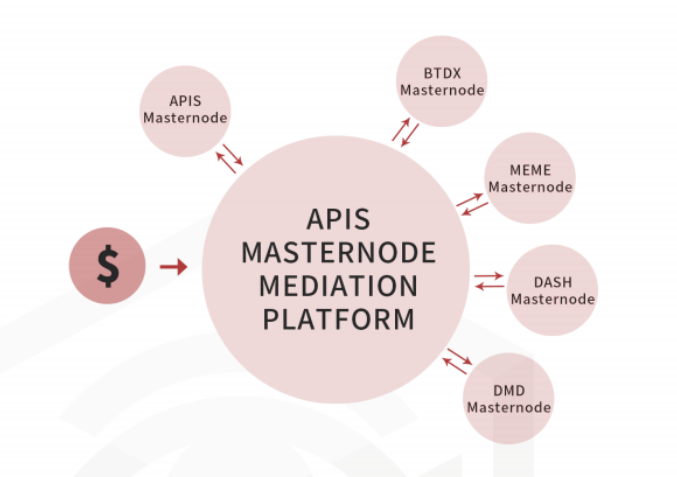 Overview of the APIS ecosystem
With many of today's existing masternode coins such as DASH and MEME, users are required to not only maintain a certain amount of tokens but also to implement them on a Linux server that can be accessed 24 hours a day.
These stringent regulations can present an issue for a lot of people, since casual investors are not that familiar with technical IT operations as well as resolving maintenance problems inherent in hardware management, software updates, and security. APIS lets customers enjoy all of the benefits of masternodes without having to consider the majority of the annoying complications that are bound to arise when an individual deploys an independent masternode.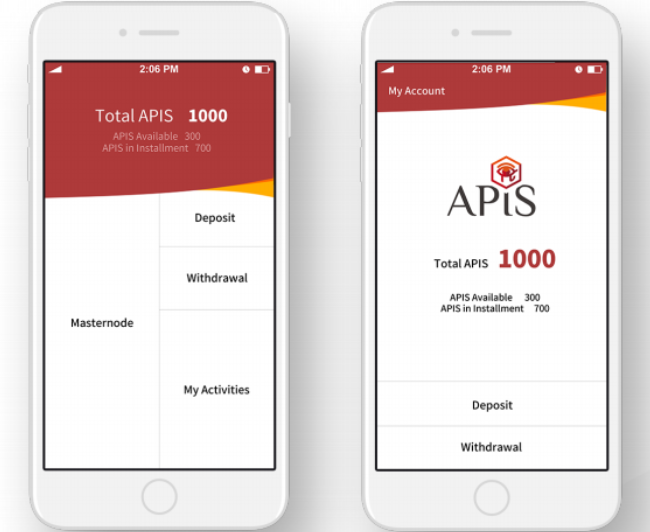 The APIS user interface
In terms of the configuration of the platform, all participant wallet information is securely stored on the native blockchain. Moreover, masternode information that has already been incorporated into the system is made accessible to users through a specific API and SDK.
APIS Core manages users' information and APIS assets, employing an interface which facilitates all of its primary functions. APIS Core is an EVM-based blockchain program that can be deployed in conjunction with other platforms such as Ethereum and Qtum, since it makes use of the widely popular PoS consensus algorithm.
Lastly, to help bolster accessibility and overall usability, the developers of APIS Core have designed the platform to work on a multitude of operating systems such as Windows, Linux, Mac, Android, and iOS.
How it Works

The APIS platform is governed by a special OS which facilitates all transactions in an ordered fashion. For example, when users transfer virtual currencies such as Bitcoin or Ethereum to APIS Core, they receive APIS coins of the same value.
All financial dealings (including conversions) are made possible by a module known as the APIS coinage. Once all investment-related formalities have concluded, investors can receive their rewards in accordance with their share/contribution.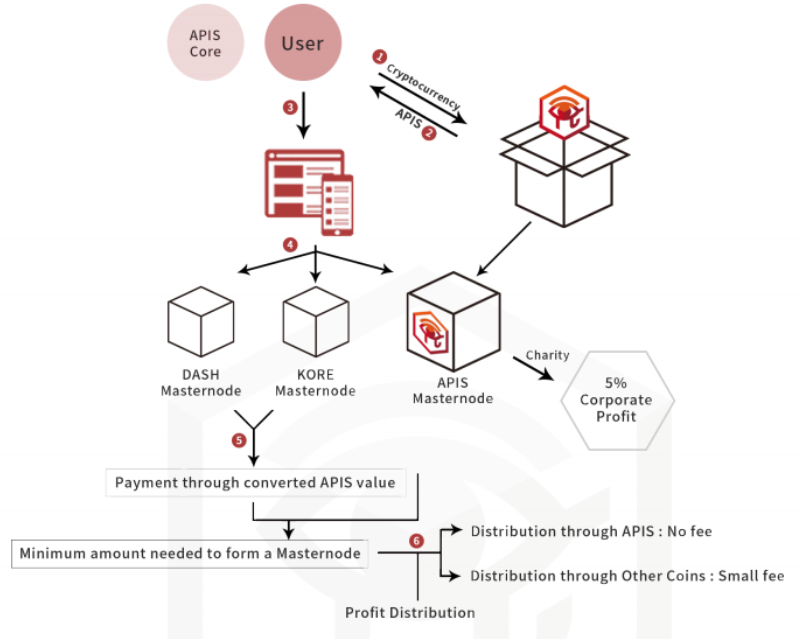 Overview of the APIS operating system
It is also worth noting that around 5% of the interest generated by APIS is donated directly to foundations that are actively involved with blockchain programming and development.
About the team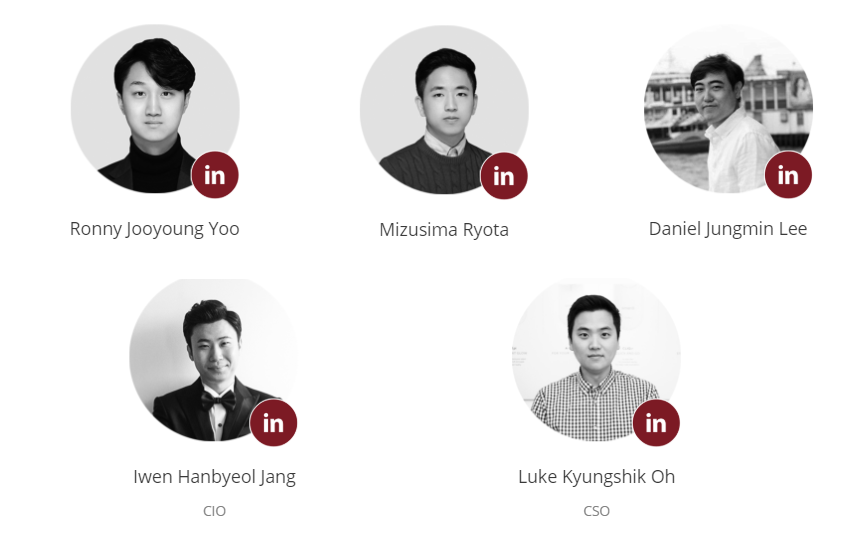 Ronny Yoo is the CEO of this venture. In addition to his work at APIS, Yoo is also the Co-Developer of FX Financial Engineering as well as a blockchain advisor for companies such as J&J partners.
Daniel Jungmin Lee is the CTO of this project. According to his online bio, Lee has previously been involved with other high-profile organizations like Smardi and has nine patents to his name. He is also the developer of a GUI system that was built in conjunction with NPREPS. 
Finally, Mizusima Ryota is the COO of this company. Prior to joining Oxchild Corp., the parent foundation behind APIS, Mizusima worked at Nomura Research Institute as well as at Chain Team, where he served as the company's Director of R&D.
Token Details
Since its introduction, APIS' core token has seen a steady increase in value. While initially sold for US$0.003, the currency has appreciated in value over the course of the past few weeks and is now being exchanged for $0.0077.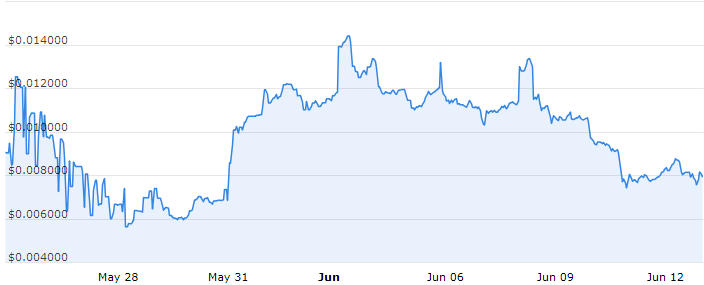 APIS token lifetime performance data (courtesy of Coincodex)
As of June 13, APIS has a circulating token supply of 4.41 billion and a market cap of $34.18 million. In all, a total of 9.5 billion coins have been minted.
Final Thoughts
APIS aims to open up a whole new world of investment for crypto enthusiasts by allowing them to deploy masternodes with ease.
If you would like to start investing in this service, APIS trading pairs are currently available on IDEX and Bit-Z.
Image(s): Shutterstock.com