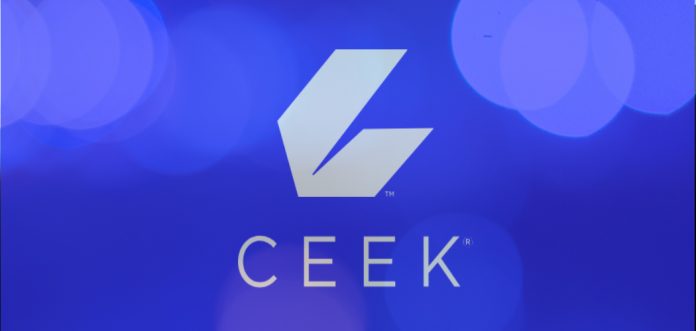 It is estimated that nearly 60 million concert tickets are sold in North America each year, thus indicating a strong demand for live entertainment on this side of the globe. However, it should be noted that many top performers are still not able to meet the hundreds of venue requests that they receive on a near-daily basis, creating significant missed revenue opportunities.
CEEK is an all-new entertainment ecosystem that is powered by Ethereum-based smart contracts and governed via the use of a native blockchain protocol. In its most basic sense, CEEK enables concert-goers to virtually experience live performances by their favorite bands and artists without having to physically be present at the venue.
As a result of this, performers can potentially sell an unlimited number of virtual tickets as well as authentic digital merchandise.
From a functional standpoint, CEEK allows music lovers to purchase tickets and attend performances by their favorite bands using a VR-enabled headset. The platform also enables artists to interact with their fans, allowing them to sign autographs on virtual album covers that apply special cryptographic token signatures which are unique and immutable.
Overview of the system
It provides the entertainment sector with a means of ordering, organizing and tracking virtual sales, all while offering customers detailed analytics and infographics.
All sale proceeds and other significant information are directly recorded onto the blockchain, thus minimizing the chances of any mismanagement or financial swindling.
Since CEEK streamlines all of the major processes involved in hosting a VR performance, record labels and performers can increase their profit margins substantially.
The platform makes use of a native currency called the CEEK token. It is ERC20-compliant and has a specialized protocol that expands its functionality to encompass all aspects of the CEEK ecosystem.
Key Features
First and foremost, CEEK makes use of an Open XR architecture that defines two unique levels of API interfaces. The native apps and primary graphics engine use standardized interfaces to interact with drive devices, thus reducing fragmentation but still leaving implementation details available for all interested parties.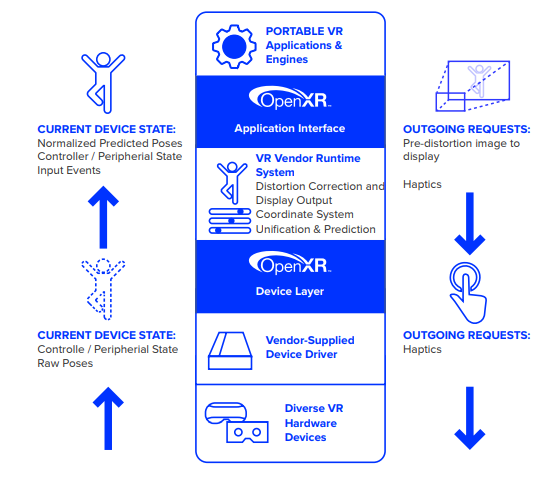 Overview of the Open XR architecture used by the platform
Additionally, CEEK makes content accessibility streamlined and deploys four patented technologies to help improve the overall visual and aural delivery of the platform. They include:
Spatial Audio Mechanisms

Deployment of Environmental Geometry

Material Dynamics

Physics Implementation
In a similar vein, the system also employs a distribution engine that provides customers with integrated content that can be sourced from a host of VR channels such as mobile devices, PCVR, consoles, and other VR equipment.
Lastly, CEEK makes it easy to monetize digital content by automating metadata ingestion and making it easier to get rights and clearances from data producers. The platform also streamlines the process of reporting and managing data through the use of a unified platform.
How Will All of This Work?
The CEEK ecosystem is driven primarily by mobile VR technology. Because smartphones offer high mobility and freedom of use, CEEK has developed VR headsets that can be adopted by everyday mobile consumers.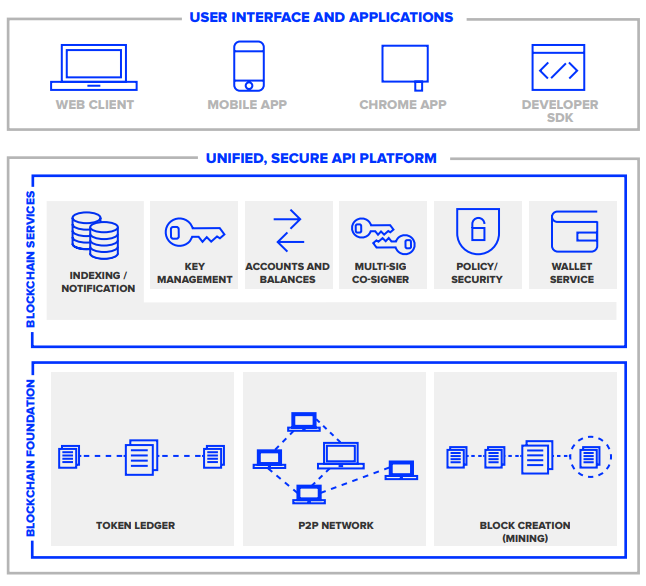 A structural overview of the CEEK ecosystem
Additionally, CEEK makes use of a multiplatform content engine that is compatible with many of today's mobile devices. With more and more smartphone makers beginning to adopt VR, it is only a matter of time until we see the widespread adoption of this innovative technology.
Lastly, CEEK's VR headset is platform agnostic and can be used to access a variety of content types, coupled with premium VR information, all at a competitive price point.
Partnership Details
According to the official company website, CEEK VR currently has partnerships with a host of leading music industry players including Universal Music, Apple, T-Mobile, and Baptist Health.

Renowned artists currently working in partnership with CEEK VR
In addition, the company has also teamed up with top artists such as Katy Perry, U2, Megadeth, and Elton John to help digitize and stream their concerts across the globe using its native VR platform.

About the team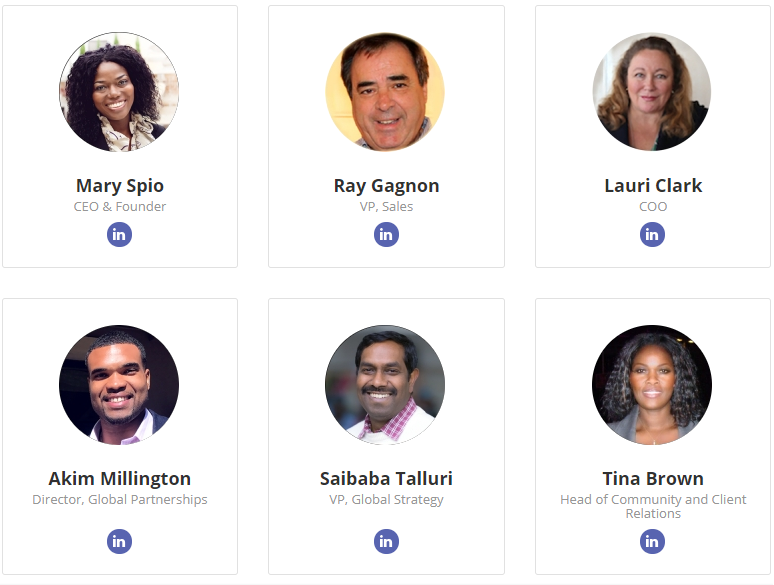 Mary Spio is the CEO and founder of this project. In addition to her work at CEEK, Spio has worked as a deep space engineer for Boeing Digital Cinema, Intelsat, and Aerospace Corp. She has also served as a technical consultant for many established firms including:
Microsoft

Tribune News Company

Coca-Cola

Toyota
Lauri Clark is the COO of CEEK, and according to her LinkedIn bio, her core technical prowess lies within niche domains such as:
Sales Management

Operations Expertise

P&L Management
Clark has also worked as an analyst, overseeing a variety of mergers and acquisitions, and has even served as an expert witness to various U.S. government panels including the Federal Trade Commission and the Department of Commerce.
Lastly, Akim Millington is the Director of Global Partnerships for this venture. Millington is a former NFL player who was on the New Orleans Saints roster in 2008. He has since been affiliated with a host of businesses, particularly those related to the field of Virtual Reality, including Next Galaxy Corp. and CEEK VR.
Token Financials
Released just over a week back, the value of the native CEEK token has remained remarkably steady since then.

CEEK token lifetime performance data (courtesy of CoinMarketCap)
While initially trading for a sum of US$0.05 per token, the currency dipped in value a few days back. However, it has since recovered, and the price of CEEK currently stands at $0.045 (as of June 21).
Additionally, CEEK possessed a market cap of US$12,259,793 and has a total supply of 1 billion, of which only 270.6 million coins are currently in circulation.

Final Take
Virtual reality is viewed as the next big technological breakthrough by many analysts, and if CEEK is successful in infiltrating the entertainment market, there is no telling how successful this project could eventually become.
If you would like to start investing in this platform, CEEK tokens are currently being traded on IDEX and Bancor Network.
Image(s): Shutterstock.com