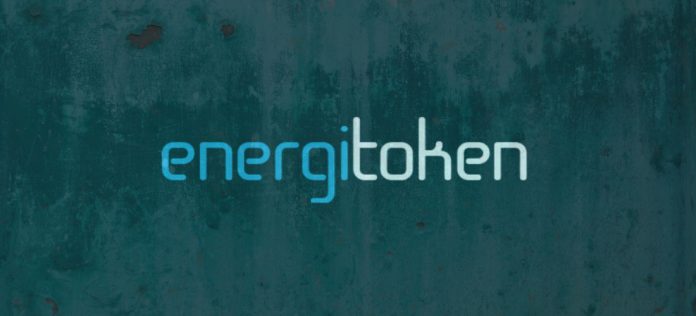 It is now common knowledge that excessive energy consumption directly results in a change of global climatic patterns as well as the depletion of natural resources such as petrol and coal. Not only that, activities such as mining and logging are also responsible for the destruction of natural habitats as well as an increase in air and land pollution.
Energi Mine, the company behind ETK (EnergiToken) cryptocurrency, is currently in the process of developing a new platform that will serve as a peer-to-peer marketplace where users can buy and sell energy. The marketplace will connect generators and consumers and introduce a higher level of transparency to a market that is otherwise known to be notoriously opaque.
When using the platform, participants will have the ability to connect with independent suppliers, thereby cutting out the need for energy companies or brokers who are known to overcharge unsuspecting customers. Owing to its transparent framework, the platform helps ensure that prices are always truly market-reflective, as opposed to artificially high thanks to certain companies that dominate the global energy market.
Another key feature of the system is its use of a reward mechanism that provides customers with incentives for their energy-saving behavior. Users who conserve energy by buying efficient appliances or take public transport to their work are rewarded with EnergiTokens (ETK).
Overview of the service
The governance model envisioned by Energi Mine can work within a global context and has the power to be implemented across energy markets spread around the world.

By allowing for the tokenization of the energy market, the platform can help in the creation of more energy-efficient systems.

The company behind the upcoming platform, Energi Mine, is an established venture that has offices in the UK.

According to the official whitepaper, the platform will deploy deep learning and AI models to manage energy consumption on behalf of corporate clients, leading to more efficient service delivery within a sector that is driven mainly by manual labor.
The platform will make use of a visually-oriented UI, thereby allowing users with varying levels of technical know-how to use this innovative service.
Key Features
Energi Mine's upcoming platform is designed to reduce global energy consumption via the use of a token-driven incentive model.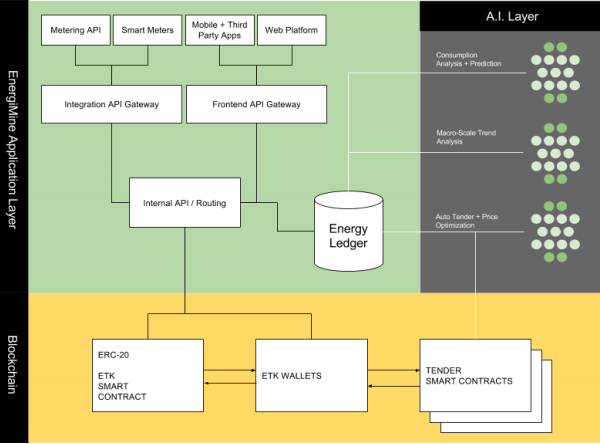 A detailed overview of the architecture employed by this service
The Energi Mine ecosystem is comprised of a P2P marketplace that allows consumers and producers to directly interact with one another. However, the thing that sets this solution apart from any other product in the market is that all transactions are facilitated via digital tokens. Not only that, transactions are recorded directly onto a ledger which ensures that all monetary dealings are accounted for at all times.
Through the elimination of unwanted intermediaries such as energy companies, the platform helps ensure that electricity prices are in accordance with market averages and are not determined by corporate players who are known to create artificial scarcity in order to increase prices.
Lastly, as mentioned earlier, the ecosystem deploys a reward mechanism that provides users with incentives in the form of native ETK tokens that can either be used to pay future power bills or exchanged for fiat currencies.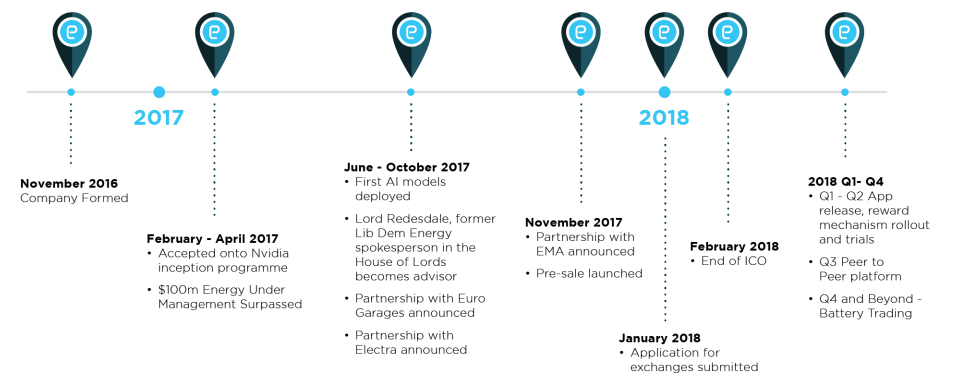 Energi Mine's Envisioned Roadmap
How Will All This Work?
According to Energi Mine, their new peer-to-peer model allows energy generators to sell energy to consumers based upon predetermined contract conditions. In the same way, any network participant has the freedom to buy or sell from any other producer—thus promoting healthy competition within the market while maintaining reasonable energy rates.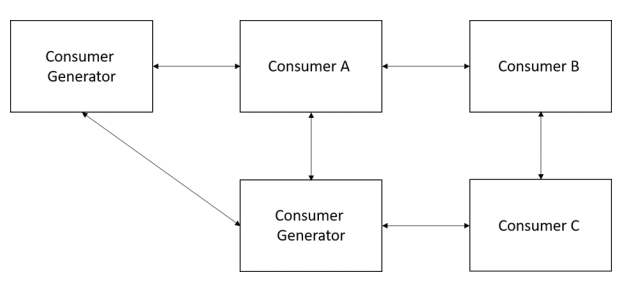 In the aforementioned P2P model, existing energy companies do not have to be eliminated from the picture completely. Instead, they are required to simply modify their current business practices so as to adapt to the new economy. For example, large energy companies will be required to take payments in tokens quite like all of the independent providers who make use of the platform.
Lastly, through the use of a blockchain-based ledger system, energy providers will be able to greatly reduce their administrative burden since a digitized entity will record all their payments and other pertinent transactions automatically. As a result of this reduced workload, consumers will be given the option to pay their bills daily or weekly, with lower levels of debt.
Team Details
Omar Rahim is the CEO of this project. According to his online bio, Omar spent more than a decade working in Europe's energy and gas trading sector. He went on to create Energi Mine, a tech company that is looking to revolutionize the commercial electricity/power domain.
Nick Kairinos is the CTO of this venture. He specializes in the application and integration of artificial intelligence in projects involving complex transactions. Nick has over two decades worth of experience as an architect, advisor, entrepreneur, and investor at various startups.
Lastly, John Townsend is the CFO of Energi Mine. Prior to his collaboration with Omar, John worked as a chartered accountant for nearly 30 years, serving many high-profile clients such as Deloitte. He's also managed financial affairs for a host of companies and HNWIs spread across the globe in the past decade.

Token Financials
Released into the cryptoverse around a week back, the value of ETK tokens has remained relatively stable since their market inception.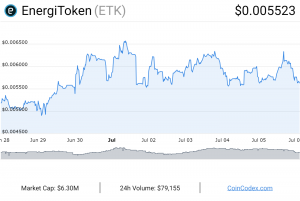 ETK lifetime performance data (courtesy of Coincodex)
While initially trading at a base rate of $0.0045, the value of a single ETK token stood at $0.0055 at the time of writing.
Additionally, ETK possesses a market cap of $6.34 million along with a circulating token supply of 1.14 billion coins.
Final Thoughts
Since EnergiToken incentivizes individuals to reduce their energy consumption, it will be interesting to see how the project is received after its official launch later this year.
As of now, the beta version of the company's Rewards Platform is currently available for download.
If you would like to buy/sell ETK, trading pairs are currently available on Coinbene and Coinsuper.
Image(s): Shutterstock.com