According to the International Finance Corporation (IFC), small to medium-sized enterprises (SMEs) across a host of developing nations are currently faced with a 'financing gap' that totals nearly US$2 trillion. In China alone, almost 40 million SMEs remain unserved by existing financial institutions. This gap is of growing concern since the World Bank has stated that "SMEs contribute up to 60% of total employment and up to 40% of GDP in developing markets."
Eximchain is an all-new blockchain-driven platform that aims to bring visibility to the mechanisms underlying the global supply chain finance (SCF) engine, primarily via the implementation of specially devised smart contracts.
The developers of this platform have sought to establish a public, permissionless chain that enables SME buyers and suppliers to create supply chain optimization tools and gain access to affordable capital sources so that their businesses can flourish and prosper.
Owing to its intuitive, smart contract-based ecosystem, Eximchain allows SMEs to quickly implement customized SCF solutions or issue digital tokens on a permissioned fork of Ethereum. Not only that, the service has also adopted a quadratic governance model so as to provide users with practical, finite time security guarantees.
Lastly, it is worth noting that the platform can be employed within a host of domains ranging from finance to procure-to-pay services. This is because it utilizes smart contracts to optimize the global supply chain for buyers, suppliers, and financiers.
Overview of Eximchain
Eximchain solves issues related to platform adoption by offering SMEs seamless integration into their existing workflows.
It enables developers to create customized tools for specific businesses and industry use cases.
Eximchain is an official candidate of the Blockchain Regulatory Sandbox Program in Guiyang, China. It is also a member of the EEA (Enterprise Ethereum Alliance).

It provides buyers and suppliers with a way to fully automate their contracting processes.

The interface is highly user-friendly since it makes use of a lot of visual cues and information.
Key Features
For starters, Eximchain allows SMEs to gain access to affordable capital sources by providing financiers with visibility into the supply chain cash flow. Also, in the near future, the company plans to deploy a 'Multi-Party Dynamic Contracting' protocol that will not allow any of the participating actors to improve their profit yield by deciding to deviate from the optimal set of predetermined decision data sets.

Key aspects of the platform
Another key to the Eximchain ecosystem is that buyers and suppliers can quite easily automate their contracting processes even if they have vastly different and conflicting financial objectives. Buyers and suppliers can carefully design supply contracts to maximize profits from the supply chain with a greater understanding of demand, inventory and upstream/downstream operations from a trusted and secure network. Not only that, since all of the native interactions and agreements are saved automatically on the blockchain, there is always a traceable record of each transaction available on the network at all times.
Financiers that are brought onboard the Eximchain network are provided with aligned incentives. Since the system provides financial institutions with access to smart contract history between two parties, they are better able to estimate the risks associated with voluminous monetary transactions. Access to this smart contract information also provides independent financiers with an opportunity to fund and generate value from these transactions.
Lastly, Eximchain allows developers to build customized smart contract solutions based upon the needs of specific industries and users. In addition, even banks and anchor buyers can use this platform and scale it based on their needs by involving upstream and downstream players. Although the solutions being provided are varied, the contracting process is highly standardized and can be seamlessly integrated into the existing bidding processes and supply chain management tools in use by various companies today.
How it Works
Eximchain has been designed to simplify complex multiparty transactions by using blockchain protocols that are able to resolve issues related to information asymmetry. In terms of its consensus mechanism, instead of using the widely popular proof-of-work (mining) algorithm, Eximchain implements a vote-based consensus algorithm that forks QuorumChain to add a few governance rules.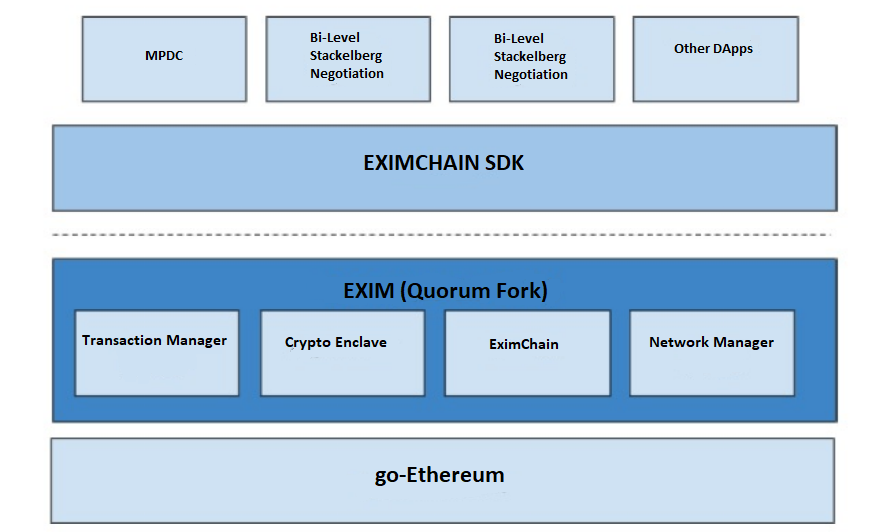 Layered overview of Eximchain's key components
According to the official company roadmap, the platform will also be adopting the recently developed Istanbul BFT (Byzantine Fault Tolerance) into its mainframe (Quorum), thus ensuring a high degree of settlement finality as well as faster settlements.
Another key functional aspect of Eximchain is its integration of incentives for developer pools, clients, and corporates at the protocol level. Through the use of a quadratic voting-based governance model, the platform allows a series of checks and balances to be performed between nodes. The core system module analyzes the balance of power among actors in the system, thus discouraging collusion and maintaining the overall robustness of the system.
About the Team

Key personnel associated with this project
Hope Liu is the co-founder and CEO of Eximchain. She holds a B.A. from Peking University as well as an MBA from MIT. According to her professional bio, Liu has handled cross-border transactions for UBS Asia for nearly seven years. Additionally, she is part of the North America Blockchain Association and has been working at the MIT Media Lab since 2015.

Juan Sebastian Huertas is the CTO and co-founder of this venture. He possesses a bachelor's degree in computer science from MIT and has been active in the coding scene since the age of 13.
Token Performance
Released into the crypto market two weeks ago, EXC (Eximchain's native currency) has been fairly stable in value since its introduction.

EXC token lifetime performance data (courtesy of CoinMarketCap)
Initially trading at $0.65, the currency hit its value high on June 4, when the price of a single token scaled up to an impressive $0.94.
As of June 8, EXC is trading at $0.72 per token and possesses a market cap of $48,704,962. In all, a total of 150,000,000 EXC has been minted, out of which only 67,306,444 tokens are currently in circulation.
Final thoughts
Eximchain's public blockchain network provides the cryptoverse with a solution that helps better manage today's supply chain systems. The platform also helps enterprises connect, transact, and share information more efficiently and securely with one another.
As a result of its multi-faceted approach to blockchain optimization, it would not be surprising to see this platform do well this year and even be featured among the top crypto projects of 2018.
If you would like to start investing in Eximchain, EXC trading pairs are currently available on IDEX.
Image(s): Shutterstock.com