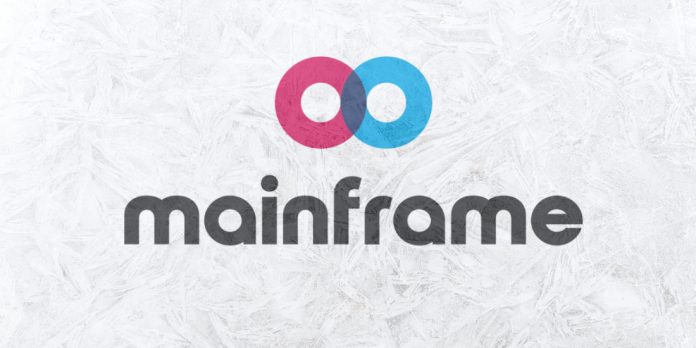 Even though the mass media platforms that we use today are more decentralized than the ones available before, it is worth noting that most of today's web services are built atop protocols, services, and other tools that are susceptible to centralized control, surveillance, and manipulation.
Mainframe is an all-new communications layer that is not only fully decentralized but also makes use of an incentive-driven operational model. As a result of its unique architecture, Mainframe helps enable things such as:
Reliable packet routing

Secure packet delivery

Packet holding

File storage
Additionally, the security framework implemented by this service not only provides helpful encryption but also delivers a high degree of resistance to censorship and surveillance.
From a technical standpoint, the platform consists of various protocol and transport layers that have been incentivized by token economies, along with software development kits (SDKs) which allow the platform to easily integrate with a vast array of popular languages, operating systems, peripheral devices, and smart contracts/oracles.
As a result, Mainframe allows for seamless token exchanges and delivers a high level of interoperability with various popular blockchains.
Overview of the Service
Mainframe's core architecture comprises a Kademlia-based peer-to-peer network that is used to propagate and execute blockchain transactions.
The platform eliminates the underlying, geographically-traceable internet transport layer most services usually rely on by randomly assigning addresses to each peer or node.
It allows for a seamless exchange of monetary value between two or more nodes within the network.
Mainframe makes use of a native currency to facilitate internal transactions.

The system also comes with a host of specially tailored protocols above the central transport layer so as to enable and facilitate safe and secure communication.
Key Features
To start with, each node within the Mainframe ecosystem exposes various P2P service interfaces for application layers to call. These include interfaces for blockchain transactions, file storage, and data services.
It is also worth mentioning that each of these individual P2P services is provided entirely by peers operating in incentivized cooperation with one another—without the need of any intermediary or centralized management infrastructure.
Conceptual diagram of a node within the Mainframe ecosystem
From a security standpoint, Mainframe provides protocols for one-to-one and one-to-many encryption. What this basically means is that each node within the Mainframe ecosystem has an asymmetric key pair associated with it. This key is meant to decrypt packets intended for that particular node.
Packet encryption is one of the core aspects of Mainframe's transport protocols, and to make use of the system, this step cannot be circumvented.

A simplified overview of the Mainframe platform
Lastly, Mainframe allows nodes to prevent any foreign actors from accessing native blockchain data via the use of configurable dark routing mechanisms that are based upon Holbrook's work on the PSS protocol. Dark routing is a method by which data packets are routed to each node whose address matches the partially disclosed destination address.
How It All Works
As mentioned previously, Mainframe employs a governance model that is based on the concept of incentivization. This model is used to incentivize various important services provided by nodes in the network, including:
Incentivized Packet Routing: In this service, peer nodes enter into an agreement to provide services to one another. This is done by keeping close tabs on the bandwidth that has been used by each node individually—primarily through the use of the SWAP protocol.
Incentivized Packet Delivery: Mainframe incentivizes packet delivery across many different peer-to-peer hops within the network through cryptographically certified delivery.
Incentivized Packet Holding: Even in the case of a few nodes being disconnected from the primary network, Mainframe is able to deliver regular operability because the native infrastructure is entirely based on services provided by nodes in the peer-to-peer network.
Incentivized File Storage: Mainframe's incentivized file storage layer makes use of the 'swear and swindle' stages of service provision (in addition to the SWAP stage used in packet routing). Storage nodes are incentivized by earning tokens when file chunks are requested by other nodes.
Incentivized Data Services: Even though file storage supports many use cases, for real-life functions it can be quite inefficient to have to load and save a large file whenever small changes are made to it. For these kinds of use cases, Mainframe provides incentivized database services.
About the Team

Mick Hagen is the CEO and founder of this project. He is a Princeton CS dropout and is also the person behind Zinch—a tech startup that was later acquired by Chegg. In addition to all this, Mick is an active angel investor and has mentored many people within today's burgeoning startup sector.
Carl Youngblood is the CTO of Mainframe. According to his online bio, Carl has been working as a full stack engineer for nearly two decades and has specialized in the development of highly scalable web applications. Having been involved with blockchain technology since its early days, Carl was one of the first investors in Ethereum. He has a Masters in CS from the University of Washington.
Lastly, Brad Hagen is the head of business development and sales for this venture. He describes himself as an experienced entrepreneur whose core focus lies within areas such as:

Sales

Biz dev

Biz strategy
Brad has also been a part of various other successful projects in the past including:
Zinch—Co-founder

Lendio—VP

Studio/Brandr—Co-founder
Token Financials
Having been in the market for only a week, it is difficult to predict the future of the MFT cryptocurrency.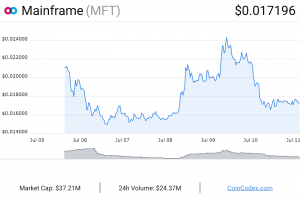 MFT lifetime performance data (courtesy of Coincodex)
As can be seen in the chart above, MFT entered the market at a value of approximately US$0.02 per token. However, after experiencing a slight gain of around 5-7% on July 9, the price of MFT has dropped and currently stands at $0.017.
At the time of writing, MFT possessed a market cap of $36.95 million along with a circulating supply of 2.16 billion tokens.
Final Thoughts
With Mainframe looking to introduce a web3 platform that is not only resistant to trackers and hackers but also minimizes censorship, it would not be surprising to see this service featured as one of the best blockchain projects of 2018.
If you would like to start investing in Mainframe, MFT trading pairs are currently available on Binance, Bancor and IDEX.
Image(s): Shutterstock.com