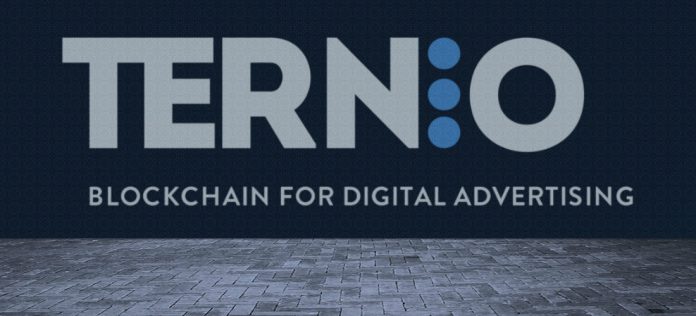 As things currently stand, the digital advertising industry is plagued by an array of issues related to domain fraud, increasing bot traffic, and poor transparency. Consequently, many advertisers and publishers have been forced to lose out on a lot of untapped revenue.
Ternio is an all-new blockchain-based utility token that aims to disrupt the advertising industry by introducing an unparalleled level of transparency within the sector. For starters, Ternio provides advertisers with a verifiable and decentralized asset that allows them to keep a close tab on all of their monetary transactions. Not only that, it also ensures that publishers are paid upon product delivery — something that is achieved through the use of smart contracts.
Also worth mentioning is the fact that Ternio is non-resource intensive and is able to deliver users high transaction speeds. Not only that, it is also highly scalable and comes loaded with features that can streamline processes related to:
Payments and Invoicing

Fraud Prevention

Programmatic Advertising
Another facet of Ternio that helps it stand out from its peers is its use of a patent-pending process that allows the platform to be scaled quite easily. All of this is achieved while the platform maintains a high transaction throughput — two aspects that are essential for programmatic digital advertising.
Overview of the platform
Ternio is the first digital advertising platform to offer a guarantee on all Net0 payments across the ad supply chain.

It comes pre-built with a host of modules that encompass various programmatic digital ad protocols.

It allows for the resolution of blockchain scalability within today's digital advertising ecosystem.
The platform comes packed with a host of fraud prevention mechanisms to alleviate issues related to financial mismanagement.

According to the company roadmap, Ternio is already working with various digital advertising companies to promote the adoption of its native platform.
Key Features
First and foremost, it is important to recognize that Ternio does not propose the creation of a new functional entity within an existing supply chain, but rather serves as a complementary platform that can be integrated within any existing supply chain network. The primary goal of the project is to introduce an unprecedented amount of transparency within existing operational frameworks so that companies can save on unwanted overhead costs and expenditures.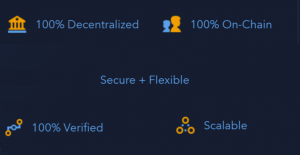 Key Offerings of the Ternio Ecosystem
Ternio employs a 'track-back mechanism' which, when enabled, helps combine data from multiple blockchain layers into a single impression contract.
Because all of Ternio's native smart contracts are quite functionally advanced, the platform is able to make any supply chain completely transparent from start to finish. Additionally, through the use of its Lexicon blockchain, each smart contract employs cryptographic techniques that can encrypt data so that only directly involved parties can gain access to privileged information.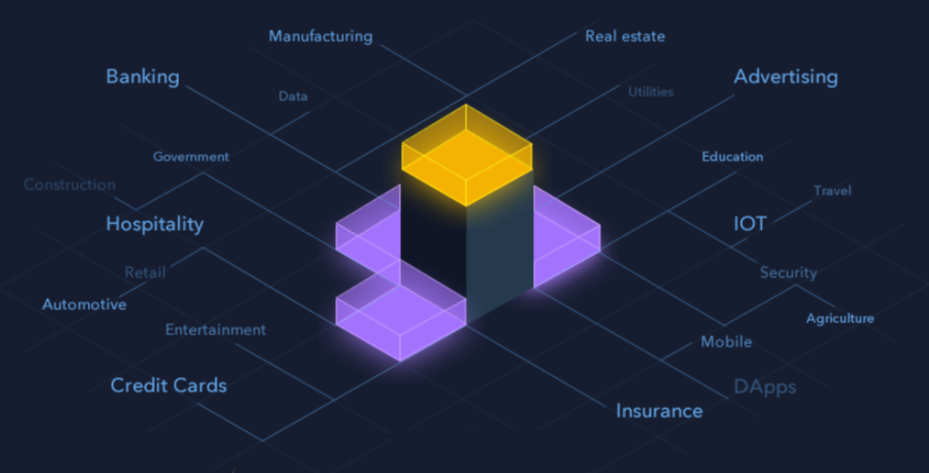 Various sectors in which the Lexicon blockchain can be used
Lastly, the native Lexicon blockchain possesses the flexibility to run within both permissioned as well as open environments while maintaining a completely decentralized state. As a result of its flexible design, creators are able to state the environment and node configuration of the blockchain with ease.
How Does All of This Work?
Ternio integrates a host of advertising protocols that can be seamlessly used for programmatic digital advertising.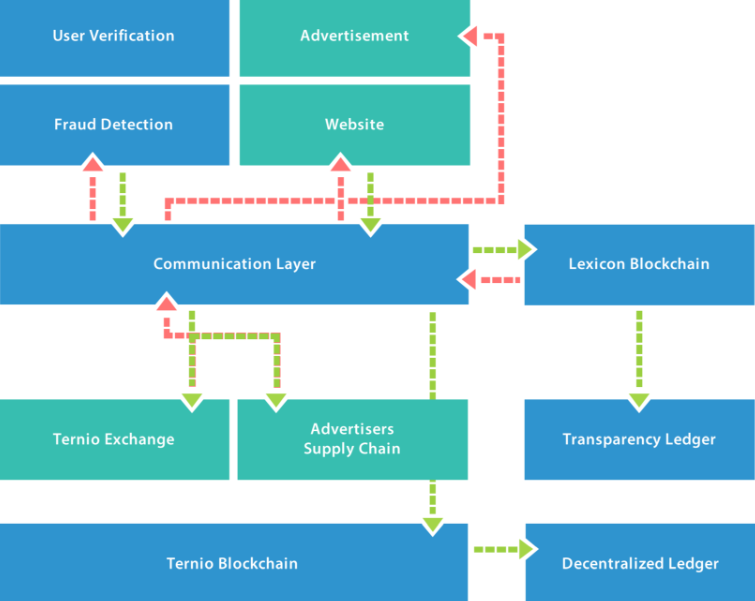 A visual representation of the platform
In terms of payments, the Ternio blockchain has been devised in order to allow everyone within the supply chain to be paid instantly. In addition, all participating actors are guaranteed payments since advertisers are required to prepay in native TERN tokens which are registered as credits to their accounts.
Once the tokens have been submitted, publishers are able to know that their payments are guaranteed since the market holds TERN to a certain monetary value — thereby ensuring a high level of accountability from all of the involved parties.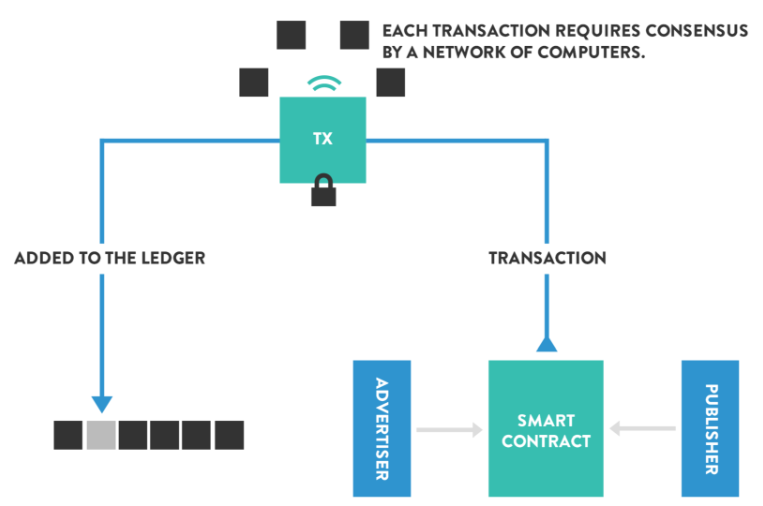 Diagrammatic representation of how the Lexicon blockchain works

Team Details
The core team behind this project consists of personnel who have been in the digital/financial domains for nearly a decade each.
Daniel Gouldman is the co-founder of this project, and according to his online bio, he has had quite an interesting past. At age 17, he was homeless and was forced to live out of his car. Fast forward twenty years, and Daniel now owns several businesses and is actively involved with the political landscape of North America.  
Ian Kane is the co-founder and blockchain programmer for Ternio. Ian has been in the digital media space for over 10 years, and during the course of his career, he has specialized in niche domains such as business development, sales, and strategy. In addition to his work at Ternio, he is also an advisor and investor in various other ad tech companies.
Bryant Maroney is the CTO of this venture. According to his LinkedIn page, Bryant specializes in cryptography and blockchain development. Prior to his work at Ternio, he was involved with a host of established startups including:
Ad3 Media — Chief Technical Officer

Coded Design LLC — Owner/Senior Engineer

Beanstalk Data — Senior Application Engineer
Token Financials
Released into the cryptoverse about a week back, TERN tokens have had a decent market showing.

TERN token lifetime performance data (courtesy of CoinMarketCap)
While initially trading at US$0.065 on June 28, the currency quickly scaled up to an impressive $0.099 within a period of just 6 days.
As of July 3, the currency possesses a market cap of $34.29 million along with a total token supply of 999.9 million tokens. Out of this figure, only 345.3 million coins are currently in circulation.
Final Thoughts
Ternio promotes itself as being a fast, scalable blockchain solution that can potentially disrupt today's multi-billion dollar advertising industry. If Ternio is able to reach its potential, it would not be surprising to see this project featured among the top 10 blockchain offerings of 2018.

If you would like to start investing in Ternio, TERN trading pairs are currently available on BitForex and Stellarport.
Image(s): Shutterstock.com