With the surging popularity of shared economy-based digital platforms, the world is now seeing the rise of a business model that not only allows for increased transparency but also ensures maximum long-term project viability. Additionally, shared economies enable more efficient allocation and circulation of native system resources — thereby maximizing returns for all of the involved parties.
Smartshare can be thought of as a distributed network protocol that makes use of blockchain technology and smart contracts to evaluate and quantify the substantive value of all shareable objects (which can be used to facilitate an exchange of value between two or more actors) within the network.
Additionally, Smartshare provides customers with an openSSP-based protocol that can be applied to a host of different shared-economy services. Not only that, this platform also helps solve many of the shortcomings that exist in relation to the communication compatibility and resource idleness of many IoT-based products today.
Lastly, via the use of blockchain technology, Smartshare Protocol aims to develop a smart, credible, open, decentralized data exchange for a sharing economy that can subvert the existing issues of centralization that are plaguing the internet at large. In order to achieve this goal, Smartshare employs a native token that is used as GAS for all internal transactions.
Overview of the platform
Smartshare is a blockchain-based distributed database that provides users with a high degree of decentralization and disintermediation via the use of trust-free smart contracts.

It helps form the foundation of an economic model wherein all internal processes are centered on an underlying shared general protocol.

The platform helps connect a host of apps based on shared economic frameworks that are currently popular around the world.
Smartshare makes use of IoT, AI, and big data to optimally deploy available system resources.
The service is user-friendly and can be employed by individuals with varying degrees of technical know-how.
Key Features
This product is governed primarily through the use of 'smart chips'. Each of these smart chips can be thought of as an implanted device which acts as an individual node. Through Smartshare, each of these nodes is connected with one another — thereby enabling a seamless exchange and sharing of value.

Structural representation of the smart chips employed by the platform
Another key component of the Smartshare ecosystem is called the 'ShareAgent'. Each Smartshare node has only one ShareAgent (SA) which has been built atop a dedicated smart chip. It is the responsibility of each SA to facilitate functions such as:
Node authentication

Node asset management

Service metering and distribution control

Service price assessment and service billing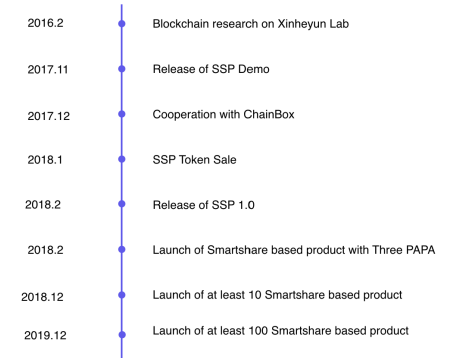 Smartshare's envisioned roadmap
Lastly, in terms of its governing consensus mechanism, Smartshare uses a proof-of-sharing protocol so as to add new blocks of data to its network in a safe and efficient manner.
How it all works
To illustrate how this platform works, it is best to make use of an example. Let's say a user wishes to submit a 1GB data storage request through a node device on the network. To carry out this action, he/she is required to specify the total bandwidth target required along with four redundant copies of the data in question.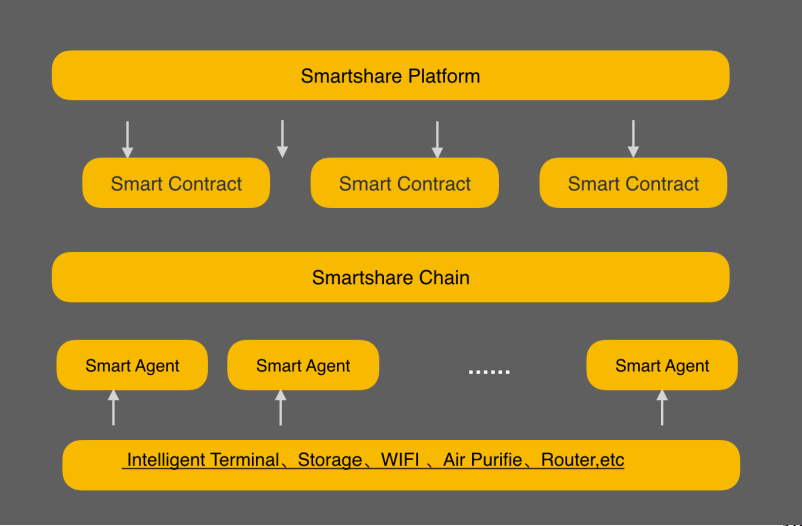 A visual overview of the Smartshare ecosystem
Following this, the SA interacts with the shared network and splits the 1GB data into several data packets, all while indicating the specifications and expected price. Based on the bidding rules submitted by users, the SAs constantly try to source the optimal quotation for the node owners so that all of the involved actors can maximize their returns.
Once a transaction has been matched with a data packet, the SA pays the deposit to the service provider (if required) and obtains the information required for the data transmission to start. Additionally, each node device reports the status of data transmission to the SA.
Following the successful completion of the aforementioned process, the demander pays the balance, and if the service fails, any monetary deposits that were previously made are returned.
About the Team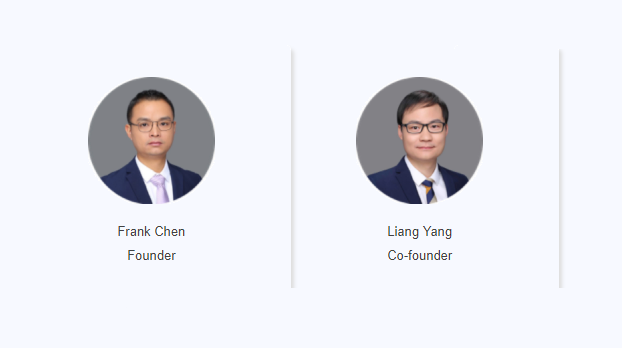 The core team behind Smartshare is comprised of Frank Chen and Liang Yang.

Chen holds a master's degree in engineering from CAS (Chinese Academy of Sciences) and formerly worked as a researcher at the China Academy of Telecommunication Research (CATR). Additionally, a decade back, he served as a core member of the team that created Qiandai, a third-party mobile payment solution. He is also the person behind the highly popular wallet app, Kuai Hui.
Yang is a comms engineer who graduated from Beijing University. Prior to joining Smartshare, he worked as the head of smart hardware products for Star Network Ruijie, an established communications firm based in China. Over the years, Yang has carried out in-depth research which has allowed him to gain rich market experience in domains such as intelligent terminal product design.
Token Financials
Released into the market just over two weeks back, native SSP tokens have seen their value decrease steadily.

SSP token lifetime performance data (courtesy of CoinMarketCap)
As can be seen in the chart above, the currency initially traded at a rate of $0.004 per token. However, at the time of writing, the value of a single token stood at $0.0028.
As of June 28, Smartshare had a market cap of $7.85 million along with a total token supply of 10 billion SSP, of which only 2.75 billion are currently in circulation.
Final Thoughts
With Smartshare fostering the creation of a decentralized sharing economy, it would not be surprising to see more and more people start to back this project in the coming months.
If you would like to invest in Smartshare, SSP trading pairs are currently available on platforms like Coinegg and HADAX.
Image(s): Shutterstock.com