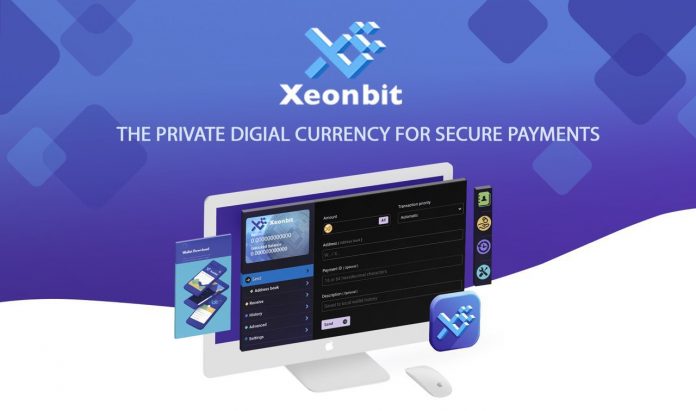 Xeonbit is one of the first private digital currencies for secure payments guaranteed to provide its holders with security and privacy features that no other network can offer. This unique project offers a top-notch blockchain that uses a special technology called "ring signatures" which shuffles users' public keys in order to eliminate the possibility to identify a particular user. Payments are anonymous by default with each transaction using a multiple cryptographic signature that controls multiple outputs to mix them, making the sender's information untrackable.
The Xeonbit blockchain uses the CryptoNight Proof of Work (PoW) algorithm, with a maximum supply of XNB (miniable token in the blockchain) of approximately 18.4 million, with a block reward that smoothly variates, block time of 240 seconds and a difficulty that retargets at every block. 
XNB In Detail
XNB is a mineable cryptocurrency in the Xeonbit blockchain, with two official pools (1 & 2) and additional other pools available. The current hash rate of the network is at approximately 11.52 MH/sec, with a difficulty of 1381903081. Rewards are currently estimated at about 15 XNB per block. The XNB cryptocurrency is tradable in the Gaviex exchange, P2PB2B exchange and Stex exchange. Users can sell or purchase XNB using Bitcoins (BTC) in those exchanges. Users can store their XNB in the Xeonbit Desktop Wallet. 

The Xeonbit XNB protocol is similar to bitcoin mining PoW, adding more miners to the mix will eventually increase the mining difficulty, and the reward per block will also decrease over time. XNB can be easily mined with AMD and Nvidia cards, but AMD video cards tend to have better hash rates on XNB than with any other cryptocurrency, making it a great choice for miners. Additionally, the CryptoNight algorithm is CPU-optimized. Users can also benefit from solo-mining Xeonbit XNB with its GUI wallet, helping strengthen the Xeonbit network. 
XNS In Detail
XNS should not be mistaken with XNB. XNS is an issued token based on Ethereum ERC20, a key aspect to Xeonbit's plan to become an effective e-Commerce platform. XNS will serve as a payment method, making it easier and cost-effective for people to prefer to pay with this token instead of fiat. XNS is set for the Initial Exchange Offering (IEO) that Xeonbit will carry out during 2019 and beyond. The total supply of XNS is set at 300,000,000, with a circulating supply after the token sale of 30,000,000. Users will be able to store their XNS using Trust Wallet, Infinito Wallet and Eidoo Wallet, Enjin Wallet, Xeonbit's own wallet and any other wallet that accepts ERC20 and BEP2 protocols. The Xeonbit Token (XNS) cryptocurrency is tradable in the IDEX exchange.
XNS aims to provide a decentralized trust system through a blockchain based payment gateway to empower merchants with a quick and smart way of bringing their businesses to the next level. With XNS, merchants will be able to accept Ethereum based cryptocurrencies and exchange them for fiat, allowing for both merchants and customers, to participate in a global decentralized commerce system built with trust. XNS will serve as a payment system, completely decentralized and enforced with Smart Contracts technology. 
Furthermore, XNS platform will have a wallet for each user, providing the tools needed to overcome any form of payment delays. The integration with blockchain technology ensures money gets transferred quick and safe, everywhere. 
The Initial Exchange Offering is scheduled for Q2 2019. Xeonbit has also submitted a listing proposal for the XNS token on Binance Decentralized Exchange, which is currently at the Voting Period. Once the listing gets approved, the date for launching will be announced on Xeonbit's social media. Make sure to follow them to know what's coming next. 
If you wish to know more about Xeonbit, please visit their website.
Social Media: 
Disclosure: This is a sponsored press release