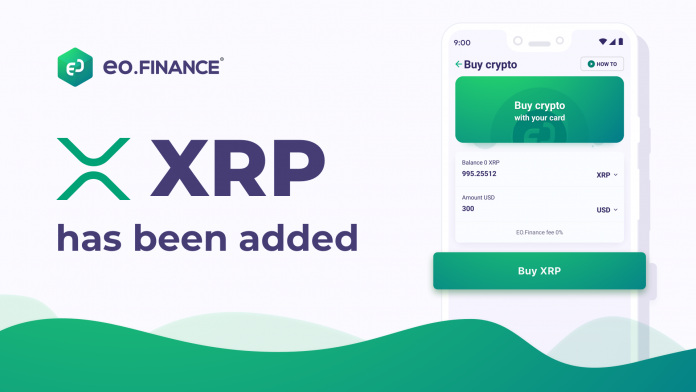 We are pleased to announce that Ripple XRP has been added to EO.Finance! For those unaware, XRP is currently the second largest cryptocurrency in terms of market capitalization. Ripple is the name for both a digital currency (XRP) and an open payment network within which that currency is transferred.
With the recent addition of card payments to EO.Finance it is now possible to buy XRP with your credit and debit cards. You can also exchange a number of cryptos to XRP and back, deposits and withdrawals have also been introduced.
This is a timely new inclusion as XRP has emerged as a front runner during the last months Bear market, growing 50% in the last week alone – it rose from $0.28 to $0.42, and is much tipped to lead any future Bull Run. Despite XRP showing much promise, not many wallets have offered support, meaning EO.Finance is one of the few places you can purchase XRP with such ease.
EO.Finance is part of a fully licensed ecosystem, it holds European licenses for crypto wallet #FVR000161 and crypto-fiat exchange #FRK000193.
To register an account simply download the app on iOS or Android, EO.Finance is also accessible through browsers, as well as Chrome and Firefox extension.
Website: https://eo.finance
iOS app: https://itunes.apple.com/app/eo-finance-crypto-fiat-wallet/id1415386724
Android app: https://play.google.com/store/apps/details?id=com.eofinance
Check out this Youtube Video on how to buy cryptos with EO.Finance:
---
This is a sponsored press release and does not necessarily reflect the opinions or views held by any employees of NullTX. This is not investment, trading, or gambling advice. Always conduct your own independent research.
Image(s): Shutterstock.com