In the world of Bitcoin, where market dynamics are closely scrutinized, an interesting trend has emerged. The number of addresses holding 0.1 or more Bitcoin, often considered a metric of strong investor confidence, has just reached an all-time high (ATH) of 4,487,486. What makes this achievement even more remarkable is that the previous ATH was recorded just 24 hours ago, with 4,486,752 addresses. This surge in addresses accumulating 0.1 or more Bitcoin comes as a surprise, considering the recent market conditions characterized by volatility and subdued price movements.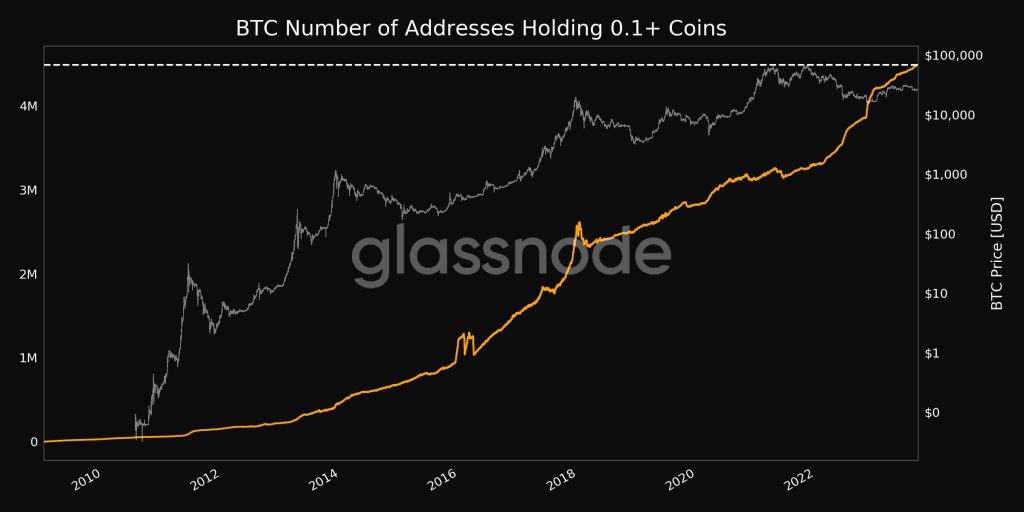 Bitcoin Soars Despite Bear Market Pressures
Bitcoin, the pioneering cryptocurrency, has faced its share of ups and downs. Recent months have seen a series of fluctuations in its price, often attributed to a range of factors, from regulatory developments to macroeconomic trends. However, amidst this volatility, a growing number of investors and holders are showing remarkable resilience and confidence in the digital asset.
Nearly 1K New Addresses Additional In Just 24Hrs
The addition of nearly 1,000 new addresses holding 0.1 or more Bitcoin within such a short time frame underscores the robust and resilient nature of Bitcoin's investor base. This metric is often viewed as a sign of long-term commitment to the cryptocurrency, as smaller holders continue to accumulate despite market uncertainties.
Institutional Investors
Several factors could explain this surge. Institutional interest in Bitcoin remains strong, with major corporations and investment firms continuing to allocate funds to this digital asset. Additionally, Bitcoin's value proposition as a hedge against inflation and economic instability is drawing in new investors seeking a store of value.
Final Thoughts
To conclude, Bitcoin's ability to attract a growing number of addresses holding 0.1 or more coins, even in the face of a volatile market, demonstrates the enduring appeal and confidence in this pioneering cryptocurrency. As the crypto landscape continues to evolve, monitoring these address metrics provides valuable insights into the sentiment and commitment of Bitcoin holders, shedding light on the cryptocurrency's resilience in an ever-changing financial landscape.
Disclosure: This is not trading or investment advice. Always do your research before buying any cryptocurrency or investing in any services.
Follow us on Twitter @nulltxnews to stay updated with the latest Crypto, NFT, AI, Cybersecurity, Distributed Computing, and Metaverse news!