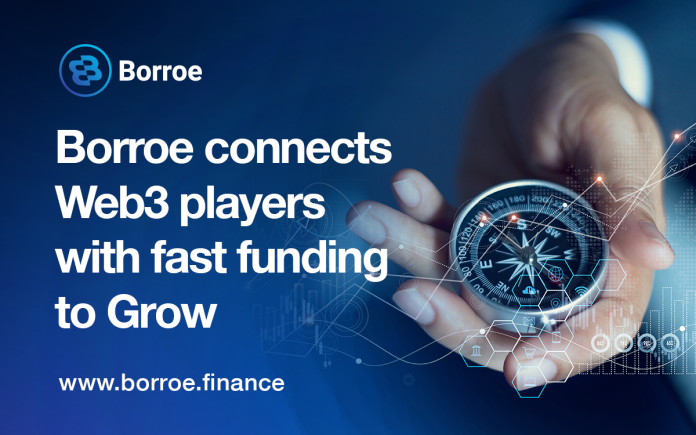 In the ever-evolving realm of cryptocurrencies, identifying the best crypto investment opportunities can be a challenging endeavor. With a myriad of options available, investors often find themselves pondering which crypto to buy today for long-term gains. Fortunately, we've sifted through the digital assets landscape to bring you three high-growth tokens.
Borroe ($ROE): Redefining Web3 Investment
Borroe ($ROE) has emerged as a game-changer in the crypto space, redefining Web3 investments and attracting bullish sentiment from investors worldwide. This unique project, built on the robust Polygon blockchain, has piqued the interest of both seasoned and novice investors.
At the core of Borroe's appeal lies its revolutionary marketplace, where the Web3 community can convert future recurring income into Non-Fungible Tokens (NFTs) and offer them to buyers at discounted rates. Buyers receive upfront cash with a promise of full repayment on a fixed date.
The innovative approach integrates AI-powered risk assessment, secure blockchain technology, and streamlined payment solutions. Borroe creates an efficient fundraising process for Web3 creators.
Investors have been rushing to participate in Borroe's presale, with experts predicting the potential for a 100x growth in 2023. The presale has been nothing short of impressive, with over 43 million $ROE tokens already sold. Everyone wants to make money. With Borroe, some of the coolest NFTs will hit the market.
What sets $ROE tokens apart is the team behind the project. Led by Michael Price, a former VP at XE.com, and Maxim Prishchepo, a prominent figure in the blockchain space, Borroe boasts a team with extensive experience in tier 1 projects, ensuring its credibility and viability.
Aave (AAVE): Empowering DeFi Enthusiasts
Aave (AAVE) has positioned itself as a powerhouse in the decentralized finance (DeFi) sector. This Ethereum-based protocol offers users the ability to lend, borrow, and earn interest on their crypto assets, making it an attractive option for investors looking to participate in the growing DeFi landscape.
One of Aave's standout features is its diverse range of supported assets, which allows users to interact with various cryptocurrencies. This flexibility has contributed to its popularity among investors, who see Aave as a reliable platform for generating passive income through lending and borrowing.
Cardano (ADA): A Sustainable Blockchain
Cardano (ADA) has gained substantial attention due to its focus on sustainability and scalability. As one of the few blockchains built using a proof-of-stake (PoS) consensus mechanism, Cardano is known for its energy efficiency, making it an eco-friendly choice for environmentally-conscious investors.
What sets Cardano apart is its commitment to research-driven development. The Cardano team, led by Charles Hoskinson, emphasizes scientific rigor and peer-reviewed research in its approach to blockchain innovation. This meticulous approach has earned Cardano a reputation for being a robust and secure blockchain.
Identifying the best crypto to invest in can be a daunting task. However, by exploring high-growth tokens like Borroe ($ROE), Aave (AAVE), Cardano (ADA), and Polygon (MATIC), investors can position themselves for potential long-term gains.
Borroe's innovative approach to Web3 investments, Aave's role in empowering DeFi enthusiasts, Cardano's commitment to sustainability, and Polygon's solutions for scaling Ethereum all showcase the diverse opportunities available within the crypto space.
Learn more about Borroe ($ROE) here:
Visit Borroe Presale | Join The Telegram Group | Follow Borroe on Twitter
Disclosure: This is a sponsored press release. Please do your research before buying any cryptocurrency or investing in any projects. Read the full disclosure here.