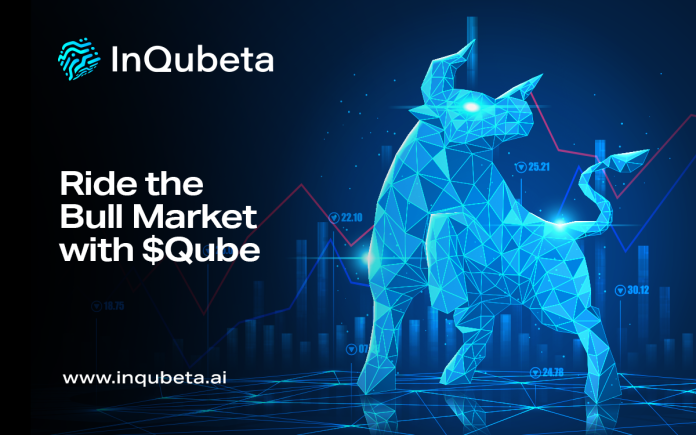 In the rapidly evolving landscape of cryptocurrencies, Worldcoin and InQubeta are taking center stage, forging a new era in this burgeoning market. Both platforms are breaking the mold, but it is InQubeta's breakthrough solution that is becoming a beacon for investors worldwide. The platform's success is underscored by the presale of its QUBE token, which has already amassed over $1.9 million. It is still going strong with multiple stages to go. Let's explore the reasons behind this phenomenal growth!

Worldcoin: Bringing Crypto to the Masses
Worldcoin has made waves by offering a radically new model for identity verification and cryptocurrency distribution. By scanning one's eyes to confirm their unique identity, individuals can receive a World ID and, where permissible, a digital currency (WLD) – just for being human. The venture aims to build the world's largest identity and financial public network, making cryptocurrencies accessible to people across the globe.
InQubeta: Transforming AI Startup Investments
While Worldcoin is changing the way we access cryptocurrencies, InQubeta is revolutionizing how we invest in AI startups. Its unique platform allows for fractional investment in AI startups using QUBE tokens. This pioneering approach is democratizing investment opportunities in the AI industry, giving everyone a chance to back up-and-coming companies.
The core of InQubeta's platform is the QUBE token. This deflationary ERC20 token has been masterfully designed to offer a unique investment opportunity. Each QUBE token purchase is subject to a 2% buy and sell tax that goes to a burn wallet and a 5% sell tax destined for a dedicated reward pool. The QUBE token's presale has been a resounding success, surpassing the $1.9 million mark, signifying a profound interest and trust from investors.

More Than a Token, A Tool for Governance
The allure of the QUBE token goes beyond its inherent value. It is also a tool for active participation in the decision-making processes of the InQubeta platform. As a governance token, QUBE holders can propose, discuss, and vote on various issues related to the platform's development, operations, and future directions. This level of interaction empowers the users and creates a dynamic, user-centric environment.
InQubeta's Promising Future
InQubeta's roadmap paints a vivid picture of the platform's future. The introduction of an NFT marketplace, InQubeta Swap, and InQubeta DAO are just a few milestones on the horizon. Each new feature enriches the platform's capabilities, boosting the utility and value of the QUBE token.
In conclusion, Worldcoin and InQubeta represent the new face of the crypto industry. Worldcoin with its innovative approach to identity verification and cryptocurrency distribution, and InQubeta with its revolutionary model for AI start-up investments. As the presale of QUBE tokens continues to make waves, it's clear that InQubeta is poised to make a lasting impact in the crypto industry and beyond. The future of investment in AI start-ups is here, and it is called InQubeta.
Disclosure: This is a sponsored press release. Please do your research before buying any cryptocurrency or investing in any projects. Read the full disclosure here.