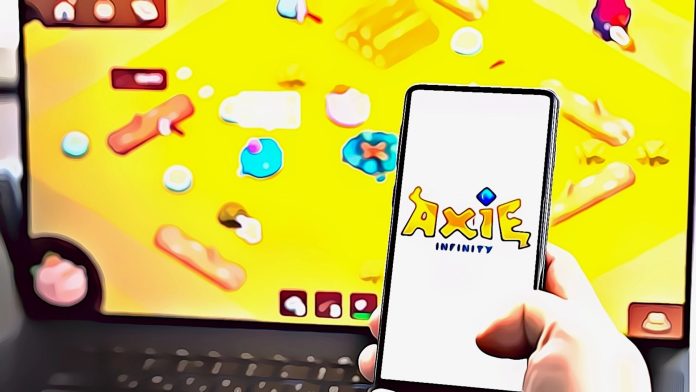 The upcoming token unlock event for Axie Infinity (AXS) has generated significant attention and speculation within the crypto community. With $21.7 million worth of AXS tokens set to be unlocked, there is anticipation regarding its potential impact on the altcoin's bullish trend.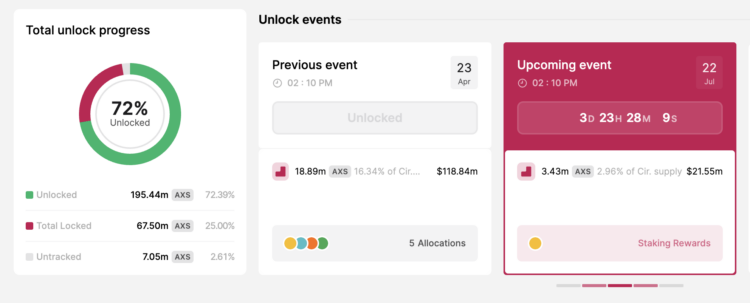 Designated For Staking Rewards
It is important to note that token unlocks can have varying effects on the market, depending on the circumstances and market sentiment. In this case, all of the unlocked tokens are designated for staking rewards for users of the Axie Infinity platform. This means that the tokens will not be immediately available for sale or circulation in the broader market. Instead, they will be used to incentivize and reward participants within the ecosystem.
Positive Development For Axie Infinity
This allocation of unlocked tokens for staking rewards indicates a positive development for Axie Infinity. By encouraging users to stake their tokens, the platform is fostering engagement and participation, which can lead to increased network activity and utility. This approach aligns with the growing trend of decentralized finance (DeFi) protocols and platforms that reward users for their involvement.
Spread User Base
Furthermore, it is worth noting that Axie Infinity has demonstrated resilience and strong performance even during the bear market trend. The platform's unique play-to-earn model, where users can earn income by playing the game, has attracted a dedicated user base and generated significant interest. This user-driven demand has helped support the value of AXS tokens, regardless of broader market conditions.
Short-Term Selling Pressure?
While the large number of tokens being unlocked might create some short-term selling pressure if holders decide to cash out their rewards, the long-term impact will depend on the strength of the Axie Infinity ecosystem and the continued adoption of its platform. If the staking rewards effectively incentivize users and drive further engagement, the demand for AXS tokens may remain strong, supporting its bullish trend.
Final Thoughts
In conclusion, while the upcoming token unlock event for Axie Infinity raises some concerns, the allocation of unlocked tokens for staking rewards suggests a positive development for the platform. The long-term impact will depend on the ecosystem's strength, user adoption, and continued utility of the AXS tokens. As Axie Infinity has shown resilience in the market and attracted a dedicated user base, it is possible that the bullish trend may continue, despite the token unlock event.
Disclosure: This is not trading or investment advice. Always do your research before buying any cryptocurrency or investing in any services.
Follow us on Twitter @nulltxnews to stay updated with the latest Crypto, NFT, AI, Cybersecurity, Distributed Computing, and Metaverse news!
Image Source: velivinki/123RF // Image Effects by Colorcinch