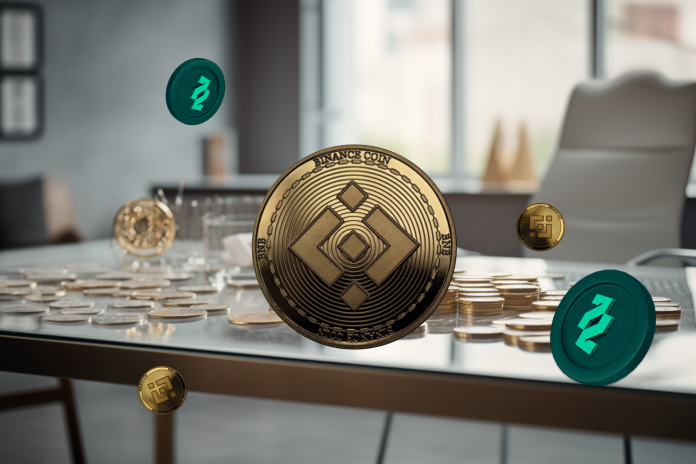 As the cryptocurrency market evolves, innovative platforms emerge to captivate traders and investors. Tradecurve (TCRV) is among these attention-grabbing platforms, prompting the question: Can Tradecurve lure holders from established exchanges such as Binance and OKX? Let's find out!
Binance's Market Share Declines as Zero-Fee Trading Ends
In March, Binance decided to end its zero-fee trading policy, which led to a loss of 18% in its spot trading market share to Asian exchanges by the 6th of May. According to analytics, Binance's share of spot trading dropped from 73% to 51%. 
The collapse of several crypto firms last year and the subsequent bear market caused a significant decline in trading volumes. Binance, in particular, offered zero trading fees for most spot pairs as a strategy to attract traders. This promotion lasted about seven months and contributed to an impressive volume rise, even during a bear market.
However, Binance's decision to retract the zero-fee trading policy resulted in a substantial drop in market-wide trading volumes, accurately reflecting the bear market conditions. Consequently, Binance's market share has reached its lowest level since October 2022.
These developments highlight the evolving landscape of the cryptocurrency market and the shifting preferences of traders. While Binance's market share has been affected by the end of zero-fee trading, the prominence of Tradecurve attracts investors through its innovative, cutting-edge platform.
OKX Pays the Cost for The Many Mistakes
OKX, once a prominent player in the cryptocurrency exchange market, has been experiencing a significant loss in investor confidence due to a series of mistakes and missteps. 
During May, OKX introduced SUI to its listing, but unfortunately, the price of SUI plummeted immediately after. Due to an error on the OKX platform, investors encountered difficulties selling their cryptocurrencies on OKX. They were unable to execute sell orders above $1.3 per SUI and were also unable to cancel their orders which led them to substantial losses.
In a reassuring gesture, the CEO of OKX pledged to compensate investors who suffered losses due to the SUI cryptocurrency crash, emphasizing the exchange's commitment to supporting affected customers.
Amidst the growing dissatisfaction, OKX again demonstrated its commitment to user protection during the Luna/UST crash. On the 8th of May, OKX's risk management system detected volatility in the price of Luna and promptly alerted all users who were staking UST on OKX Earn. The exchange released users' UST from staking, allowing them to trade or sell their assets before the market plummeted.
While the OKX exchange strives to rectify its past errors and improve its services, only time will tell if it can regain the confidence of the cryptocurrency community and reclaim its former glory. In the meantime, investors are eager to test the advantages of the promising Tradecurve platform.

Tradecurve is Setting a New Standard in the World of Cryptocurrencies
Tradecurve (TCRV) has emerged as a trailblazing platform in the ever-changing world of trading, driven by its mission to revolutionize how traders engage with the market. 
With its forward-thinking approach and innovative features, Tradecurve offers a multitude of compelling reasons to capture your attention. With extensive liquidity, anonymity, rapid execution, and a range of remarkable attributes, Tradecurve is set to redefine the way traders interact with both cryptocurrencies and traditional assets. 
Tradecurve prides itself on being a pioneer in the hybrid trading exchange space, seamlessly blending the best aspects of centralized and decentralized platforms. By combining the strengths of both worlds, Tradecurve ensures a seamless trading experience that brings together security, efficiency, and accessibility.
One of the standout features offered by Tradecurve is its high leverage, starting at an impressive 500:1. Furthermore, Tradecurve's algorithmic trading capabilities enable the utilization of automated strategies, providing traders with enhanced efficiency and precision in their trading activities.
As the trading landscape continues to evolve, Tradecurve stands at the forefront, offering traders and investors a platform that combines innovation, convenience, and reliability. Currently, in Stage 2 of its presale, TCRV trades at a discounted price of $0.012. So, hurry up and chip in before it's too late!
For more information about $TCRV presale tokens:
Website: https://tradecurve.io/ 

Buy presale: https://app.tradecurve.io/sign-up 
Twitter: https://twitter.com/Tradecurveapp 
Telegram: https://t.me/tradecurve_official
Disclosure: This is a sponsored press release. Please do your research before buying any cryptocurrency or investing in any projects. Read the full disclosure here.