In a statement earlier today, Binance confirmed that it has frozen and blacklisted wallet addresses associated the developers of Squid Game Token.
Squid Game Token Drama Continues
As the whole Squid Game Token Saga unfolds, it's great to see Binance step in and attempt to identify the bad actors responsible for the "rug pull". In a statement earlier today to Barron's, Binance said that it's:
"deploying blockchain analytics to identify the bad actors."
The reason Binance is able to step in and blacklist the correct addresses is because the developers converted their $SQUID to $BNB, which are on the Binance Smart Chain.
The scammers attempted to mix their $BNB using a mixing service called Tornado Cash, but it seems that Binance was able to find their tracks anyway.
The developers disappeared with upwards of $3M in BNB with the last response from them being on Monday, November 1st.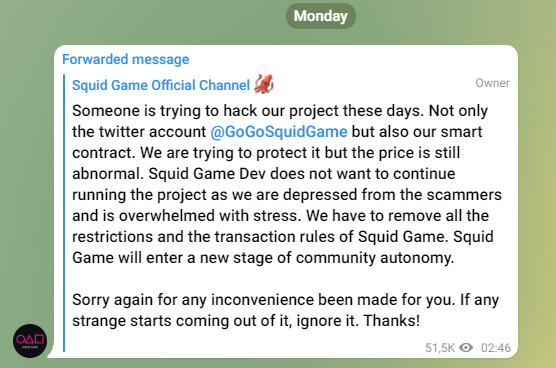 The message appeared on their telegram and read (included with the grammar mistakes):
"Someone is trying to hack our project these days. Not only the twitter account @GoGoSquidGame but also our smart contract. We are trying to protect it but the price is still abnormal. Squid Game Dev does not want to continue running the project as we are depressed from the scammers and is overwhelmed with stress. We have to remove all the restrictions and the transaction rules of Squid Game. Squid Game will enter a new stage of community autonomy.

Sorry again for any inconvenience been made for you. If any strange starts coming out of it, ignore it. Thanks!"
As Binance is investigating the developers and has frozen their wallet addresses, it will be interesting to see whether the "someone hacked me" defense will pan out.
We can only hope those victims who bought $SQUID can recoup at least some of their initial investment.
Squid Game Token Price
As we reported earlier today, Squid Game Token price rose over 400% for no apparent reason. At the time of writing Squid Game Token is up over 1900% priced at $0.12.
It seems most of the trade volume is coming from PancakeSwap, in the past 24 hours over $59M worth of $SQUID have been traded. Looking on Bscscan, there have been roughly 25 trades in the past hour which seem to be heavily influencing the market price.
Further investigation reveals that there are some accounts simply buying and selling $SQUID within the hour, this account for example, bought and sold about 100,000 $SQUID in the span of 1 hour.
As the Squid Game Token saga unfolds it's comforting to hear that Binance is taking the lead in shutting this down and reimbursing the victims.
Unfortunately, this isn't the first nor the last crypto scam we will see. Crypto investing can be an incredible journey or a painful existence, your choice.
Follow us on twitter @nulltxnews to stay up to date with the latest cryptocurrency news!
Originally Posted on The VR Soldier