Bitcoin Price Analysis (BTC/USD)
The price of BTC/USD pair has shown a positive sign starting from 12:00 to 21:00, where it jumped from $9271.17 to an intraday high of $9586.50 that indicated intense buying pressure. However, the momentum changed shortly after due to an increase in selling pressure. That resulted to a downside correction, which signaled that bears are in command.
Despite the recent dip, an upsurge by 0.15% was recorded and BTC is now changing hands at $9284.95 after testing the support level defined near $9208.81.  Besides, more downsides could result further downtrend in the short-term. Additionally, both moving averages have given a bearish crossover, and the RSI has declined from the overbought zone and is now below average that give a negative sign.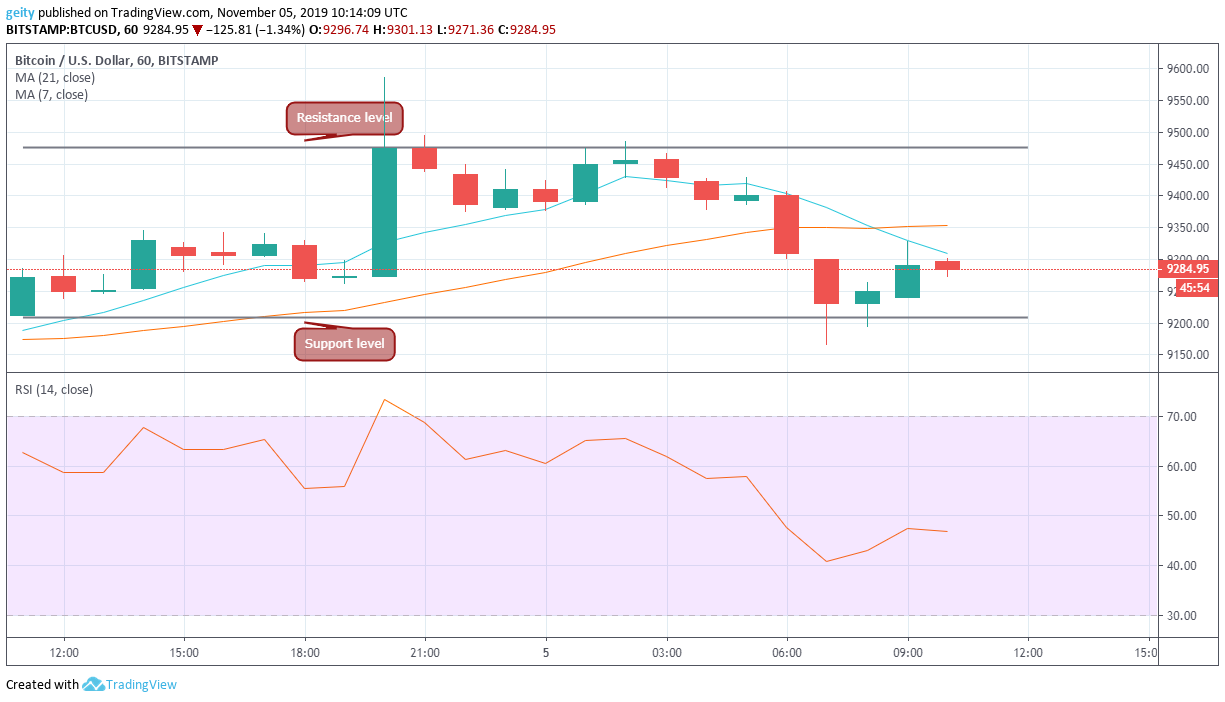 Bitcoin Price Prediction (BTC/USD)
If the price dip below $9155 level, more southward rally towards $7400 levels is likely. However, if more buyers enter the market, then a break above $9474.52 resistance level could led to an upside rally towards $10000.00l level.
Bitcoin Cash Price Analysis (BCH/USD)
BCH/USD pair has been on a tight range between the horizontal channel marked (A and B). Failure of BCH to step above $294.9 level resulted in a bearish action that fluctuated the price to close near the support level found near $285.0. An upside break later followed that found new support near $288.0. Thus BCH is now being exchanged at $290.9 with an intraday decrease of about 1.3%. The dip has thereby shown an increase in selling interest.
Additionally, the moving averages have intertwined, and the RSI has been trading between level 60 and 40 that confirmed indecisive market momentum showing that the trend may take center stage in the near term especially if the pair's price could keep on trading in between the horizontal channels.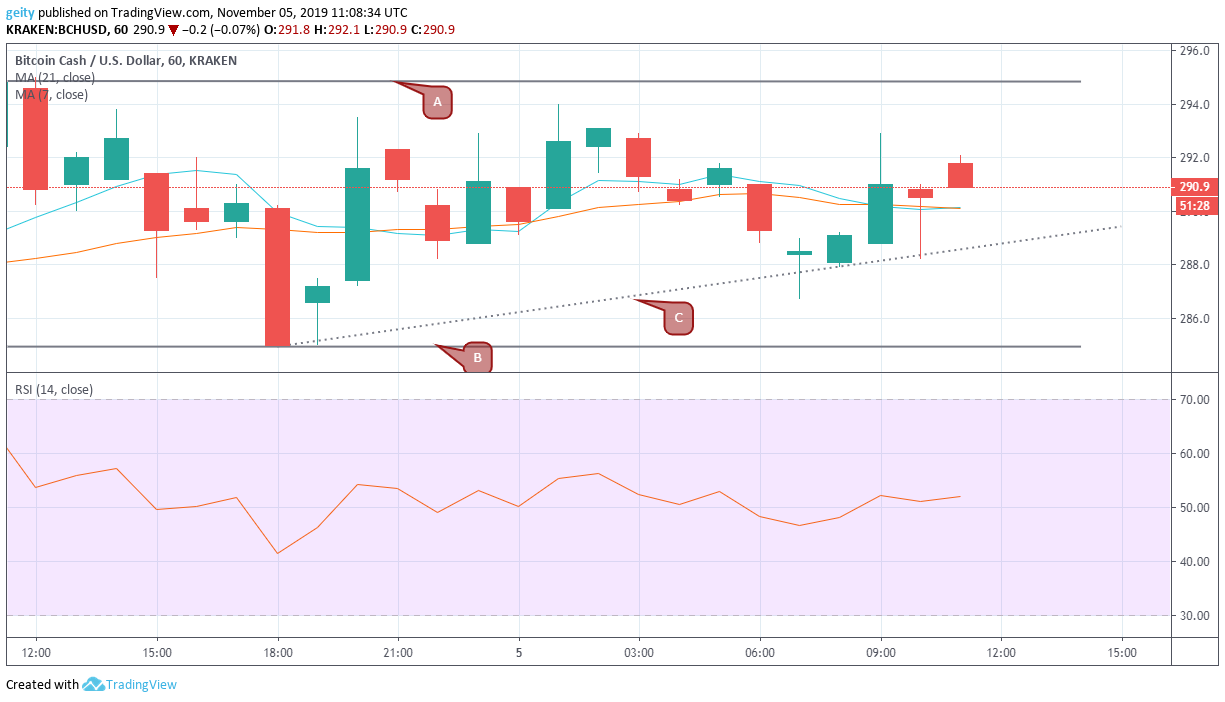 Bitcoin Cash Price Prediction (BCH/USD)
During the last 17hrs, a bullish trend line (C) was spotted; therefore, a break below it may start afresh decline towards 270.0. However, if the price jump above $294.9, the uptrend is likely to continue above $310.0 level.
Litecoin Price Analysis (LTC/USD)
LTC/USD pair has again by 3.1 over the last 24hrs, the coin began the session trading at $60.326 and is now dancing to the tune of $62.265. The uptrend seemed to have gained support from ascending moving averages that are indicating an increase in buying pressure, which could result to an increase in investor's sentiments in the short-term.
At the press time, the pair's price is testing the resistance level marked at $63.000 showing bulls are in command. Despite the uptrend, the RSI indicator is declining slowly, signaling a reduction in buying interest. Luckily, it is still above average, which is a positive outlook. Thus, continuous upside rally should be anticipated in the short-term.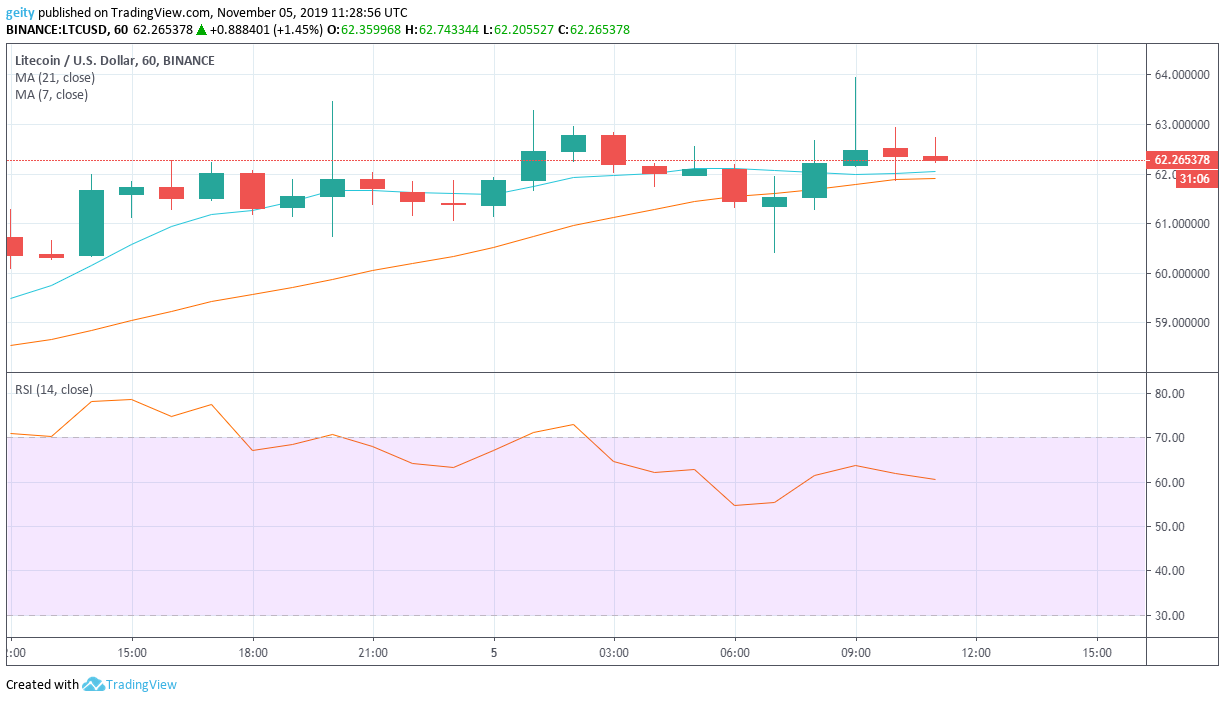 Litecoin Price Prediction (LTC/USD)
An upside break above $63.500 could correlate gains above $80.000. On the downside, if the price fall below 61.000, a new downtrend can be seen that may dip the price lower below $40.000 level.
Cryptocurrency Charts By Tradingview
Disclaimer: This is not trading or investment advice. The above article is for entertainment and education purposes only. Please do your own research before purchasing or investing into any cryptocurrency or digital currency.
Image(s): Shutterstock.com