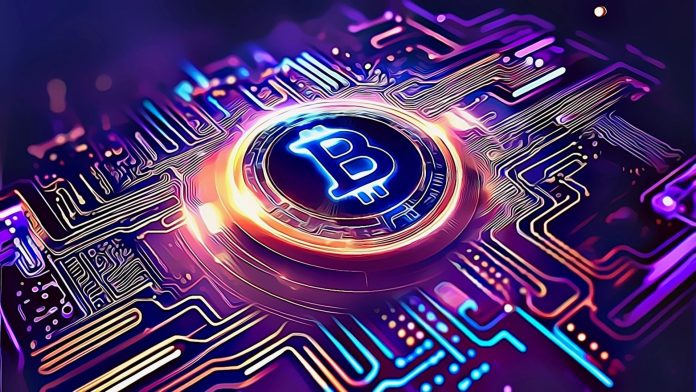 In the second quarter of 2023, Bitcoin (BTC) faced a challenging period, marked by high volatility and declining trading volumes. Despite these obstacles, BTC managed to exhibit resilience and achieved modest gains, outperforming the overall crypto market.
Bitcoin Holds Strong Position
During Q2, BTC recorded a 6.9% increase in value, climbing from $28,517 to $30,481. This growth was a positive signal for investors, considering the turbulent nature of the crypto market in recent times. Moreover, BTC's ability to outpace the total crypto market cap, which only saw a meager 0.14% rise from $1.238 trillion to $1.240 trillion, demonstrated the enduring strength of Bitcoin as the leading cryptocurrency.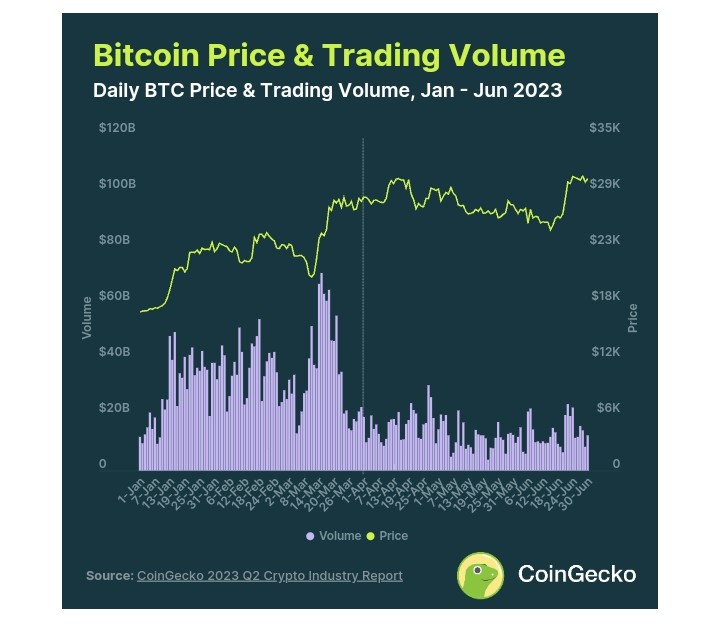 BlackRock's Spot Bitcoin ETF Application
A significant event that played a role in BTC's growth was the announcement of BlackRock's spot Bitcoin ETF filing on June 15. This news likely boosted investor confidence and contributed to BTC reaching a yearly high of $30,694. The anticipation of institutional investment through an ETF might have attracted new participants to the market, further supporting Bitcoin's positive momentum.
Trading Volume Declines
However, it is worth noting that despite the overall uptrend in BTC's price during Q2, the average daily trading volume experienced a substantial decline of 58.7%. Trading volume is a crucial indicator of market activity and liquidity, and this sharp drop could be a cause for concern. It suggests that while the price was rising, the number of actual trades and participation in the market decreased significantly. This could imply a lack of conviction from traders or a shift in sentiment during the quarter.
Other Market Dynamics
Several factors could have contributed to the decline in trading volume. One possibility is that some traders might have adopted a "hodl" strategy, holding onto their BTC positions rather than actively trading. Additionally, regulatory uncertainties, market saturation, or increased investor caution due to past market volatility might have played a role.
Concluding Thoughts
Overall, BTC's performance in Q2 2023 reflects its enduring appeal and resiliency in the face of market challenges. The cryptocurrency's ability to outperform the total market cap and achieve gains despite declining trading volumes and other obstacles indicates that it continues to hold a significant position within the crypto space. However, the drop in trading volume raises some cautionary flags and suggests that market participants should remain vigilant and monitor market developments closely in the coming quarters.
Disclosure: This is not trading or investment advice. Always do your research before buying any cryptocurrency or investing in any services.
Follow us on Twitter @nulltxnews to stay updated with the latest Crypto, NFT, AI, Cybersecurity, Distributed Computing, and Metaverse news!
Image Source: zven0/123RF // Image Effects by Colorcinch