The ongoing regime of accumulation among Bitcoin HODLers, characterized by a consistent absorption of coins at a rate of +27.1K BTC per month since July 2021, suggests a bullish sentiment in the market. HODLers are individuals or entities that hold onto their Bitcoin investments for an extended period rather than engaging in frequent trading. Their behavior is often associated with long-term optimism and confidence in Bitcoin's value.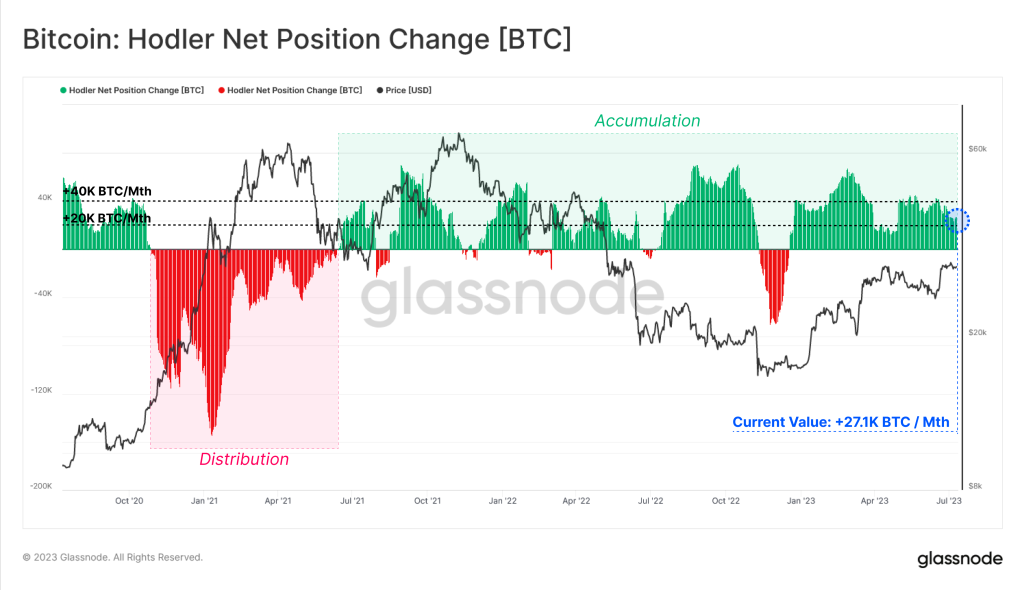 Future Bitcoin Price Appreciation
The sustained accumulation of Bitcoin by HODLers implies that these market participants believe in the potential for future price appreciation. By consistently acquiring more Bitcoin over time, they demonstrate their commitment to the asset and their anticipation of a future bull run. This accumulation pattern can contribute to reducing the overall supply of Bitcoin available on exchanges, creating upward pressure on prices.
Bullrun Precedes Series Of Hodlers Accumulation
Historically, bull runs in the cryptocurrency market have often been preceded by periods of accumulation. When a significant number of coins are absorbed by HODLers, the circulating supply decreases, and if demand remains constant or increases, it can lead to a supply shortage. This supply-demand dynamic can trigger a price surge, initiating a bull run.
Other Market Dynamics
However, it is important to note that market dynamics are complex and subject to various factors, including global economic conditions, regulatory developments, investor sentiment, and technological advancements. While the ongoing accumulation by HODLers is a positive indicator, it does not guarantee a bull run in isolation. Market participants should consider these factors and conduct thorough analysis before drawing conclusions about future price movements.
Final Thoughts
In summary, the consistent accumulation of Bitcoin by HODLers at a rate of +27.1K BTC per month since July 2021 suggests a positive sentiment and potential for a future bull run. However, it is essential to consider other market factors and conduct comprehensive analysis to gain a clearer understanding of Bitcoin's price trajectory.
Disclosure: This is not trading or investment advice. Always do your research before buying any cryptocurrency or investing in any services.
Follow us on Twitter @nulltxnews to stay updated with the latest Crypto, NFT, AI, Cybersecurity, Distributed Computing, and Metaverse news!
Image Source: strelok/123RF // Image Effects by Colorcinch