By Dmitriy Gurkovskiy, Chief Analyst at RoboForex
At the time of writing, Bitcoin price is currently at $3,753 after dropping over $100 the day prior.
The ascending trend was dominating over February and ended with the MACD divergence, reaching 61.80% Fibo. On H4, the price is testing the support which has now become the resistance. The downtrend target lies at 76% Fibo, or $3,542.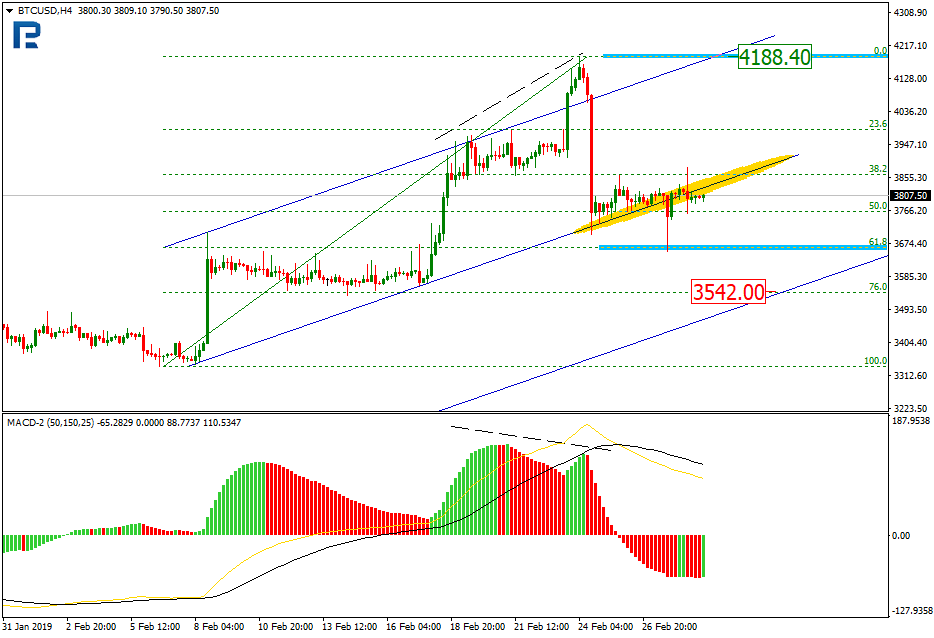 On H1, the downtrend has not only made a lower low, but also allowed the Stochastic to converge, which signals a correction. The pullback has currently reached 38.20% Fibo and may hit 61.80%, or $3,985, in the short term in case a golden cross is formed.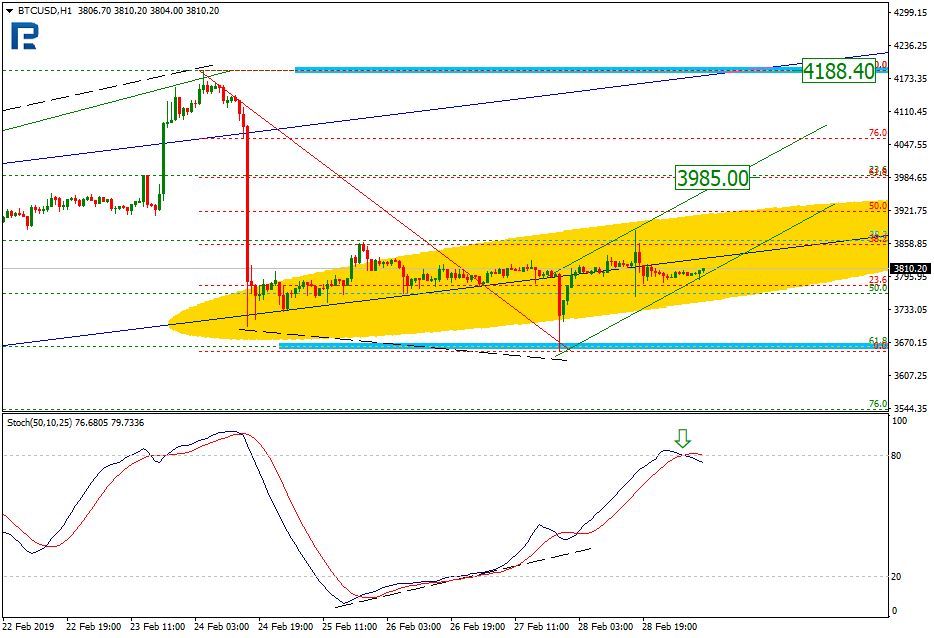 Warren Buffett, the Berkshire Hathaway CEO, said Bitcoin is just an illusion that is not backed by anything. Blockchain is meanwhile very important, he added, saying that this tech's success has nothing to do with the crypto movements.
Warren Buffett just said "Bitcoin is ingenious…but Bitcoin has no unique value at all. It doesn't produce anything. You can stare at it all day & no Bitcoins come out or anything."

REMINDER: Buffett has sat on $100+ billion of cash for last year and a half that has same issues

— Pomp 🌪 (@APompliano) February 25, 2019
Anthony Pompiliano, Morgan Creek Digital Assets CEO, reacted quickly, saying Buffett is a great man, but he had better not spoiled the things he understands nothing in. This is not the first time the famous investor talks about cryptos this way; around a year ago, Buffett called cryptos 'digital poison'.
Still, Feb 2019 became the best month for the BTC in over the last 6 months. The flagship crypto had been falling since August, which became the longest downtrend ever. Over February, Bitcoin rose by nearly 10%, which is a great achievement compared to the previous selloff.
The market is currently quite optimistic about the Bitcoin. The crypto may continue rising in March, as the bearish movement has been fading out, which can be easily seen on W1. The M1 chart, however, is currently holding the bearish outlook.
---
Disclaimer: Any predictions contained herein are based on the authors' particular opinion. This analysis shall not be treated as trading advice. RoboForex shall not be held liable for the results of the trades arising from relying upon trading recommendations and reviews contained herein.