BTC gains 7% in the last 24 hours

Price breaks resistance level to achieve new high of 4000

New support levels set at 3760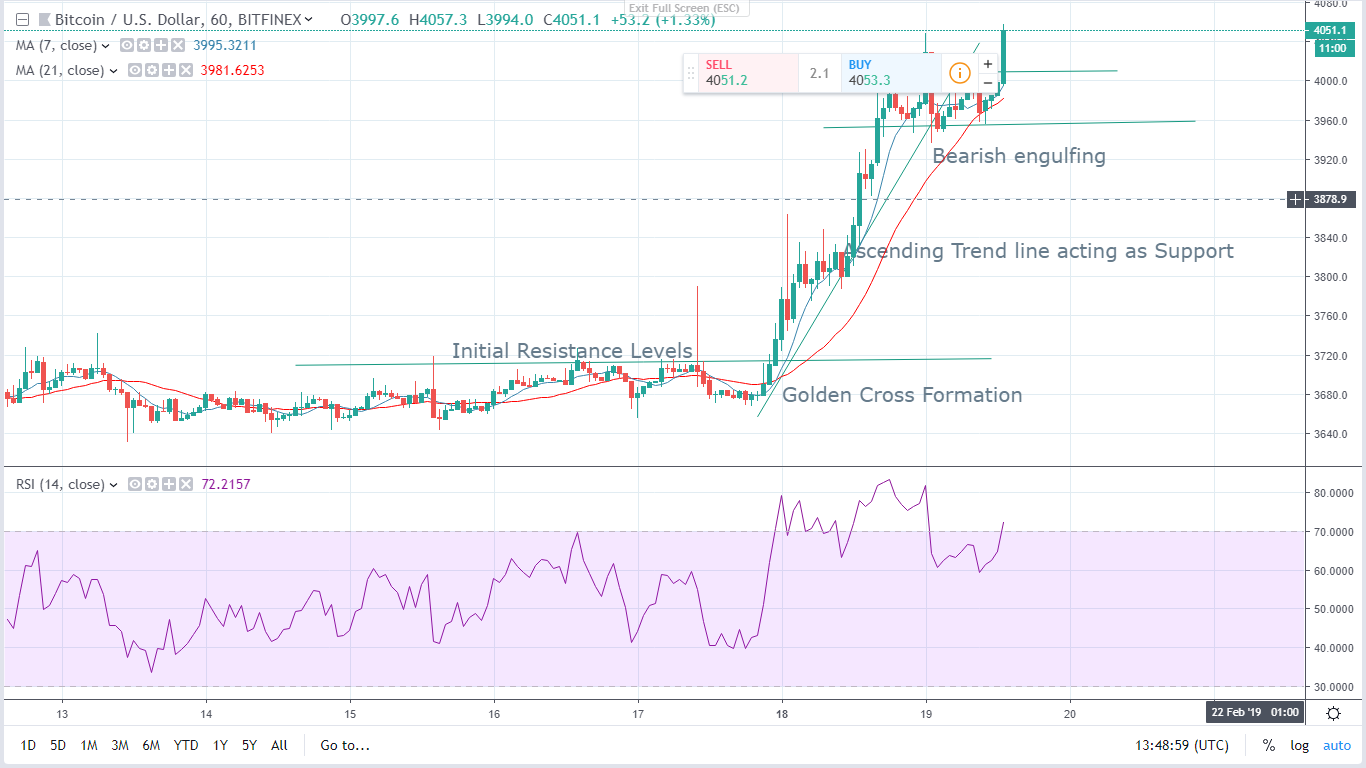 After a period of consolidation, Bitcoin price finally managed to breach the resistance level of 3700 to achieve new highs and set new support levels. For a couple of days, BTCUSD has been trading sideways, seemingly finding resistance at the range of 3700- 3730 and support at 3650.
This range bound trend was breached on the 18th of February with a bullish engulfing (1 hour charts) that rallied the price to its new high of 4000. In the last 24 hours, the price of BTC has managed to gain about 7%. Looking at the hourly charts, a golden cross formation set the stage for the bull rally when the 7 day MA crossed over the 21 day MA. An ascending trend line seemed to provide support for the bull for the last couple of hours before a bearish engulfing brought the price back to consolidation.
The bull run also drove RSI levels to over 70, seemingly indicating that the currency was overbought. The RSI briefly touched 80 before tracing its way back to its current level of 60. This may seem portray that the strength of the bullish momentum experienced in the last couple of hours has waned. In the last few hours, the 21 day MA is almost getting intertwined with the 7 day MA – this may signal that the price may indeed be headed for consolidation or a possible bearish reversal.
Bitcoin Price Forecast
RSI levels seem to indicate that the currency price will be range bound. Candle stick formation in the last couple of hours also seem to support a range bound pattern. This may create a good opportunity for an intra-range strategy in the short term using hourly charts.
Support levels can be placed at 3930- 3960.Resistance levels can be placed at 4000- 4020. Traders can go long once the price bounces back from support levels and they can take a short position if the price pulls back from the resistance levels. If the Resistance levels are breached, then a further bull run may be in the offing.
---
Disclaimer: This is not trading or investment advice. The above article is for entertainment and education purposes only. Please do your own research before purchasing or investing into any cryptocurrency.
Image(s): Shutterstock.com