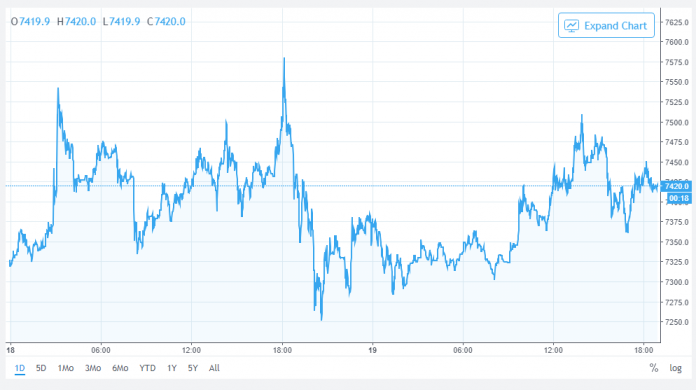 At press time, the world's top cryptocurrency is up to $7,400. This is a massive spike over where it was during the beginning of the week (high $6,000's).
Bitcoin's price seemingly jumped out of nowhere and within hours. It went from $6,800 to about $7,200 in 30 minutes on Tuesday amidst speculation that Coinbase would possibly add up to five additional coins to its trading platform.
In addition, top financial management firm BlackRock expressed interest in blockchain technology, which may have potentially given bitcoin the price boost it needed. The coin is likely to take a rest before exploding any further, though analysts believe $7,500 is easily in our midst now that $7,000 has been breached.
But even if bitcoin stays right where it is for a while, Barry Silbert – chief executive officer of the Digital Currency Group – believes the worst is over, and bitcoin isn't likely to incur any drops in the immediate future. Speaking at the Delivering Alpha Conference in New York recently, Silbert explained of bitcoin:
"This is a new infrastructure layer of the internet. It will replace what operating systems do. It is the future of the internet. This isn't just about digital gold."
One source explains that "seasonality" may be playing a role in bitcoin's ascension. It discusses summer action since 2012, and says that in July and August of each year, bitcoin prices are hot, and spiking on a regular basis. The only exception to this rule was 2014, where prices increased in July, but fell the following month, resulting in what some call a "cold summer" for the coin. In the past, July has typically been a stronger month than August, as most people tend to be on vacation during the latter period.
Another source suggests that bitcoin is poised to go even higher, and potentially test $8,000 in the coming weeks, though it agrees that July and August typically tend to be stellar months for the father of cryptocurrencies, and that the present rally is nothing unique.
The good news, however, is that bitcoin is not alone in its recent spikes, and has seemingly taken all top 100 cryptocurrencies along with it. Ethereum, for example, recently rose to the $501 mark, breaking the coveted $500 barrier that had so many analysts and traders worried, though at press time, the second-largest cryptocurrency has fallen back down into the high $400 range.
Still, bitcoin's performance is proving to be relatively solid, though volatility can always strike when one least expects it. Thus, investors are asked to remain cautious and vigilant, and to never play with funds they can't afford to lose.
Image(s): Shutterstock.com