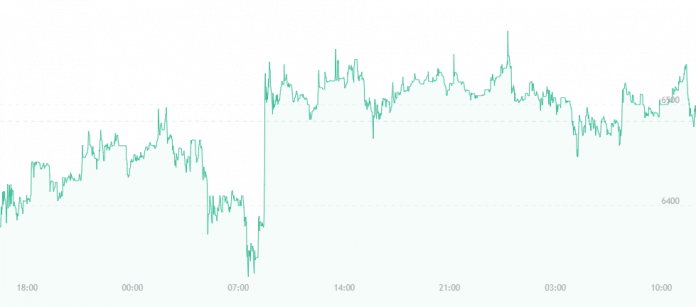 Bitcoin is not going anywhere anytime soon. After 72 hours, the currency is staying put at $6,500, and support remains strong at the present level.
One source explains that the currency is "flirting" with a long-term support line, and that more exposed weaknesses could lead to a disastrous bear market that would take a very long time to end. Overall, the currency exhibited very low volume and low volatility trading over the weekend, and is now sitting "right above the long-term trendline support."
Granted bitcoin did fall dramatically in the coming days, it would naturally take every other major form of cryptocurrency with it, and we'd be witnessing a crypto bloodbath.
Bitcoin's price isn't cause for celebration, though Phillip Nunn finds himself genuinely excited about where the currency sits, as it can now jump all the way to $60,000. As CEO of the Blackmore Group and Wealth Chain Group, Nunn expressed his belief back in January that bitcoin would first strike the $6,000 range during the mid-year point, and then move its way up to $60,000 by the end of 2018.
So far, the first part of his prediction has come true – something he joked about in an interview with Business Cloud, and the mogul remains adamant that $60,000 will be the year-end price for bitcoin.
"Well, we're certainly about to see $6,000, aren't we?" he asked. "That's probably a few hours away. The prediction was based on market volatility, which we're experiencing right now. I think that's apparent. I stand by my prediction."
Nunn continued by adding, "What you've got to remember is that the sharpest comparison to crypto in recent years is the Dotcom, but crypto is a whole industry in reverse because the initial investment into it is from the crowd. All the money that exists in crypto is from the public, so it's all about market sentiment. A flood of bad news can wobble the market, stuff like regulation. The industry is so small that there's market manipulation."
Nunn is in high demand for his work as a public speaker. He currently travels the world talking with banks, hedge funds and other financial industries to teach them about blockchain technology, which he believes will disrupt virtually every industry.
"The reality is we're moving from an internet of information to an internet of value," he explains. "It's going to disrupt everything, from money, to record-keeping, to legal. We are moving to a much safer and decentralized way of working."
The speaker and finance expert is also claiming that many of the smaller altcoins and cryptocurrencies will ultimately disappear from the scene, while major entities like bitcoin, Ethereum, Litecoin and Ripple will stick around and completely dominate the market.
"They're the fabric of the industry," he states. "These guys are going to stay, and the other 1,600 or 1,700 tokens that exist out there are basically an alternative to venture capital money. In the VC world, you invest in 10. Eight will fail, and the two will be a Google or an Uber or an eBay."
Charts by TradingView
Image(s): Shutterstock.com