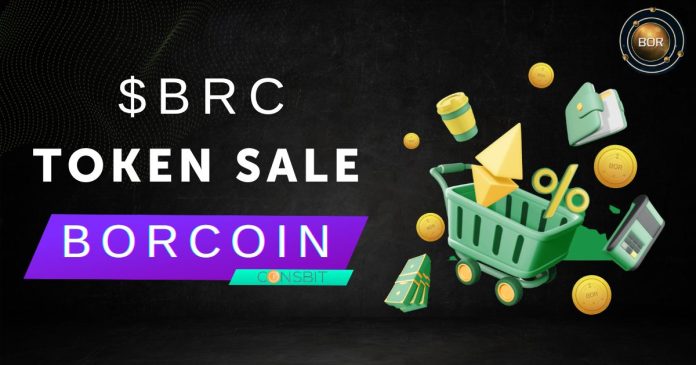 Istanbul, Turkey. December 1st, 2022. The award-winning Estonian cryptocurrency exchange Coinsbit will hold the Initial Exchange Offering of BORCOIN (BRC) from December 1 to 15, 2022. BORCOIN is an ambitious project from Turkey launched in September 2022 that aims to create a DeFi platform with a multi-level architecture to offer smart-contract-based financial instruments.
BORCOIN's utility token BRC is an ERC-20 token issued on the Polygon blockchain. This parent blockchain was chosen for a reason: due to the skyrocketing gas fees, Ethereum killed the lower-end retail DeFi services years ago and remains an option only for the so-called "whales." By contrast, BORCOIN sees itself inclusive and accessible. Therefore, the combination of EVM compatibility with fractions of fractions of Ethereum fees and dramatically improved scalability makes Polygon the best venue for DeFi efforts.
The project's name comes from the chemical element boron. Turkey is its major global manufacturer and the holder of its largest deposits. This multipurpose element is crucial for plants and is used across many industries, from healthcare to nuclear power. BORCOIN strives to make BRC as widely used as boron to aid people across the world. In honor of this element, BORCOIN's logo is a stylized image of the atomic structure of boron.
The main use cases of BRC are secure and cost-effective fund transfers, investment, and charity. BORCOIN will build derivative BRC-based products that will drive the token demand. It will invest in cryptocurrencies and other blockchain-based instruments, support educational, crypto, and trading online services and startups, consult on business development and assist small businesses, support the poor, do charity work, and donate to charitable organizations both in Turkey and internationally.
In the next two years, BORCOIN plans to grow its team to over 100 members, invest systematically, implement charity programs, consult, evaluate high-tech startups, and launch ecosystem projects. According to its business plan, BORCOIN will reinvest 40% of income in long-term instruments to grow its capital, spend 30% on development and 20% on salaries, and allocate the remaining 10% to the reserve fund that will serve as the liquidity safety net for emergency.
Through charity, BORCOIN will support education to combat hunger, achieve better life quality, and teach effective spending. The project ethos is to teach the underprivileged how to catch fish and to fix the core of the problem instead of just giving away the fish repeatedly with no long-term result. You will be able to meet the BORCOIN team in Dubai on February 27–28, 2023, at Blockchain Life 2023.
The IEO period is 12 PM UTC on December 1 to 12 PM UTC on December 15, 2022. The token price is $0.03 or ₿0.00000183. BORCOIN aims to raise $50M+ in this IEO round. Please note that prospective participants will need to pass KYC on Coinsbit.
Reference Links:
Aladdin Center Announcement: https://t.me/AladdinCenter_ANN
Website: https://borcoin.net/
White Paper: https://borcoin.net/BORCOIN-whitepaper.pdf
Telegram: https://t.me/borcoin_official
Twitter: https://twitter.com/BorCoin_first
Disclaimer: Nothing in this article shall be considered an offer to sell, solicitation of an offer to buy, financial recommendation, or financial advice. Do your own research and seek advice from professional financial advisors. Read the full disclosure here.