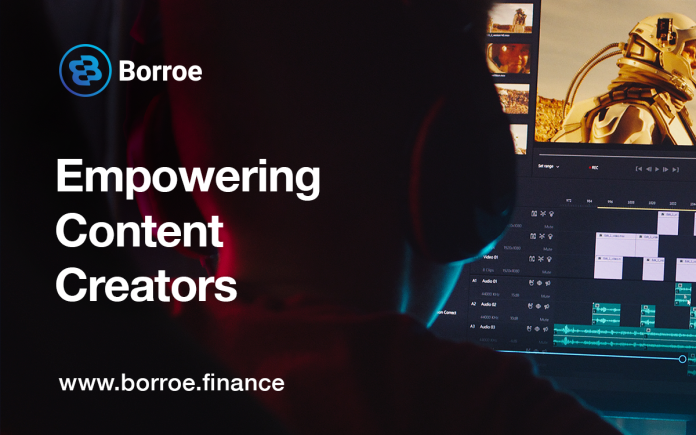 Borroe ($ROE) is emerging as a formidable project, solidifying its position as the new AI crypto leader. In this article, we will explore the features and benefits of Borroe and why it is gaining momentum, while Cardano grapples with uncertainties. While both projects have promise, Borroe looks like the winner of the two. 
Borroe ($ROE): Pioneering AI-Powered Fundraising
The success of any crypto project lies in its ability to offer unique solutions that cater to real-world needs. Borroe has done just that by integrating AI-powered risk assessment, secure blockchain technology, and streamlined payment solutions. This amalgamation ensures a safe and efficient fundraising process, making it an attractive platform for buyers and sellers alike.
One of Borroe's groundbreaking features is its NFT marketplace, which allows for easy trading of future recurring revenue NFTs between buyers and sellers on secondary markets. This fosters a peer-to-peer ecosystem, encouraging active participation and community engagement.
Moreover, sellers within the Borroe platform can offer enticing incentives, such as large discounts, to entice the community to fund their requests. This collaborative approach not only empowers sellers but also promotes inclusivity within the platform, creating a dynamic environment for fundraising.
The Utility of $ROE Tokens: Gateway to Exclusive Benefits
The $ROE token serves as the governance token and the key to unlock a range of exclusive features within the Borroe marketplace. Holders of $ROE tokens gain priority notification of new sales and repeat funding applications, giving them a competitive edge.
Additionally, $ROE token holders enjoy discounted fees on marketplace transactions, maximizing cost efficiency and potential profits.
Security is a paramount concern in the crypto space, and Borroe has taken significant measures to safeguard its investors' assets. The $ROE token has undergone meticulous smart contract auditing by industry-leading experts at Block Audit, ensuring protection from potential exploits and hacks.
Furthermore, $ROE token holders are entitled to a variety of rewards and incentives, including benefits from invoice buying, selling, and repayment. The platform's social media share2earn initiatives further enhance engagement and create a strong sense of community participation.
Governance Membership: Empowering the Community
Borroe embraces a democratic community governance model, giving $ROE token holders the power to actively participate in shaping the platform's future. Through voting on crucial topics, members directly influence the trajectory of the project, fostering a sense of ownership and responsibility within the community.
Big Momentum: The Rush to Borroe's Presale
As Cardano faces uncertainties, Borroe is seizing the opportunity to solidify its position as the new AI crypto leader. The integration of AI technology, the innovative NFT marketplace, and the robust governance model have attracted a flurry of investors rushing towards Borroe's presale. The project's commitment to inclusivity, offering multiple payment options like BTC, ETH, and BNB, further appeals to a diverse pool of investors.
Conclusion
In the fast-paced and ever-evolving crypto market, adaptability and innovation are crucial for a project's success. While Cardano (ADA) grapples with challenges, Borroe ($ROE) is paving the way as the new AI crypto leader.
Borroe's AI-powered fundraising platform, unique NFT marketplace, and democratic governance model set it apart as one of the best crypto tokens to invest in. As investors seek the next big opportunity for long-term gains, Borroe's position makes it a top crypto coin to consider for the future.
Explore the Borroe ($ROE) Presale:
Buy Presale: https://borroe.finance/
Website: https://borroe.finance/
Telegram: https://t.me/borroe_finance
Twitter: https://twitter.com/Borroe_Finance
Disclosure: This is a sponsored press release. Please do your research before buying any cryptocurrency or investing in any projects. Read the full disclosure here.