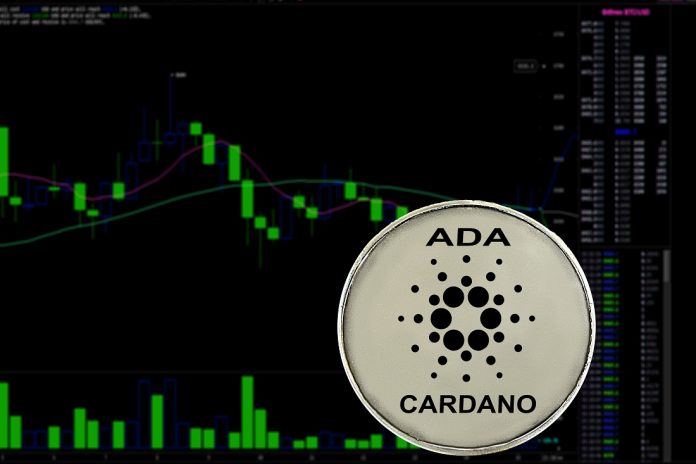 When it comes to looking at all of the top cryptocurrencies and their current market cap, it would appear there is a lot of conflicting momentum. While the majority of the top 10 is in the red, the Cardano price is moving up rather quickly. Its current gains seem promising, but breaking through the next key resistance level will prove to be very difficult first and foremost. As such, it remains to be seen if the day will end on a high for ADA.
Cardano Price Uptrend Comes Under Pressure
It is evident most of the top currencies will stand or fall based on what happens to Bitcoin. While it seems the world's leading cryptocurrency is doing its own thing without too many problems, there is still a fair bit of uneasy market momentum to contend with as well. As of right now, it would appear Cardano is trying to buck this seemingly negative trend, but it appears there will be some hurdles along the way to contend with.
Over the past 24 hours, the Cardano price has risen by 3.9% in USD value and gained 3.6% over Bitcoin. Both of these developments are promising, as one ADA is now valued at $0.052032, or 1,288 Satoshi. The big question is whether or not this momentum can be sustained, and if further gains can be noted across the board. With $46.118m in trading volume, that may prove very difficult over the coming hours. The overall crypto trading volume is also still down, which could put additional pressure on all markets.
On social media, there is some growing dismay regarding the surprise AMAs organized by Charles Hoskinson. Although these AMAs are pretty important for any cryptocurrency at this time, one also has to acknowledge the majority of community members is waiting for the Shelley release. Adding another "surprise AMA" to the list seems to delay that aspect in the minds of some people, even though that is not necessarily the case whatsoever.
As much as I respect @IOHK_Charles , dude does more SURPRISES AMA than my CAT surprises me.

Surprise AMA, surprise AMA. LOL. #ada

Do you like his AMA surprises? or do you want him to actually surprise you with shelley release rather?

— Crypto News (@cryptonews360) March 20, 2019
When looking at the current ADA chart, however, it quickly becomes apparent the coming few hours may be crucial. The 1,300 Satoshi level is considered to be a major resistance zone, and the price is approaching that level rather quickly. Assuming Cardano's uptrend is rejected at that level, there is a good chance the market will enter a slightly bearish phase for a little while. It will all depend on what happens to Bitcoin first and foremost.
#Ada bir boy daha ilerledi. Şimdilik bir sıkıntı olmadan iyi bir şekilde ilerliyor. İlk etapta fiyatlar 1300 satoshinin üzerine tutunduğu anda çok iyi seviyeler bizi bekleyebilir çünkü 1h'ta 1300 çok önemli bir direnç seviyesi. Geçildiği an ada'nın önü açılacaktır.#cardano pic.twitter.com/gXM92agAM5

— minexpert (@madenuzmani) March 20, 2019
As can be seen in the Tweet by Casual Crypto, there is a good chance the retrace will drive the price back down to 1,250 Satoshi. It is not the biggest drop whatsoever, but there is no clear support above 1,270 Satoshi at this time. If the current prices can be maintained for an hour or two, there may be further buy support to keep this party going.
$ADA starting to retrace. We could revisit 1265-1250sats and maybe lower.

Buying more at those levels and looking to 1320sats and up.

Buy volume has been good but we have yet to consolidate above ≈1270sats#Cardano #ada #BTC #priceaction #crypto #cryptosignal #cryptosign pic.twitter.com/eygQjhh2TV

— Casual Crypto (@Casual__Crypto) March 20, 2019
For the time being, it seems unwise to expect any major Cardano uptrend in the near future. While the current momentum is somewhat promising, it wouldn't take much effort to erode all of these gains either. Remaining above $0.05 should not be too difficult, all things considered, but there isn't much to be overly excited about either at this point. Not chasing the pump is always the best course of action in the cryptocurrency world.
---
Disclaimer: This is not trading or investment advice. The above article is for entertainment and education purposes only. Please do your own research before purchasing or investing into any cryptocurrency.
Image(s): Shutterstock.com