Over the past 30 days, Cardano (ADA) has made an impressive resurgence, claiming the top spot in terms of notable GitHub commits and development activity. This shift is indicative of Cardano's commitment to enhancing its blockchain and ecosystem.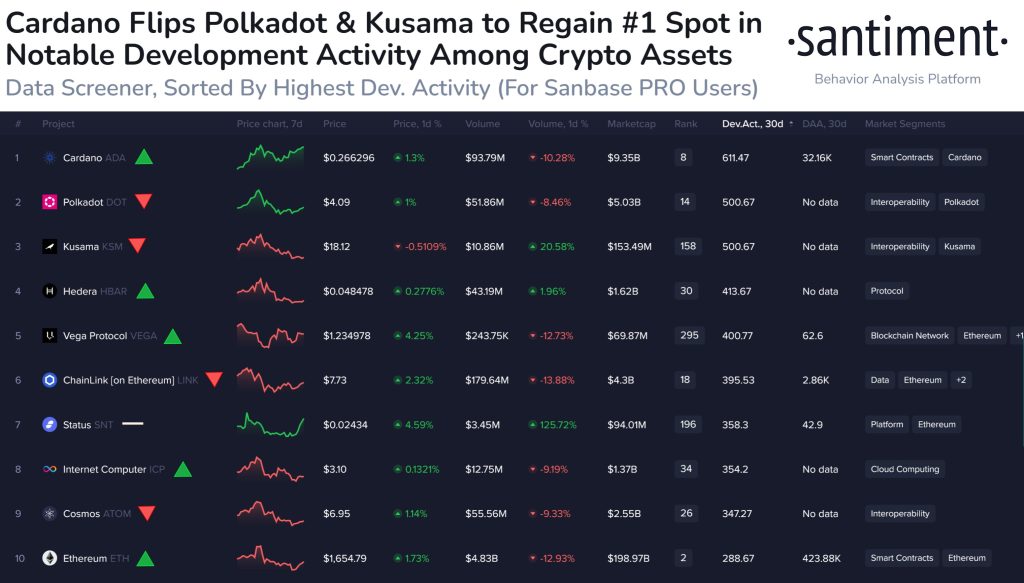 Cardano Takes The Lead
Cardano, often hailed for its emphasis on academic research and a meticulous approach to development, recorded a remarkable 611 notable GitHub commits in the past month. This impressive level of activity reflects the ongoing efforts of the Cardano development team to improve the platform, introduce new features, and address potential issues.
Polkadot And Kusama Follows With Remarkable Number Of Dev Activities
Notably, Cardano's surge in development activity saw it surpass other prominent cryptocurrencies, including Polkadot (DOT) and Kusama (KSM), which had held the top spots previously. Polkadot and Kusama, known for their innovative approaches to blockchain interoperability and parachains, secured the second and third positions, respectively.
Hedera Hashgraph (HBAR), a blockchain platform recognized for its focus on enterprise adoption and efficiency, also ranked high, with 413 notable GitHub commits. The continued development of Hedera Hashgraph highlights its dedication to serving the needs of businesses and enterprises in the blockchain space.
ChainLink With 395 Dev Activities
Vega Protocol (VEGA), a decentralized derivatives trading platform, demonstrated a strong commitment to development with 400 notable GitHub commits, securing the fifth position on the list.
Chainlink (LINK), Ethereum's trusted oracle service provider, stood at the sixth spot with 395 notable GitHub commits, underscoring its pivotal role in facilitating smart contracts and decentralized applications.
Final Thoughts
While the list encompasses a diverse range of blockchain projects, Cardano's resurgence to the top spot signifies its dedication to ongoing innovation and development. The cryptocurrency community and investors closely watch development activity as it often serves as an indicator of a project's vitality and potential for future growth.
Disclosure: This is not trading or investment advice. Always do your research before buying any cryptocurrency or investing in any services.
Follow us on Twitter @nulltxnews to stay updated with the latest Crypto, NFT, AI, Cybersecurity, Distributed Computing, and Metaverse news!
Image Source: ximagination/123RF / Image Effects by Colorcinch