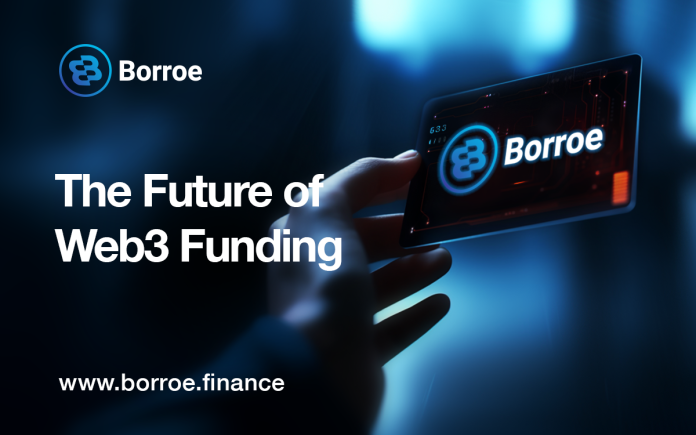 During the second half of 2023, the price of bitcoin, the leading cryptocurrency, reached an impressive value of $31,200, despite the many challenges faced by the market. Analysts and experts are carefully studying different factors that could affect the future direction of the price and the possibility of a significant increase in the coming months.
Three altcoins that have been generating significant buzz in the crypto community are Compound (COMP), Solana (SOL), and Borroe ($ROE). These tokens have been making waves with their unique features, strong performance, and potential for future growth.
Solana: Speed, Scalability, and a Strong Recovery
Solana (SOL), often called the "ultra-fast Layer-1 blockchain," has recently rebounded from a challenging period. The United States Securities and Exchange Commission (SEC) had raised concerns about the trading of unregistered securities on certain cryptocurrency exchanges, mentioning Solana as one of such tokens.
This led to a significant drop in SOL's price. However, the Solana Foundation clarified that SOL is not a security and seeks legal advice to address the issue. Since then, Solana has regained momentum and is attracting bullish sentiment from investors.
One of Solana's key strengths is its scalability and speed.
Unlike other blockchain networks, Solana claims it can handle a high volume of transactions quickly and cost-effectively. This scalability makes it an attractive choice for developers and users seeking efficient solutions.
Additionally, Solana provides a developer-friendly environment, offering comprehensive tooling and resources for decentralized application (dApp) creation. With support for popular programming languages, developers can easily build on Solana.
Furthermore, Solana has gained traction in decentralized finance (DeFi), hosting various applications such as decentralized exchanges, lending platforms, and yield aggregators. The increasing adoption of Solana within the DeFi ecosystem is driving investor interest.
Solana (SOL) recently experienced a significant surge in both price and investor interest following a favorable judicial ruling in Ripple Labs' prolonged legal battle with the Securities and Exchange Commission (SEC).
This landmark decision not only brought much-needed clarity to the often ambiguous realm of cryptocurrency securities, but it also reignited enthusiasm for Solana.
Currently trading at $28.46, SOL has witnessed an impressive 31.93% price increase in the last 24 hours, accompanied by a remarkable 43.08% surge in the past week and a staggering 87% rise on the monthly timeframe.
With a circulating supply of 400 Million SOL, Solana's market capitalization now stands at $11,577,305,059. These recent developments solidify Solana's position as a promising cryptocurrency, capturing the attention of investors eager to capitalize on its upward trajectory.
Compound: Pioneering DeFi and institutional interest in web3
Operating on the Ethereum blockchain, Compound (COMP) is widely credited with kickstarting the decentralized finance (DeFi) craze.
Its algorithmic money market protocol introduced yield farming, revolutionizing how users interact with financial products. Recently, Compound's governance token (COMP) has experienced significant price surges, positioning itself as one of the top gainers in the cryptocurrency market.
One catalyst for COMP's price surge is the presence of whale activity and potential institutional investors.
Notably, a notable wallet identified as '0x0D5' has been involved in substantial transactions involving COMP.
This whale activity indicates growing interest from major players in the cryptocurrency space. Additionally, Compound's recent approval of a 40% collateral factor for Wrapped Bitcoin (WBTC) expands its offerings and attracts more users to the platform. The integration of WBTC allows users to borrow other assets using their WBTC holdings as collateral.
With a current price of $68.92 and a 24-hour trading volume of $130,785,620.59, COMP has been making waves in the market. Despite a minor price decline of -0.97% in the last 24 hours, it has experienced a remarkable surge of 19.25% over the past 7 days and an astonishing growth of over 148% in the last 30 days. These numbers are turning heads and attracting the attention of investors worldwide. With a circulating supply of 6.9 million COMP, the market cap of this digital asset has reached an impressive $473,630,012. As investor interest continues to rise, it is evident that Compound is emerging as a force to be reckoned with in the cryptocurrency landscape.
Borroe: Reshaping web3 fundraising with AI and NFTs
Borroe Finance ($ROE) leverages the power of artificial intelligence to present a unique funding marketplace that empowers businesses, content creators, and Web3 participants to unlock the true value of their creations.

By selling future earnings from subscriptions, royalties, and invoices to supportive communities, Borroe Finance generates instant cash flow for creators and participants.
Borroe Finance's token, $ROE, operates on the Polygon chain, known for its speed and scalability. With a total supply of 1,000,000,000 ROE, Borroe Finance ensures a fair distribution by allocating 50% of the tokens to the public, subject to linear vesting over three months following the Token Generation Event (TGE). This equitable value-sharing model and innovative approach to funding set Borroe Finance apart from traditional financing methods, providing creators and investors with exciting opportunities in the Web3 space.
With its growth potential of over 25x, experts believe investing in $ROE allows investors to benefit from a groundbreaking project that reshapes the Web3 funding landscape. With its innovative features, equitable value sharing, and AI-powered marketplace, Borroe Finance presents a compelling investment case. Early investors in ROE stand to benefit from the growth and success of this promising project.
Looking forward to Q3
As we enter the third quarter of 2023, the prospects for Compound, Solana, and Borroe look promising. Solana's recovery from regulatory concerns, coupled with its scalability, developer-friendly ecosystem, and growing presence in DeFi, positions it as a top contender for Q3 success.
Compound's pivotal role in pioneering DeFi and its recent surge in price, driven by whale activity and the integration of WBTC, indicate strong market demand.
Borroe Finance ($ROE), with its AI-powered funding marketplace and commitment to equitable value sharing, presents a disruptive force in the web3 space.
COMP, SOL, and $ROE have demonstrated their value propositions, attracted significant interest, and are well-positioned to thrive in the ever-evolving crypto landscape. The third quarter of 2023 promises excitement and opportunities for those willing to explore the potential of these tokens.
Explore the Borroe ($ROE) presale:
Buy Presale: https://borroe.finance/

Website: https://borroe.finance/
Telegram: https://t.me/borroe_finance
Twitter: https://twitter.com/Borroe_Finance
Disclosure: This is a sponsored press release. Please do your research before buying any cryptocurrency or investing in any projects. Read the full disclosure here.