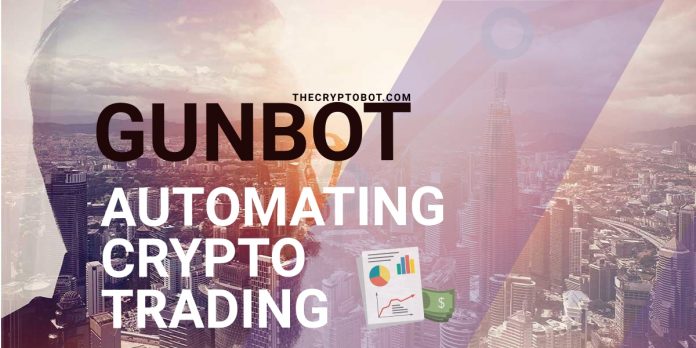 Crypto traders around the world are now taking advantage of the never-ending trading cycle of crypto buying and selling. Unlike traditional markets that sleep on weekends, crypto markets never sleep, with tens of thousands of traders across hundreds of exchanges awake and active trading. 
With fast-moving price action and volatility the defining features of crypto markets, timely execution with the right strategy will make or break a trader. Over the years, automated trading tools and bots are being increasingly used by buyers and sellers, with reaction times far better than manual trading, and the ability to instantly execute opportunities as soon as they present themselves.
Strategic Trading with Gunbot
Gunbot is a trading tool from the famous thecryptobot.com platform. The automated trading tool has been designed to give the user a seamless experience in trading, with multiple features giving the user a competitive edge over other traders:
Multiple Strategies

: With over

15 different methods of trading

, the app offers one of the most versatile trading experiences to fit any style.

Easy Deployment

: A user can start automated trading by selecting preferred trading strategies and letting

Gunbot

take over.

Non-Stop Trading

: With trading totally automated, Gunbot executes trading round the clock, without the need to rest.

Fine Tune Strategies

: Gunbot users can adjust the trading strategies and anytime, allowing them an even greater control according to market conditions.

TradingView Support

: Gunbot supports integration with TradingView, an app that offers real time data and expert trader opinions, keeping users abreast of the latest crypto market developments.

14 Exchanges

: The Gunbot app

supports 14 different exchanges

, including Bittrex, Binance, Kraken, CoinBase Pro (GDAX), Kucoin, Cex.io and other big exchanges.

Multiple Connectivity

: With the ability to connect to multiple exchanges at a single time, Gunbot can take advantage of the slight changes in exchange rates and generate more profits.
Since its launch in 2015, Gunbot has been praised by its ever increasing user base. Currently, there are more than 10,000 active traders who are using the trading tool, with a massive 3,000-member Telegram traders' group.
Gunbot Easy Steps to Deployment
Gunbot is very easy to use. Any trader, whether a novice or an expert, can start trading in a few simple steps. All the trader has to do is to download and install the Gunbot App. Depending on the type of trade, the user selects trading strategy, selects the trading currencies and connects the app with required exchanges. The trading starts automatically when the user executes the program. Users have the option to fine tune the trading strategies as they see fit.
Gunbot can be easily setup on any PC or laptop. Users even have the choice to use a Virtual Private Server (VPS) to protect their privacy.
Future Developments
The developers of Gunbot are constantly working on adding new features to the Gunbot app. With the upcoming launch of Gunthy token, users will be able to hold these digital coins and in return obtain a license to use the application. The Gunbot team is also in talks to add 130 exchange markets, different integrations and other features requested by users.
For more information on the automatic crypto trading app, visit the Gunbot website.
Disclosure: This is a sponsored post