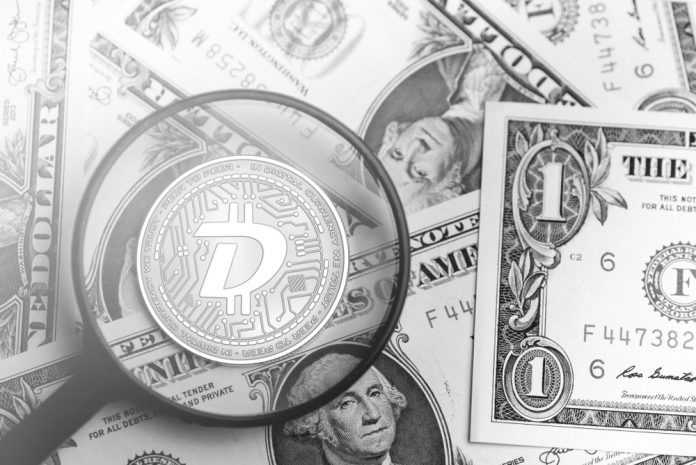 There is still plenty of bearish pressure across all cryptocurrency markets at this time. While that might not please too many users, it is evident this pressure will not relent automatically either. Despite this overwhelming pressure, it appears the DigiByte price is still moving up rather swiftly. A bit of a surprising development, as this market is often overlooked by most traders and speculators.
DigiByte Price Trend Looks Appealing
Not all cryptocurrencies follow Bitcoin's price trend blindly. That in itself is quite promising in this day and age, although one has to wonder if this situation can remain in place for very long. As of right now, it seems DigiByte is capable of successfully avoiding Bitcoin's trend, although it is doing so in a way that might not make too much sense to a lot of enthusiasts. Especially its very weak trading volume is a big question mark.
Over the past few hours, the DigiByte price managed to gain 9.42% in USD value and 11.13% over Bitcoin itself. Both trends are very impressive, especially for an altcoin which barely notes $2.881m in trading volume. Because of this somewhat surprising uptrend, the current value per DGB sits at $0.014539, or 362 Satoshi. As both of these trends prove to be somewhat promising, one also has to wonder how long they will remain in place. Bucking the overall industry-wide trend for very long is usually rather difficult.
When it comes to surprising developments like these it is pertinent to keep an eye on social media. Although the opinions on DigiByte are a bit all over the place, some users would like to see DGB make its way to Coinbase in the very near future. While it is not impossible by any means, it will be interesting to see if the company effectively takes customer feedback to heart in this day and age.
Hello Brian, i would love to see @coinbase adding @DigiByteCoin to it's platform. You know #DGB has been around for a long time and has proven itself over time to be a highly secure and fast blockchain with exellent use cases suported by thousands of people on every continent.

— BF67. just giving my opinion. Do as you please! (@FrederikBf67) March 21, 2019
CryptoDucky, on the other hand, isn't too bothered with having this altcoin listed on more exchanges such as Coinbase. Instead, he predicts DGB is one of the two currencies one needs to hold to become rich in the near future. While that level of optimism certainly is something else, it seems unlikely either of those two markets will pop off when Bitcoin remains as bearish as it is right now.
…Last Chance to become rich…,buy #DGB & #Cardano…

— CryptoDucky (@CryptoDuckyNr1) March 22, 2019
For traders willing to take a bit of a gamble with DigiByte, there is an interesting triangular arbitrage opportunity worth looking into. It can yield a potential profit of over 11%, although it does require the use of some lesser-known exchanges and trading platforms. As such, this option might not be as appealing to everyone, but it is still an option worth looking into regardless.
Hurry! 11.59% triangular arbitrage considering volume in #TIME via #Livecoin. If you buy #TIME in #BTC market from #Kucoin and convert it to #DGB in #Livecoin and sell it on #BitBns.

— KoinKnight (@KoinKnight) March 22, 2019
Although DigiByte is one of the more bullish markets within the market cap top 40 right now, it remains doubtful these gains can remain in place for very long. Bucking Bitcoin's trend is usually very complicated for most altcoins, and it seems unlikely DigiByte will form an exception in this regard. However, if its trading volume were to pick up all of a sudden, there may be some interesting momentum to keep an eye on.
---
Disclaimer: This is not trading or investment advice. The above article is for entertainment and education purposes only. Please do your own research before purchasing or investing into any cryptocurrency.
Image(s): Shutterstock.com